One reason why the kitchen is the heart of the home is because people like the coziness and warmth that radiate from a warm oven, bubbling tea kettle, comfortable places to sit and great company. All of these and more are possible in a small kitchen design - while still remaining open and spacious.
Capitalize on natural light
Wherever you can, take advantage of natural light. Perhaps you can make a window a little bigger, add a skylight or solar tube, which can look like recessed can lighting. The finishes and fixtures you select will also harness light to make a space feel brighter and more airy.
Examples include things like lighter cabinet colors or reflective surfaces, like stainless steel appliances, mirrored backsplashes or tiles or even metallic cabinet doors. The large window in this kitchen provides a spacious view outside, plenty of light and a portable island yields extra countertop space when needed.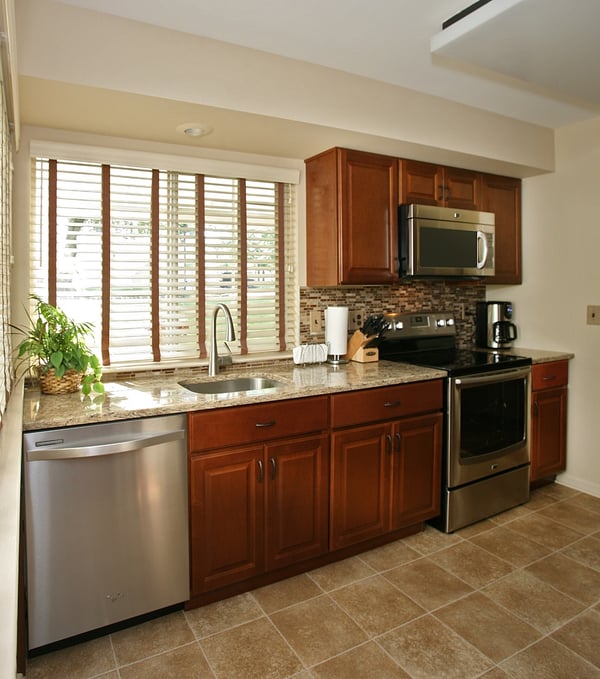 Don't sacrifice darker finishes
Yes, light and bright is good, but you don't have to sacrifice darker finishes. Light paint and backsplash tiles, like these homeowners used can balance dark cabinets and light spaces. Or, take a look at this small galley kitchen with Chocolate Pear cabinets and a medium-blue backsplash tile.
For contrast and balance, there is a nice sized window and lighter tiles interspersed in countertop. Stainless steel appliances add those reflective attributes we mentioned above. The lighter trim around the windows and the two-toned paint on the upper-walls and ceilings also adds a lighter sense of space.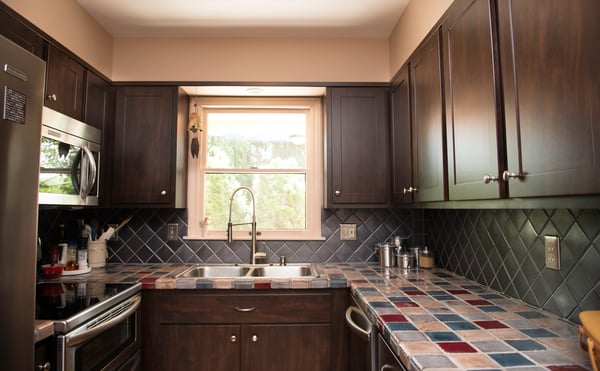 Get rid of those soffits.
Did you know that many soffits in your home - those big boxy things that live between upper-wall and ceiling spaces - aren't always necessary. Soffits take up quite a bit of usable space so ask your kitchen designer if they can be removed.
If so, take cabinetry all the way to the ceiling, adding a sense of height - not to mention more storage space. Then trick out those cabinets and drawer spaces with the most organized storage solutions on the market,d and you'll have more than enough room to house kitchenware, utensils and pantry items.
In this kitchen, white cabinets taken to the ceiling make the smaller space seem ample, and owners still get to enjoy their taste for darker finishes via their countertop, appliance and furnishings choices.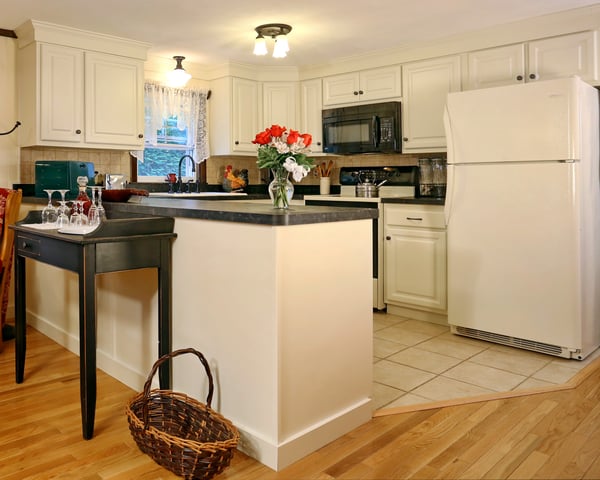 Use open shelving and/or glass doors
Cabinet doors create a visual block, preventing the eyes from seeing that extra 12-inches (upper cabinets) to 24-inches (base cabinets) that live between the cabinet doors and wall.
Open shelving and glass cabinet doors allow the eyes to see that space, making the kitchen feel larger. Even a simple accent - like these open shelves on the upper- corner cabinet box - will open things up a bit. And, again, notice these homeowners balanced a darker cabinet finish with a light paint color and white appliances.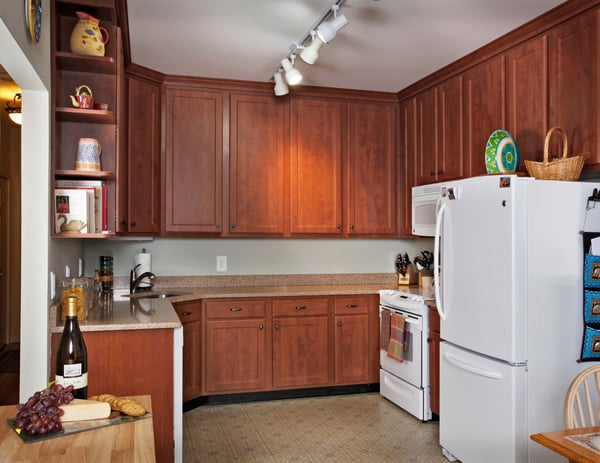 Working with an experienced designer can help you make the most of a smaller kitchen space, allowing its big personality to shine through. Visit Kitchen Magic and let's see what we can do.