Traditionally, kitchens were for preparing meals, drinking coffee, and perhaps eating the more informal meals with immediate family. Dining rooms were reserved for dinners and more formal events. Times have changed, however.
Now, the kitchen is one of the most valuable rooms in the house and many families find the bulk of their time is spent there - making meals, doing homework, reading and even working.
For this reason, many families are opting for eat-in, or dine-in, kitchens, ditching the dining room all together and creating a gorgeous kitchen design that includes ample space for both family meals and more formal affairs.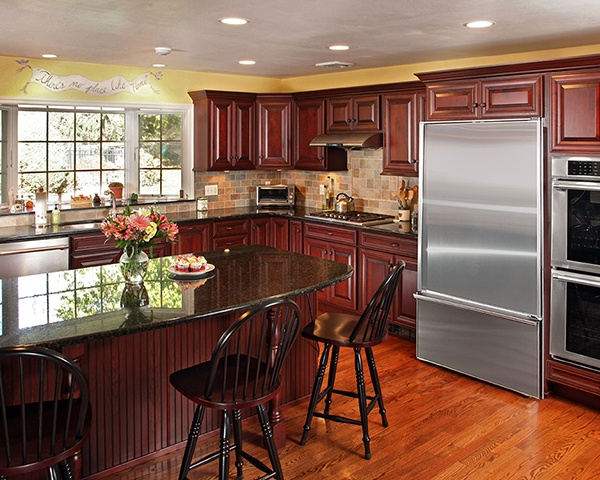 Tips for Designing an Eat-In Kitchen
The following tips and ideas can help you determine whether or not a eat-in kitchen makes more sense for your family, as well as things to consider to make it happen.
Erase the dining room
How often do you use your dining room? If your family only uses it a handful of times per year, it's time to re-think that space. It doesn't make sense to dedicate an entire room of your house for three to five calendar dates. Instead, use that room to expand your kitchen space. In most cases, the dining room is adjacent to the kitchen. Depending on your home's design, you can remove a wall or two and end up with a completely open floor plan, or you can open up the dining and kitchen space to create one large kitchen.
This expanded kitchen can completely revolutionize how you use the space, providing enough room to add all those extras you've always wanted - a spacious kitchen island, a message center or small home office, and a roomy area or corner of the room that can be used for family meals - both casual and formal.
Create a livable and accessible space
Expanding your kitchen to include a dining area also increases the livability or accessibility of the space. You'll have more room to maneuver between kitchen centers and it allows for a table with an open side, which provides easier access for those in a wheelchair to eat at the table.
Use upscale but low-maintenance kitchen finishes
You can easily create a more formal feel in your new eat-in kitchen by selecting upscale finishes that are low maintenance. These luxury options can be very affordable.
Reface cabinetry. By refacing your cabinetry, rather than replacing it, homeowners often cut their costs in half, allowing them to choose more luxurious cabinet door styles and finishes than they would have been able to afford otherwise.
Use Corian or Quartz countertops. Corian and Quartz are sustainable building options that provide a consistent and upscale look. Both options are available in more than 100 color and pattern options and you'll never need to seal them or worry about pores, fissures, staining or etching.
Add a fabulous light fixture. Your lighting plan is important and should always include a combination of task and ambient lighting. If you design an eat-in kitchen, we recommend a stunning chandelier or other noteworthy fixture that provides a more elegant aesthetic for holidays and special events.
Double your dining pleasure
By adding an extended bar to your peninsula or island, you can double your eat-in pleasure. You may find that you and/or your family opt to sit around the island for your casual meals and reserve the larger table or dining nook for special meals.
Have we peaked your interest regarding the design of an eat-in kitchen? Schedule a consultation with Kitchen Magic to begin exploring your options.