Today's guest post is courtesy of Sebring Services, a remodeling company operating in the western Suburbs of Chicago. As the kitchen becomes an increasingly central part of the home, more homeowners are seeking creative styles and designs to make their kitchen pop.
The kitchen backsplash is as much a protective feature as it is a focal point of kitchen décor. Its function of protecting the walls above the countertop from smudges and water is just as important as its role in setting the feel and style of the kitchen. For 2017, here are some hot trends we are observing among homeowners.
Bold Patterns and Colors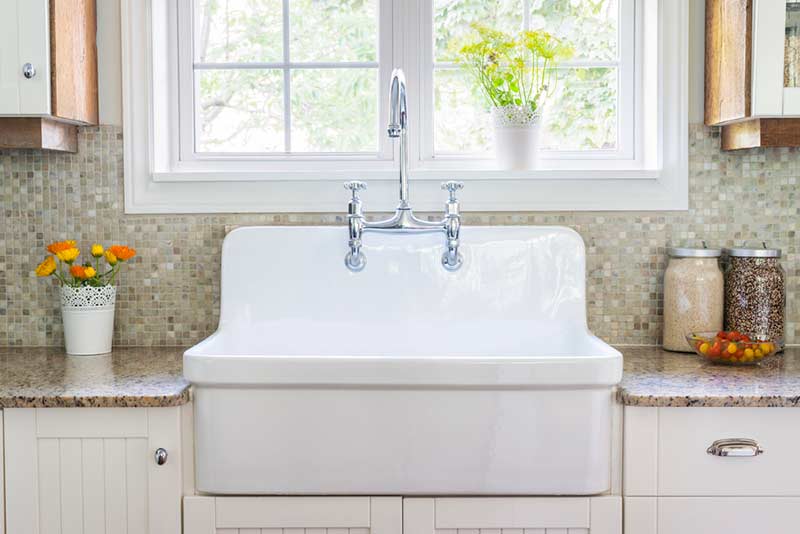 'Bold styles' is a theme that has been running throughout 2016 and which we expect to pick up pace in 2017. Whether it is flooring, furniture or wall colors, homeowners are more willing to try out unconventional styles while still maintaining a clean, modern look.
Targeting the backsplash with vibrant colors or unique patterning is a great way to integrate a bold style while still keeping the modern kitchen décor intact. The eye-catching backsplash provides a welcome focal point to rest your eyes and highlight the rest of the space.
This turn towards dramatic backsplashes has been supported by the emergence of a wide variety of tiles. Instead of the same old white subway tiles, now you can buy vividly-colored tiles, patterned tiles or tiles designed to resemble other materials like wood or natural stone. Mosaic tiles can create a graphic backdrop to a neutral colored countertop.
It is not just the colors that are getting more dramatic. Traditionally, the backsplash rises to the same level as the bottom of wall cabinetry. Now, it is not uncommon to see the backsplash go all the way up to the ceiling and spreading out further across the wall. This creates a more powerful focal point for the kitchen and beyond (for open plan homes).
Unique Finishes
Mirror finished backsplashes have become popular in 2016 and will continue to gain popularity in the coming months. The high-gloss finish of these backsplashes creates a bright reflective effect that is especially beneficial for small kitchens.
Alternatively, you can opt for a metallic finish. Here, you have several colors and shades to choose from including copper, bronze and silver. If these two finishes are not for you, there are dozens of others to choose from including vintage, distanced and acid washed.
Moving Away from Tiles
Instead of just getting tiles with a metal finish, how about an actual metal backsplash? Or instead of a glass finish, consider a full glass backsplash. As technology advances, homeowners have more and more materials to choose from. Yes, you can even get a wood backsplash though we would recommend limiting wood to the wainscoting and shiplap.
We Have More Ideas
Don't scratch your head trying to decide how to make your backsplash pop.
Download our free guide below on the top kitchen design trends for 2017.