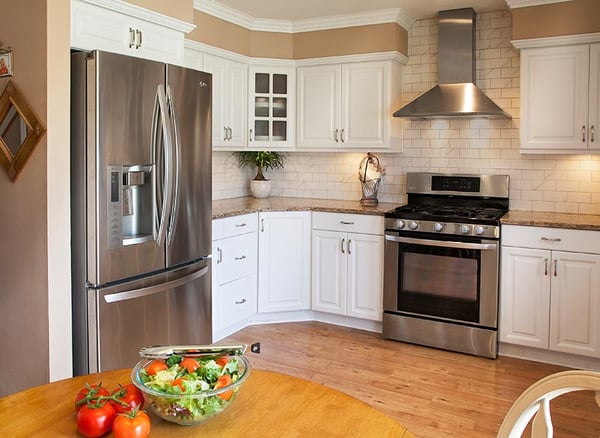 If you've read our blog article, "What Paint Color Looks Best with Cherry Cabinets?" then you already know all about contrasting vs. complimentary colors. If you haven't read the article, and picking a color for your white kitchen is leaving you confused, then have no fear! Today, we'll break down the perfect paint pairing process to help you choose the paint color that looks best with your white cabinetry.
Contrasting vs. Coordinating Kitchen Colors
Regardless of the type of project, determining whether you want to use contrasting or coordinating colors is the first step to finding the perfect wall color for your kitchen.
Contrasting Wall Color Choices
Contrasting colors appear opposite one another on the color wheel. When using contrasting colors on your walls, they can add a unique touch to the room and a pop of color you might feel is lacking in the space. This is especially true for kitchens, where cabinets take up most of the space. A dash of yellow paint to contrast the cabinetry can really bring your kitchen to life.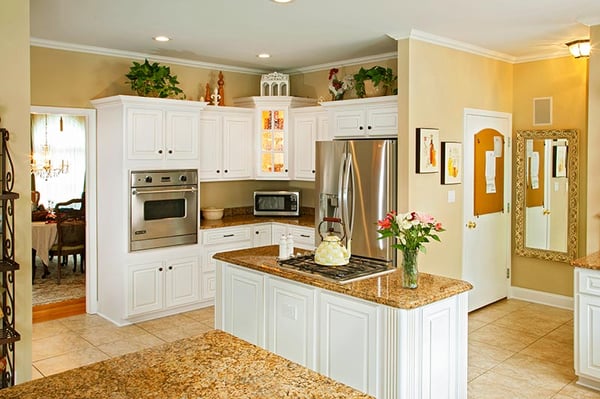 Because white is not necessarily a color on the color wheel, but actually a combination of all of the colors on the wheel, there technically aren't any contrasting colors for white. Therefore, picking contrasting colors to pair with white cabinets is all about being bold.
If your cabinets are antique or off-white and you have a large, traditional style kitchen, try a dark but unique color—like royal purple or a rich green. If your cabinets are bright frosty or linen white and you have a smaller or contemporary style kitchen, go for lighter, bold colors—like a bright blue or an orange that really pops!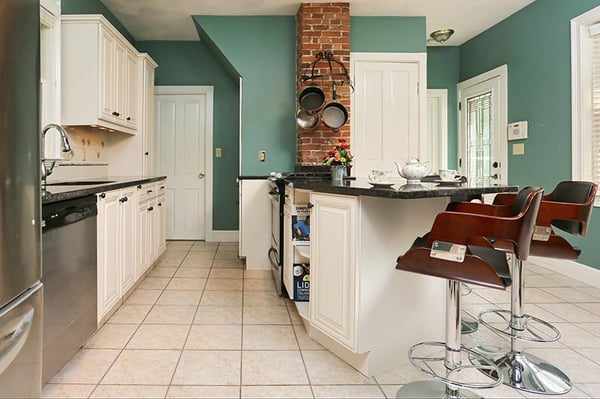 Coordinating Paint Color Options
Coordinating colors enhance the hues that are already in your kitchen and they work to harmonize the room's color palette. When it comes to white kitchen cabinets, there are two ways to pick coordinating colors: you can choose an element from your kitchen to highlight on the walls, or you can coordinate with neutral paint colors.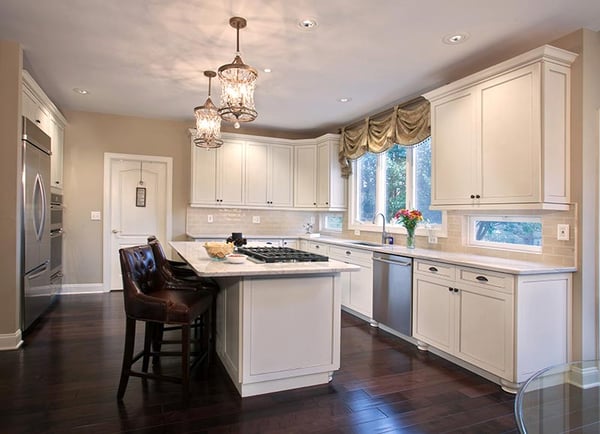 When you ant to highlight an existing color in the room, the best options to choose from are unique colors that are used infrequently in items that aren't going anywhere soon, like your countertops or backsplash. For instance, if your tile backsplash is accented with blue tiles, use that color to paint your walls. It's important to remember that the wall color must match the color you're trying to harmonize with—even the difference of one shade will cause the colors to compete.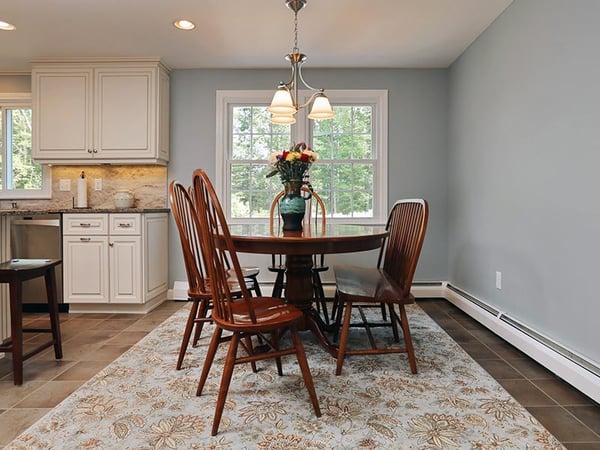 Painting your walls with neutral colors is also a great way to coordinate your walls with your white cabinets. Because neutrals are easy on the eyes, they won't compete with your cabinets or countertops, regardless of the color. Some of our favorite neutral shades for white cabinets are classic light browns and beiges. A trend that's really taken off recently is the use of gray and steel blue in the kitchen. Gray looks beautiful with white cabinets or white crown molding, and is a paint choice that is both timeless and trendy.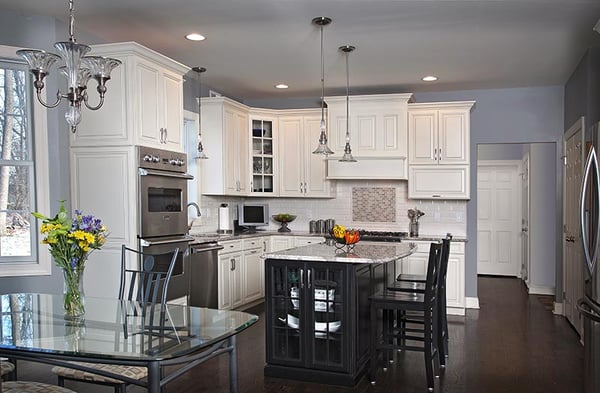 Perhaps the best advice we can give you is that no color is wrong when it comes to pairing paint colors with white cabinets. Your personal pain preference will always please you, and speak to your kitchen's style.
When you schedule your free in-home design consultation with Kitchen Magic, one of our design consultants can help you find the ideal paint color that will look best with your stylish new white cabinets.