Ready to design your kitchen backsplash? This is one of the most fun aspects of kitchen design because you have the option to make your backsplash as subdued or ornate as you like. For many, the backsplash might be the place they dare to add those colorful, metallic or textured elements they resisted elsewhere in the design.
As you know, however, looks aren't everything. While aesthetics are certainly a driving force in backsplash design, materials matter when it comes to durability, longevity and your future care and maintenance instructions.

Choose backsplash materials that make sense for your kitchen design and lifestyle
Here is a list of some of the most popular (and our favorite) backsplash materials, along with their pros, cons and other things to think about.
Ceramic Tiles
How can you consider a ceramic tile backsplash when you just installed a beautiful quartz countertop? In fact, we highly recommend using ceramic tiles because they can help you stretch out the budget.
Pros: Ceramic tiles are affordable, lightweight and easy to install. Plus, with innovations in graphic design, they come in a wide range of patterns too. This makes it easy to create a subway or mosaic pattern that compliments your granite or quartz countertop. They're also incredibly durable.
Cons: You may not like the "idea" that ceramic is a lesser-luxury product and the tiles won't provide the same streamline look as seen with granite, quartz or Corian options.
Ceramic tiles come in virtually every size imaginable, from tiny mosaics to large 16 x 16 versions. Consider clean-ability when determining the best tile size for any option - smaller tiles mean more grout, and that means more cleaning.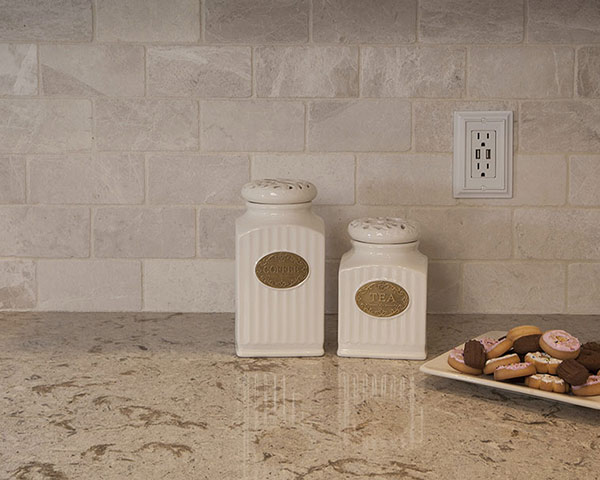 Glass Tiles
We're big fans of glass tiles for multiple reasons. Most notably, their wide range of colors and the fact that their transparent nature makes it easy to go "subtly wild." Also, we find that the luminescence inherent in glass tiles makes them a great addition to any kitchen - adding light, reflection and space.
Pros: They're gorgeous, eco-friendly and can be matched to any countertop you select. Glass tiles are also very easy to clean and maintain.
Cons: Since they're see-through, glass tiles are a little trickier to install - because there's nowhere to hide a mistake. They're also more expensive, but that's what makes glass an ideal accent feature. If you can't afford an entire glass backsplash, consider adding glass tiles to add pizzazz to your ceramic tile version.
While you can get glass tiles in larger formats, the most typical range from small mosaic pieces, to larger subway tiles or basic 4.5 x 4.5 squares.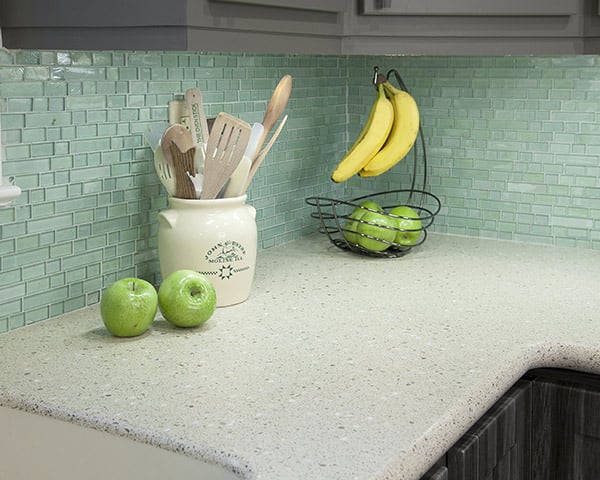 Marble Tiles
Oh, the drama of marble - and we're not just talking about its stunning good looks. Marble is a beautiful addition to any kitchen but it's also a bit of a risk due to its porous, soft nature. While a marble backsplash can be a smart way to sneak this soft stone in without risking it as a slab, it needs to be sealed regularly in order to do its job well.
Pros: Marble is a luxury feature in any room in your house. It's easy to wipe down and the lighter color makes a wonderful complement to darker cabinet finishes.
Cons: It can get pricey. Also, be aware that marble etches, stains, chips and cracks pretty easily.
Marble backsplashes can be bought similar to Corian, granite or quartz - in slab form. Or, go the tile route. We love the way marble looks when it's cut smaller - like with honeycomb or mosaic patterns, although standard tile sizes look great too.
Are you having a difficult time deciding which backsplash style you want to show off in your kitchen remodel? Visit the design team here at Kitchen Magic - or schedule an in-home consultation - and we'll be happy to help you sort through the options.