Does the idea of color wheels, tile matching and "complimentary palettes" make you anxious? We get it. While the team at Kitchen Magic thrives in the world of design, we understand not everyone does. Good thing, or we'd be out of business.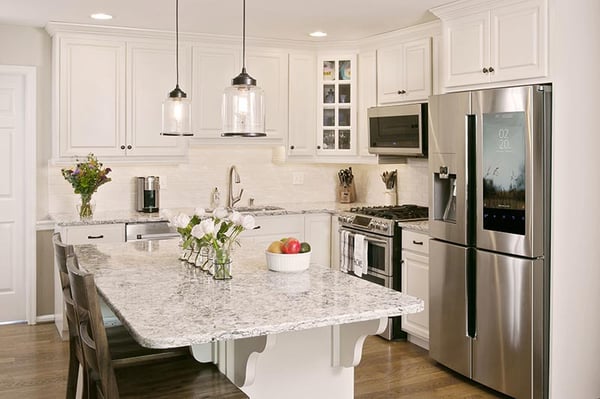 Here's the good news, though. You don't have to mix-and-match colors to have a stunning kitchen. In fact, adding too much color via permanent fixtures and features can be a bad idea because you run the risk of having an outdated kitchen within a handful of years.
Designing a monochromatic kitchen is a savvy way to go
Monochromatic kitchens are a smart choice. First, most people who opt for the monochromatic look also opt for a neutral look, which creates a more timeless canvas with which to work. Secondly, monochromatic kitchens often have a timeless look.
Timeless designs remain stylish long after other "trendy" kitchens are of date, they're more pleasing to future homebuyers, and they allow you to update or change the look of your kitchen using more affordable, temporary accents rather than having to change out high-dollar finishes.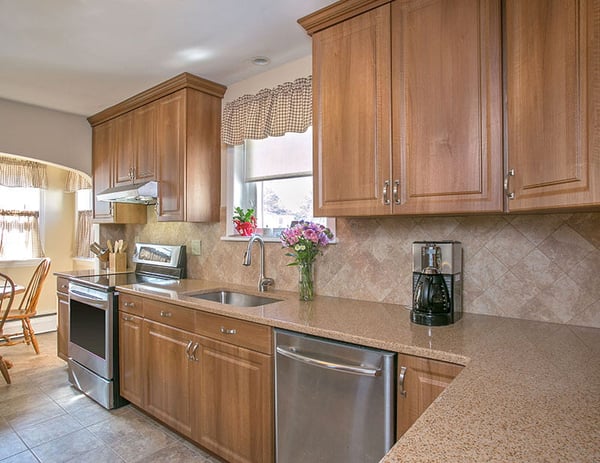 Here are examples of monochromatic kitchen designs from the Kitchen Magic Gallery.
Monochromatic, neutral kitchens pair with just about anything
One of the reasons we all love jeans is that they can be paired with anything. Well, monochromatic kitchens are just like that.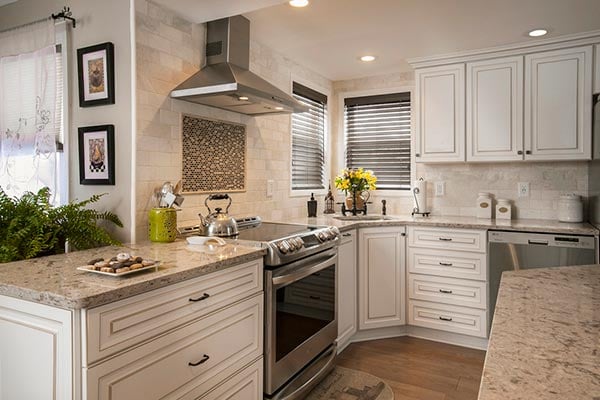 Take a look at this kitchen. The owners chose a beautiful, warm cabinet glaze but wanted to keep the smaller kitchen looking open and spacious. So, they chose lighter, neutral shades of cream and beige for countertops and walls. The effect is classy, timeless and - as the stacked cup of coffee mugs on the rear counter attest, their kitchen looks great with just about any accent color they would ever choose.
The almost, all-white kitchen is a contemporary classic
The all-white kitchen design has been in style since kitchens were first invented. These days, we often see all-white kitchens in transitional motifs - using luxurious counters and backsplashes, paired with cabinetry that is accented enough to work for traditionalists but square enough to work for those who like a more modern appeal.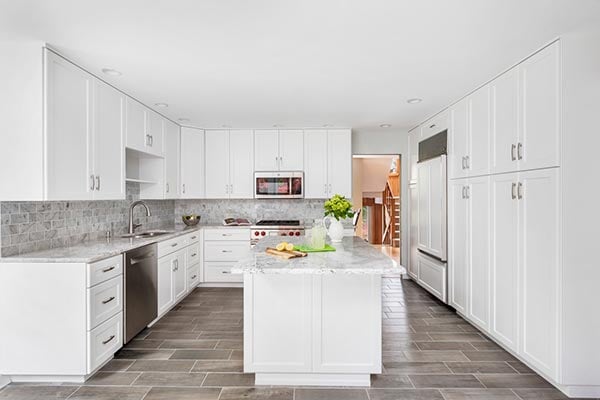 That's the exact motif struck in this gorgeous, almost all-white kitchen, where elegant quartz countertops look just like granite but are less maintenance intensive. The homeowners capitalized on those "mineral-esque" patterns - pulling beautiful pale grays into the backsplash and using a walnut wash on the cabinets for a warmer feel.
How to go dark while keepin' it light
We're often asked how to use dark cabinetry without overpowering a kitchen. From now on, we might just send a picture of this gray-on-gray kitchen as our answer.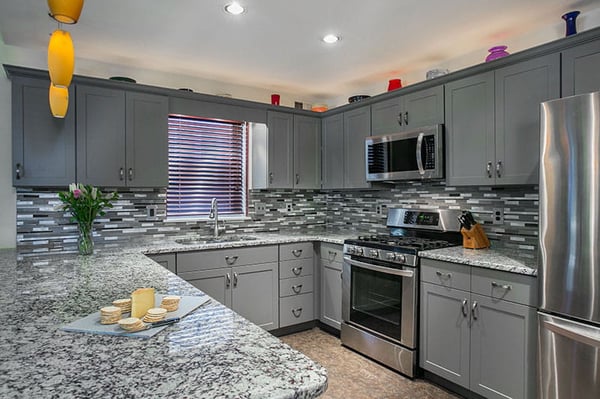 Those striking, dark-gray cabinets look fantastic, and they are kept in check with the homeowners' selection of pale-gray walls, countertops and floors. This is also an example of how varying shades within the same hue can have a dramatic impact.
Texture is everything when you're using a monochromatic scheme
When designing a monochromatic kitchen, especially one designed using the same shades for floors, cabinets, and walls, texture is a priority. Varying the texture will keep it all from looking washed out and/or boring. What does that actually mean, though?
This cream colored kitchen is a great example. The patterned tile adds a shimmery stone texture, cabinets have the white-niche covered, and the stainless-steel appliances and brushed-nickel drawer handles and pulls add a little metal into the works. Not to mention the slick glass pendants, plush floor rug, and lavish booth seats—everywhere the eye looks, there's something interesting to see.
Are you interested in designing a monochromatic kitchen that has timeless appeal? Schedule a consultation with a Kitchen Magic professional.