Twenty years ago, all homes had a kitchen table. It was the place you had every meal, sat to read the paper and had family meetings. Fast forward two decades and the island has become a 'must have' when remodeling the kitchen. They both have their benefits so let's take a seat, anywhere you like, and discover what's best for your new kitchen and your lifestyle.
The All-Purpose Island
You walk into the kitchen and just like a magnet, your drawn to the island. Even more so if someone is perched there already or better yet, if there's food. It's the hub, the nucleus if you will, of the home. This deserted bank of cabinetry comforts us, puts us higher up and encourages friends and family to gather. Another wonderful feature of the beloved island is you can stand or take a seat. This is especially idyllic when hanging out, eating appetizers and having drinks before you retreat to the formal dining room table. The island allows for a more casual transition before that holiday dinner or birthday celebration.
Need more storage space? The island triumphs for additional storage. It allows at least another 2 cabinets, 2 drawers and maybe some display shelving for those cherished collectibles. Many homeowners are moving the stove top to the island too so they can create another cooking station for a second chef. This enables you to prepare meals together, which affords more quality time spent with family members or your little helpers.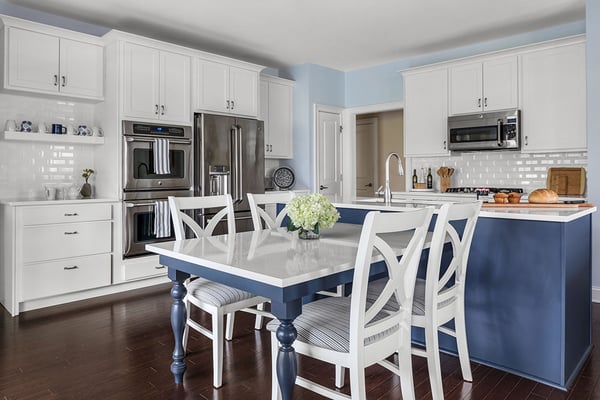 The Kitchen Table
Let's establish the benefits of the classic kitchen table. You know, that place you used to have talks with mom, turn your chair for a much-needed hug or just sit and have a meal with the family. It necessitates nestling for that comforting feeling you get when gathered around to share your day's events or confiding in sis for some advice.
A huge benefit of the kitchen table is that it divides the living spaces; kitchen prep area and dining area. Creating a definitive, secondary kitchen space where the cook can relax, away from the disarray left from cooking dinner. Additionally, the kitchen table, because of its spacious underside, creates the illusion of a more expansive floor plan, enabling natural light to shine beneath it.
The table is a more conducive option for smaller kitchens, when additional space for an island is not possible. The island requires a minimum of 36" all the way around for walking and appliance doors which may not be feasible for smaller homes.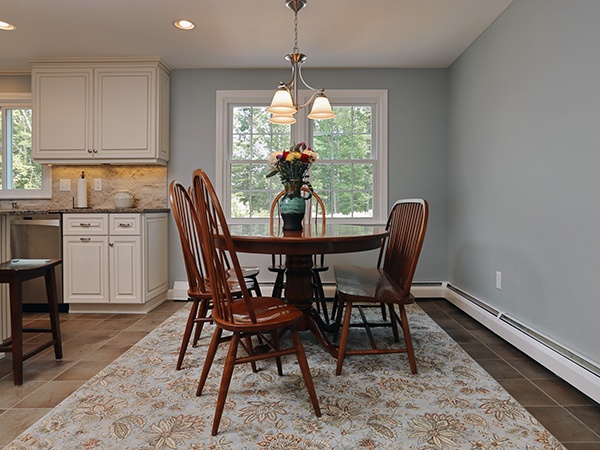 Looking For a Health Benefit
A study conducted by Cornell University found that families who ate dinner together in the kitchen or dining room tended to have lower BMI (Body Mass Index, a measure of obesity equal to your weight in kilograms, divided by the square of your height). Additionally, dining at a kitchen table creates quiet time with family and a time to unplug, especially when the rule is no devices at the table. Dining together at a scheduled time fosters family interaction, hence a healthier family union.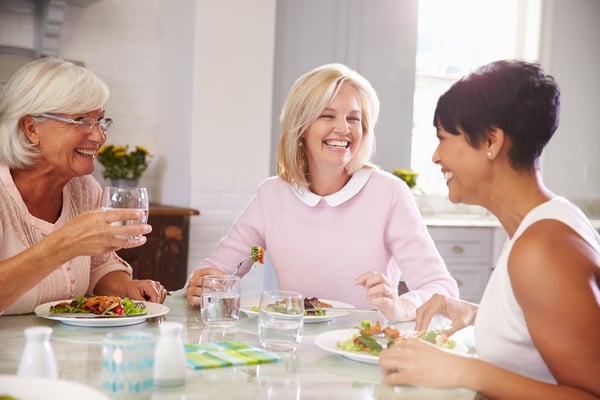 The Verdict
In weighting all the benefits—the debate over the kitchen island or the kitchen table decidedly—they both instill the most important benefit of all, enabling family and friends to eat together as a group. Dining together, rather than in front of the TV, promotes an isolated space free from other distractions. Anything that supports social interactions, which is known through these studies, proves its correlation to better health and build stronger family bonds.