Now that the kitchen is remodeled, that tried-and-true, 1990s kitchen table and chairs might not do the trick anymore. It's time to pick a set that compliments your new kitchen design.
Don't be overwhelmed by having to make another choice. Choosing a new dining set will be a piece of cake when compared with the complexities involved with all the remodeling choices you've already made.
How to Choose a Dining Set For a New Kitchen Remodel
We'll take you through all the decisions worth pondering through a simple question and answer session.
Is it an eat-in kitchen or part of an open floor plan dining room?
If you're choosing a table that will be part of eat-in kitchen, your selection process might be different from a household whose dining room set will be part of an open floor plan. The former might require a more durable, easy-to-clean set that can take more of a beating, while the latter option lends itself to a more formal look and feel.
In either case, spend time testing the chairs to make sure they're comfortable, especially if you'll be using the set for an eat-in kitchen, where the table is just a likely to be a hang-out spot or a homework/craft station. Using indoor outdoor fabric for upholstery is always a smart option, making clean-up that much easier.
What shape is the space?
What size space are you working with? If the space is pretty large, you have your pick of shapes. If not, the table should work with the shape of the existing space. If the shape is a rectangle, oval or rectangular tables typically work best, where square spaces are best served by a square or circular table.
If the space is large and you can choose any shape, we recommend working with a shape that brings something new to the table (pun intended!). A round or oval table might be just the thing to soften the 90-degree angles found in the countertops, cabinets and island.
On the other hand, if you've used countertop materials that can be curved or rounded, a square or rectangular table might be just what the space needs.
Have you thought about access and comfort?
The last thing you want is to set up your new table, only to find there isn't enough room for guests to get into and out of their chairs. The rule of thumb for accessible dining areas is to leave at least 36-inches between the table edge and the nearest solid surface - be it a wall, buffet or island. If household members or regular guests use mobility aids, you may want slightly more room on one side or an end to accommodate that.
Could the kitchen use a little texture or a color accent?
Your new dining table and chairs may provide an opportunity to add a little texture. If you've gone with a natural, wood-finished look, your kitchen is probably full of grains, so a solid colored or sleek dining table will be a nice change. On the other hand, if you've design a streamlined, modern kitchen - your kitchen may be begging for a little extra texture and a rustic, wood-plank table might be just what you're looking for.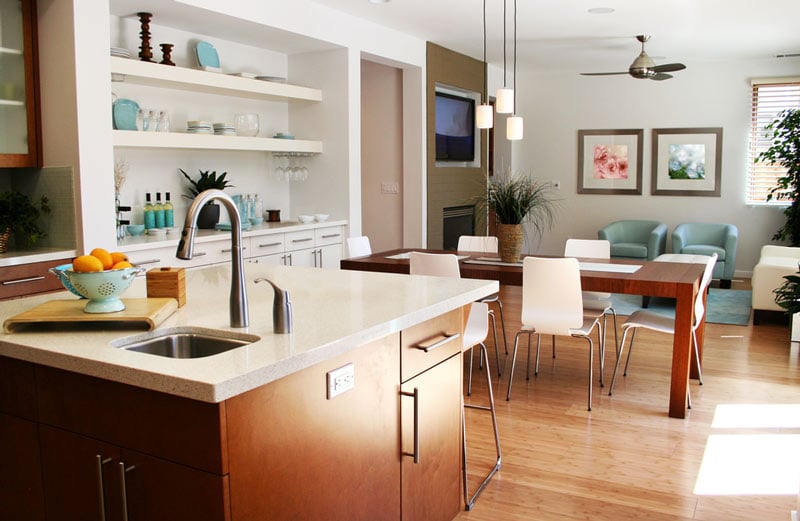 Similarly, a monochromatic kitchen might benefit from some accent colors by way of the dining chair upholstery or a tablecloth that adds casual color by day but can be removed for a more formal, elegant look at night.
Having a hard time choosing the right one? The Kitchen Magic team is committed to seeing your kitchen design through to the final touch.