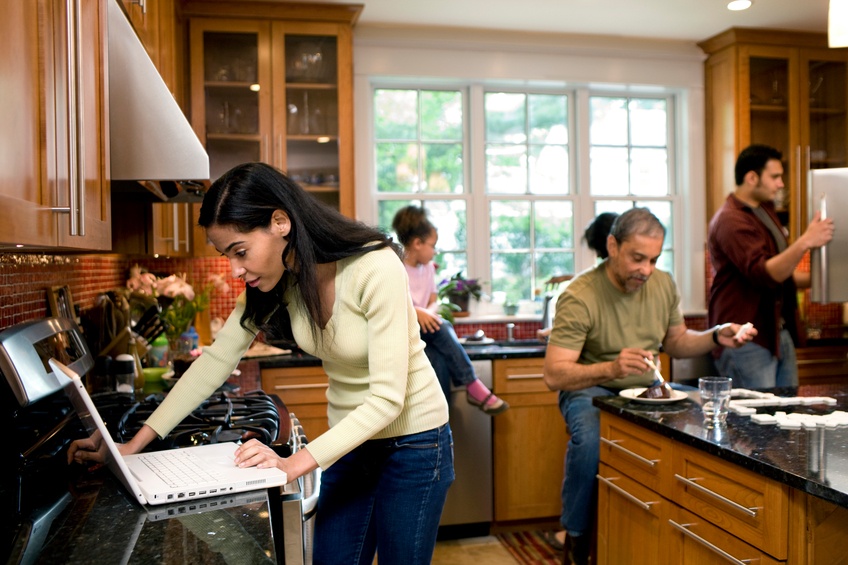 Do you have a parent, in-law or grandparent living in your home - or planning to live with you in the near future? If so, you're not alone. According to Pew, almost 20% of American households have multiple generations living under one roof.
If this is the case for you, your kitchen may need an overhaul to accommodate the generational spread. From universal kitchen design considerations, to subtle improvements that make the kitchen more "livable," we have a few recommendations for you.
Design a kitchen where everyone is comfortable
While the finished product should be gorgeous, kitchen function is always the priority; that's especially the case when grandchildren and grandparents are sharing the same space.
Ask the right questions about your current kitchen
Think about how the kitchen will be used throughout the day, evening and even late night hours.
Does a member of the household need quiet coffee time to return to the world of the living?
Are there little ones who love to bake with the adults?
Are the most-used dishes and snacks in accessible locations?
Is there room for people to gather while meals or being prepared or for after-school snack time?
Are work surfaces easy to clean and maintain?
The answers to these questions, as well as others, should be discussed with a professional kitchen designer so you design a layout that accommodates the wide range of needs and wants that three or four generations add to the literal table.
Is there enough space to re-think the kitchen footprint?
If you have a smaller kitchen or a galley kitchen, odds are you're in need of additional space. A cramped kitchen is a hectic, cluttered and stressful kitchen, and that's the last thing you need with everyone sharing the same four walls.
Instead, think about ways to expand the space in your kitchen to enjoy a more open-concept plan. This could involve knocking out a wall or part of a wall to literally open things up. You might also decide to eliminate the formal dining room in lieu of a larger kitchen space (you can still reserve space for a beautiful dining area inside the new design). Odds are an L-Shaped or U-Shaped kitchen will work best to provide efficient workflow and room for socialization.
Customize countertop heights and appliance locations
The construction trade has developed standard dimensions for countertops and cabinetry because it makes sense. That doesn't mean that those standards make sense for your household. If you have a cook who is taller, increase the heights. If you have a cook who is shorter, lower them. Is someone in a wheelchair or likely to be in one down the road - take that into consideration as well.
The same custom-considerations can be made for appliances and their locations. For example, you may find it's more convenient to have a microwave drawer rather than a countertop or elevated, in-set version. Or, a refrigerator drawer might come in handy for access to fresh fruit and snacks.
Think about grip- and touch-free applications
The more a hand has to work to grip something - the harder it is for little hands or arthritic hands to operate. For this reason, we recommend installing larger drawer pulls or cabinet handles that are easy to use. Touch-free faucets are a smart option for multi-generational kitchen designs. If you really want to go the extra mile, think about automated kitchen enhancements that simplify daily kitchen tasks.
Does your cramped kitchen need a new, multi-generational design? Come learn a few tricks from the Kitchen Magic design team.