Accessible kitchen solutions are known for helping those with particular challenges go about their daily lives without struggle. Homeowners that may have sustained an injury that keeps them confined to a wheelchair don't have to worry about having difficulty in the kitchen completing tasks they once found easy. These accessible solutions also make it easier for homeowners as they age, helping them maintain their independence by keeping everything in the kitchen accessible and comfortable.
While customized kitchens can help those in need reclaim their kitchen as their own, some accessible solutions are great at making everyday tasks easier for all of us. In today's blog, I'll break down five accessible kitchen solutions that anyone can use to make life in the kitchen easier.
Lowered Wall and Floor Cabinets
Lowered wall and floor cabinets are typically installed in kitchens where the homeowner has mobility challenges that keep her confined to a wheelchair. But customizing the height of your kitchen cabinets can help make your countertops more accessible for your whole family. At five feet tall, I have trouble reaching the top shelves inside my cabinets. Because it's difficult for me to access these shelves, I keep them empty, which wastes much-needed space in my kitchen. Lowered cabinets make it easier for me to access my cabinets and make the most of my kitchen. If you have a large family full of small children, lowered wall and floor cabinets can encourage them to participate in everyday chores and help in the kitchen.
Pull Down Shelves and Lazy Suzans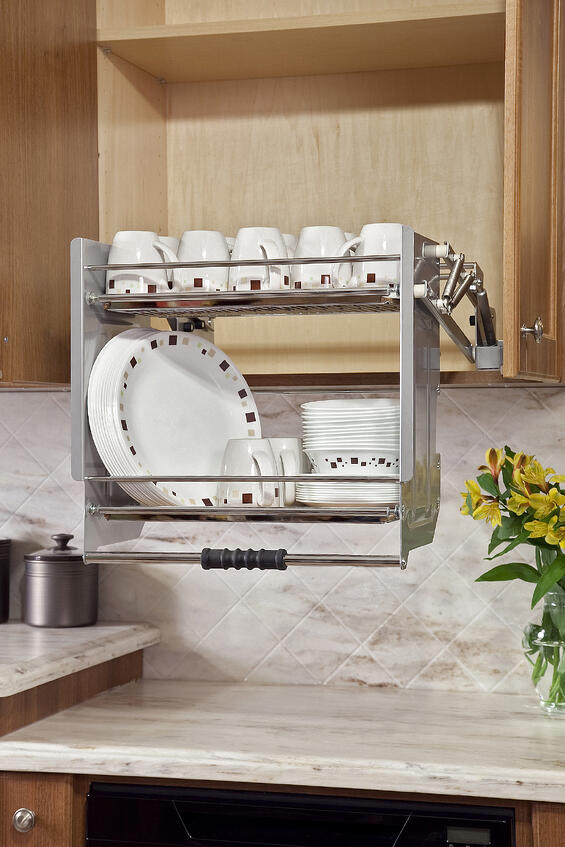 Pull down shelves and lazy suzans are helpful storage solutions fit for the busy family that craves a more organized kitchen. Pull down shelves and lazy suzans are another great addition for a family with small children, because it makes it easier for the children to get just what they need without risking injury.
Pull Out Pot Drawers, Cutting Boards and Spice Racks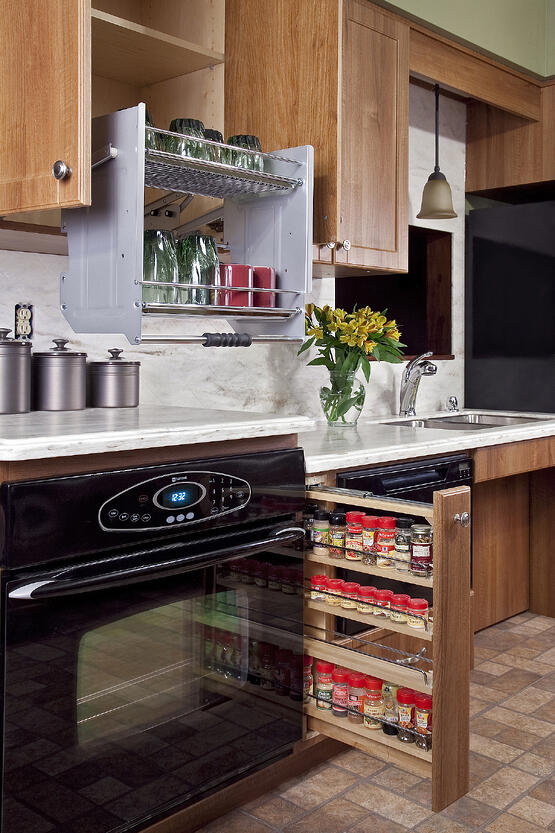 Here's another great life hack to help keep your kitchen organized. Pull out pot drawers make it easier to see everything inside your cabinets, rather than rummaging through a mess of heavy cookware. Ever spend too much time searching for a spice that's hidden in the back of a cabinet? Pull out spice racks make it easy to find just the spice you're looking for, so you can get right back to cooking. Pull out cutting boards are another great addition for the busy mom. Let your children practice cutting, or help out in the kitchen, without standing on a step stool. Busy holding a baby? Take a seat and prepare dinner with a pull out cutting board.
Easy to Load Dishwashers and Ovens
Ever get back pain from constantly bending over to empty the dishwasher or pull that roast out of the oven? Easy to load dishwashers and ovens can keep your back comfortable, without having to risk cutting yourself while unloading the washer, or burning yourself when using the oven.
Easy Access Microwave
It's common to install the microwave above your stove, but this makes you more at risk for injury, and makes it impossible for your children to heat up an after-school snack. In customized accessible kitchens, the microwave is placed within comfortable reach for easy access, usually within the floor cabinets so that it is closer to the ground. Not only does this make it easier for your children to use the microwave, but it also keeps the microwave cleaner because it doesn't get splashed with food or grease from the stove. My favorite place to install an easy access microwave is inside an island—it gives you extra space, and makes it super easy for every member of the family to use the microwave.