Does your kitchen feel uninviting?
Lighting and appliance styles and colors, and even the size of the space, can detract from a kitchen's warmth. Kitchen themes, such as certain modern themes with too many sharp-edged geometric shapes and cool colors, can also make a kitchen unfriendly.
Most homeowners and renters would agree that a table in a kitchen adds warmth. Whether it's used for prep food, a quick meal or to socialize, it invites you, and your visitors, to feel comfortable and relaxed.
Yet, many kitchen renovators won't add tables to their kitchens. They often believe they don't have enough space, or that tables stand out too much.
A breakfast nook is the perfect answer to these concerns.
What is a breakfast nook?
Simply put, a kitchen breakfast nook is a secluded spot, part of the kitchen yet separate, which contains a built-in or portable table and seating for one or more people. It provides a one-stop solution for all of your extra work, dining, rest and social needs without taking up a lot of space.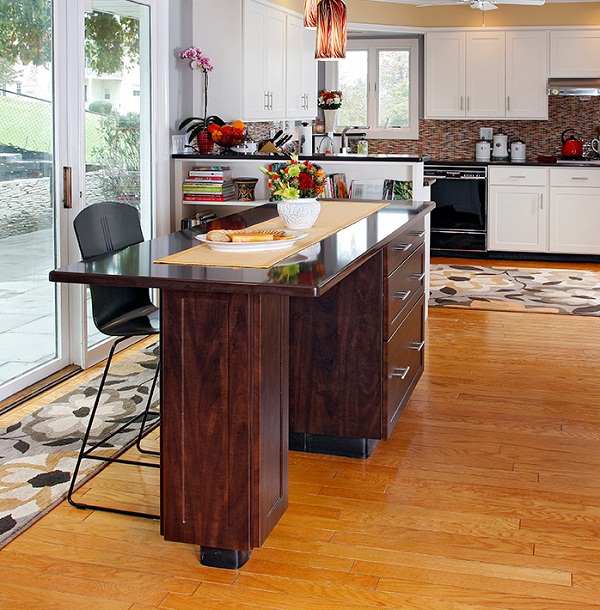 Where Should I Put It?
You can add a custom breakfast nook almost anywhere in a kitchen, including in corners or alcoves, near standard or bay windows, or in small storage rooms connected to the kitchen.
Spaces with bright artificial or outdoor lighting are preferred, as lighting enhances the feeling of warmth.
Designing My Breakfast Nook
During your kitchen renovation, an experienced cabinetmaker can evaluate your space and help you design the right size and style of breakfast nook for it, as well as match it to the kitchen theme and cabinetry.
Kitchen nook designs often include small or large tables with chairs, or benches customized in a straight line, or shaped like an L, U, or a semicircle. If you want an open space enclosed on three sides, a cabinetmaker can also make one or more partition walls or use cabinetry to separate the nook from the rest of the kitchen.
Extras
Sometimes a cabinetmaker will recommend incorporating storage space into the nook. For example, he might recommend box-style benches with under-seating storage you can access via drawers or a lift-style seat lid; or the addition of inset or wall-mounted, open or closed cabinets or shelves in or near the nook.
With all of the custom design options available for bringing warmth to your kitchen with a breakfast nook, why wait? Contact a Kitchen Magic specialist today for assistance.