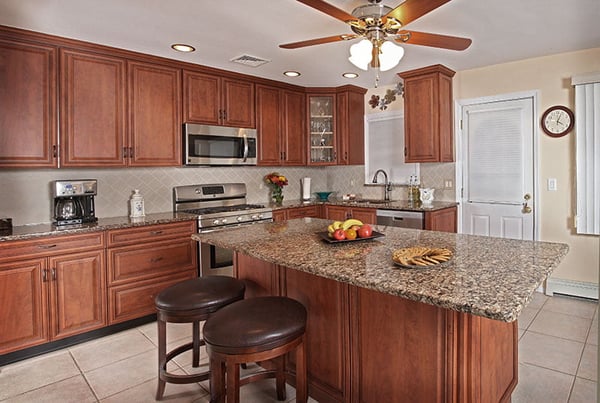 The modern kitchen comes in a variety of different designs, sizes, and square footage. When you're looking to expand your kitchen or just make simple upgrades you'll naturally want to do research on the topic. This is where it's easy to become confused as some figures say the average kitchen is 150 square feet while others will say over 700 square feet.
Let's take a closer look at what the actual average is, how this relates to home size, and why these confusing figures exist in the first place.
Average Kitchen Square Footage
When comparing average kitchen sizes there are a few factors to keep in mind. First, is the change in average kitchen size when comparing the mid-20th century to current home design options. Second, what a home's square footage means to the term average. Third, how the industry affects consumer perception.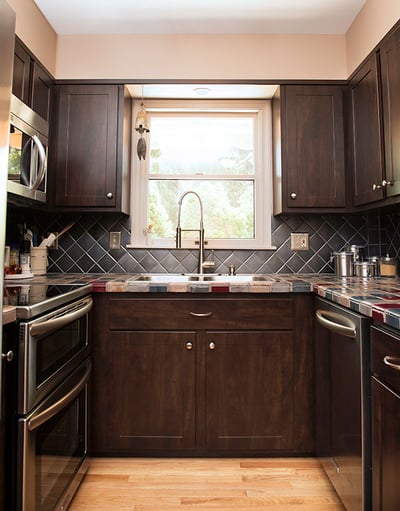 Kitchen sizes in the mid-20th century
When you review photography or home layouts from the early to mid-20th century the size of the kitchen definitely stands out. When directly compared to many modern kitchens their mid-century counterparts certainly appear smaller. In terms of square footage, older kitchens averaged around 80 square feet. The growth of kitchen size can be correlated to a change in general culture and also home sizes. In the cultural sense, kitchens were far more practical and used simply for food preparation and cleanup.
Nowadays people hang out in the kitchen, some people have TVs in their kitchens, some people have radios, and so on as technology expands. Add to this, larger homes have more room for a large kitchen and it can be hard to pin down what the average size is for a kitchen's floor plan.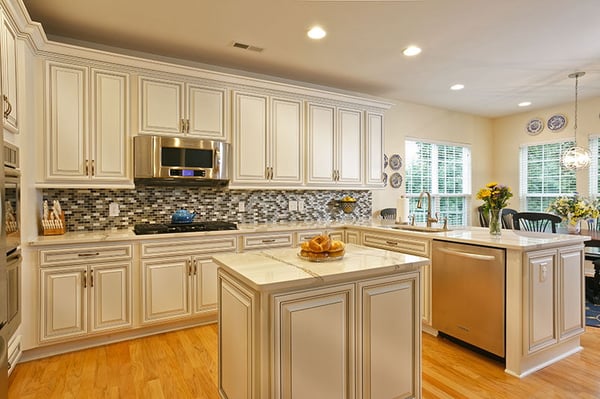 Average home sizes shed light on average kitchen sizes
An important thing to understand is there is no official ruling on what the average kitchen size is. The average is whatever you want it to be and the limits are often only having a big enough house to put a large kitchen into it. If you've ever seen a home improvement show, or just about any show on HGTV, kitchens are often the centerpiece of such programs. This is because many different groups have a financial interest in people like yourself spending money on their kitchen products, remodeling services, and the like. The below figures are just some of the reported averages for kitchen sizes.
720 Square Feet: this impressive number comes from The Home Company. It is worth noting this is only for newly built homes that are roughly 4,800 square feet in size. To give you an idea of the size of such a home here are some comparable floor plans. While certainly, nice a 720 sq. foot kitchen is only average in homes that are quite large.
180 to 440 Square Feet: is the range of kitchen size options you'll often see in new home designs.
225 Square Feet: a figure from Pi Consulting this is more in line with the overall national average for kitchen size as it relates to the average home size.
175 to 200 Square Feet: a lot of homes have their dining areas and kitchens combined into a common room. This increases the overall size of the kitchen and adds functionality. It is, however, stretching the meaning of the term 'kitchen' due to the added dining space.
100 Square Feet: is a traditional benchmark (10 X 10) and is used by the cabinet industry. Its commonly used to help calculate costs for renovation projects.
70+ Square Feet: would be the average small kitchen as defined by the National Kitchen and Bathroom Association. Commonly found in smaller homes, apartments, and condos.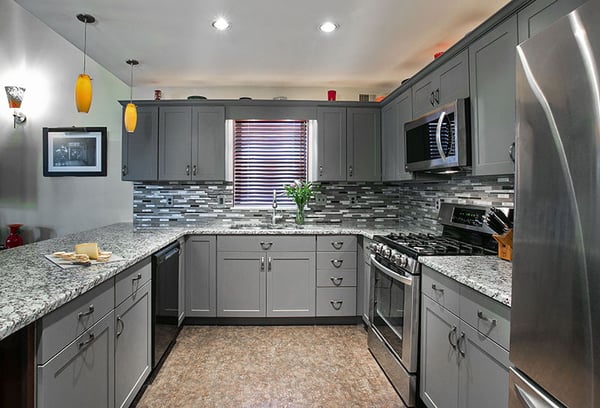 Final considerations
As the above figures show, average is a relative term and what is average for one range of homes won't necessarily be the average for larger (or smaller) ones. It is also important what the average home size really is. The average home is not 4,800 square feet—it's 2,392 sq. feet. Taking the common size of a kitchen (10% to 15% of total floor space) this means an average kitchen in an average home is 240 to 360 square feet. Also, this doesn't include condos or apartments which have kitchens that are only 100 to 200 square feet on average.
When remodeling your kitchen it's important to not be overly influenced by home improvement media material which is focused on selling you the most expensive and largest projects possible. As noted above this is focused on financial gain and not necessarily your own wants or desired goals. When remodeling your kitchen you want to do business with a company that puts your goals first and offers a free in-home consultation to discuss what you want and not necessarily what's in someone else's interest.