Originally, universal or accessible kitchen designs were originally created to accommodate elderly people and those with disabilities. However, kitchen design firms are increasingly incorporating these design tenets into the "average kitchen" because the bulk of them just plain make sense.
From kitchens with a fluid and efficient layout to those that accommodate the varying heights and ages of a home's occupants, a universal, accessible (how about Live-able?) kitchen design is a great thing to keep in mind as you design an upcoming kitchen remodel.
5 Must-Have Features in a Universal Kitchen Design
Here are 5 must-have features your kitchen should have in order to be efficient, comfortable and work-able for the multi-generational household.
1.

A little extra space

Try to create a kitchen layout with a few extra inches between your countertop edges and the kitchen island, or around the refrigerator/oven when the doors are opened. Those extra inches make it easier to navigate the kitchen if someone is using crutches, a walker or a wheelchair. Those mobility aids aren't age-specific - just ask any athlete who has suffered a leg or ankle break. If a member or your family is in a wheelchair or uses a walker, there are more specific recommendations we can make to enhance kitchen flow.
2.

Levers and Bars

Knobs are harder for small hands, or arthritic hands, to grip. For this reason, accessible kitchens typically have lever- or touch-operated faucets so they can be turned on and off easily. Similarly, you may want to select cabinet hardware that has bars or wider handles so whole hands - rather than dexterous fingers - can be used to open them. While arthritis or a weaker grip may seem like decades down the road, they are the forward-thinking kitchen features that will allow you to age in place without requiring another remodel.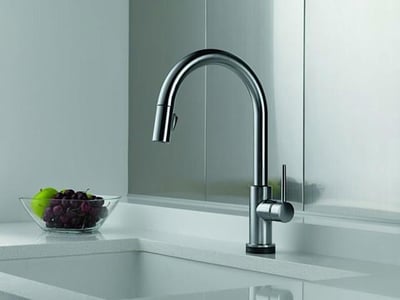 Image via Remodelista
3.

Varied countertop heights

Standard countertop heights are typically 36-inches, but that doesn't mean that height works for everyone. Taller members of the household may prefer a taller countertop section to save their backs while shorter kitchen helpers may like to have a lower counter where they can stand or sit comfortably while they work.
4.

Pull-out cabinet shelves

Who doesn't want this handy-dandy feature? Pull-out shelves mean you never have to get on all fours and dig around in the "way back" of your cavernous lower cabinets. It means that when you stand on a stepping stool, you don't have to risk life and limb, teetering on tippy-toes while you reach into awkward upper-cabinet corners. Say adios to those moments, and install pull-out shelves that bring your cabinet contents to you. As long as you're at it, talk to your kitchen designer about pull-out spice racks, trash drawers, and even pantries.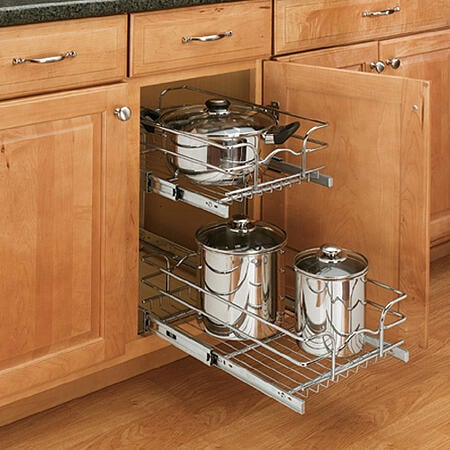 5.

A well-rounded lighting plan

Try to incorporate as much natural light as possible, which is the best means of illumination for those with poor eye sight. Similarly, your post-sunset or cloudy day lighting plan should create appropriate levels of contrast as well. Without careful attention to task lighting, ambient-only or weaker light intensity will wash out a kitchen's features, making it more difficult to navigate or work in when ample natural light isn't available.

Ready to design a comfortable, stylish and efficient kitchen? The Kitchen Magic team will seamlessly integrate universal kitchen design ideas that resonate with you.