When we spend so much of our time at home in the kitchen, doesn't it make sense to invest in appliances and technology that can help make your daily activities a little easier? Think smart refrigerators, touchless kitchen faucets, under cabinet lighting and more. Innovations like these not only lend a proverbial helping-hand, but they can also aid in keeping your kitchen more sanitary and safer for everyone.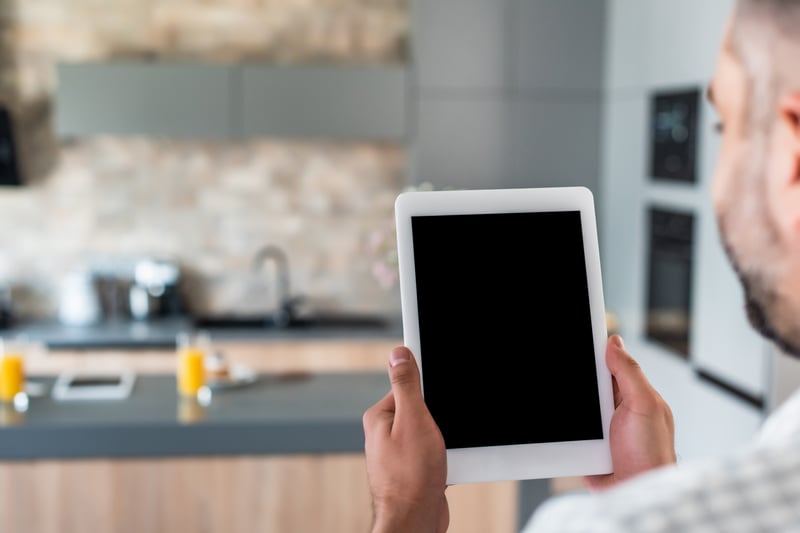 Hands Free Appliances and Accessories to Consider for Your Kitchen
The kitchen is one of the most used rooms in the home, perhaps now more than ever. So, if you find yourself wondering what kind of technology is out there, we've collected a few of our favorite kitchen appliances and accessories that keep everything in the kitchen easy and, more importantly, hands free! Check them out below.
Touchless Kitchen Faucets
Hands free faucets are usually sleek and visually appealing, but they also offer homeowners an opportunity to consume less water while also reducing the spread of grime and germs in the kitchen. Touchless faucets are more hygienic than traditional faucets, so they are ideal for families, at-home chefs and just about anyone who has ever wished for an extra hand in the kitchen. Some brands can be operated with just the tap of the hand, wrist or forearm on the faucet head, others have integrated motion sensors, and some models even offer programmable temperature settings.
Custom Kitchen Lighting
We love the variety of kitchen lighting options that are available for homeowners today. Good lighting illuminates design, can directly impact safety, and can even influence mood. So, we think it's worth paying additional attention to the light in your kitchen. Most of today's lighting systems can be operated with a remote, smartphone or tablet, some include eco-friendly motion sensors, and other systems feature pre-programmed, single-touch task lighting. The possibilities are endless, but one thing we're sure of is that the future is bright!
Smart Refrigerators
Smart refrigerators and other appliances including ovens, microwaves and more, are growing in popularity and it's easy to understand why. They are more energy-efficient and now integrate a ton of helpful programs that are just a click away. Some models allow users to virtually view the contents of their fridge from anywhere on their smartphone, others can display local weather and news right on the door, and some refrigerators can automatically adjust compartment temperatures and humidity levels based on what's being stored inside. All of these features mean more convenience and less time spent potentially holding the refrigerator door open.
No matter what appliances and accessories you currently have in your kitchen, we always recommend that you consult with a kitchen professional before starting any project. If you're ready to make your dream kitchen a reality, Kitchen Magic will expertly install all of the quality materials you choose from our extensive selection. Schedule your free in-home consultation today!