Ah, home at last. The garage door opens and you enter the kitchen. Lights were already activated when the car entered the garage, pre-programmed to fit your "task and cook" settings.
You begin putting groceries away and your smart refrigerator and cabinets take note of which items are placed where so they can notify you when the milk is low, the ground beef is past its prime or the garlic powder needs to be replaced.
As you cook, custom-organized spice rack(s) emerge from the cabinet. When you're done removing the skin from tonight's chicken, you step towards the sink and without touching a single handle, the water comes on at just the right pre-programmed temperature so you can wash your hands without contaminating anything...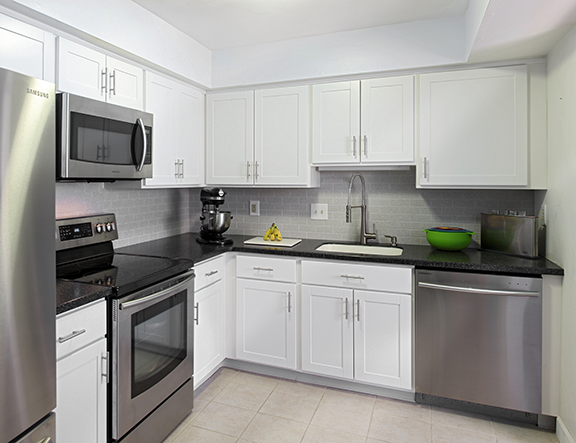 Think this sounds pretty nice? Just wait few more years and you may come home to dinner prepared by your very own kitchen robot - no joke!
The Life of an Automated Kitchen
We realize that the word "revolutionized" is thrown around quite a bit these days. We're guilty of it ourselves sometimes. Perhaps it's simply evidence of how quickly innovative home solutions enter the kitchen design market.
While the kitchen remains the heart and busy hub of the home, the ease and efficiency at which it operates is - truly - revolutionary for those who work in it.
Here are examples of automated kitchen innovations you can implement right now! And, may we point out, almost everything that's "touch" activated can be motion and/or voice-activated as well.
Completely Touchless or No-Handle Touchless Faucets.
These faucets are ideal for families with small kids (can't reach the handle), retirees or couples who plan to grow old in their home (may have trouble gripping knobs and handles someday) or anyone who cooks and hates to get cooking goo all over the faucet handle when they wash their hands.
Some brands operate with a touch of the hand, wrists or forearms on the faucet head, others are motion-sensored and require no touch whatsoever. Some models offer pre-programmable temperature settings.

Customized Light Settings for Task, Ambience and Safety
We love the manual customization available for home lighting designs, but that will only get better as lighting automation improves. Today's high-tech lighting designs are remotely operated from smart phones, whether you're at work or on vacation a continent away. Some lighting systems operate on motion sensors, so lights only illuminate when someone's in the kitchen.
Pre-programmed settings provide single-touch operation to create task lighting, ambient lighting for dining or late night coffee talks, and safety lighting - early morning undercabinet lighting on a dim setting, perhaps?
Food and Task Specific Sensors
Imagine if you removed your frozen pizza from the freezer, and the oven automatically preheated to 400°. Or if the opening of your tea cabinet drawer fired up your tea kettle burner? This is the type of technology that techy kitchen manufacturers are improving on as we speak.
Organizing your efficient kitchen is step one, so you know where things will be stored and can program sensors accordingly. Whole-system sensors are on the pricier side but individual sensors can be as affordable as $20 a pop.
Ting-Ting! Dinner's Ready
What do you get when you cross a temperature probe and smart phone technology? The ability to sit down and relax while dinner's in the oven or on the stovetop. When your dish is at your desired temperature, your phone will signal "dinner's ready."
These examples scrape the surface of where the kitchen automation trend is headed. Kitchen robot chefs are already in the works, and we can only imagine what will be next.
Want to know how your kitchen will act when its "master" returns home? Visit us here at Kitchen Magic to explore the possibilities.