When DuPont's Corian first came onto the scene in 1967, it was a big hit. Designed to replace laminate and granite (the former being poor-quality and the latter being ultra-expensive), homeowners - namely housewives - loved that Corian was stain and scratch resistant.
At that time, a period when household meal prep was largely done by women, the ability to chop or roll dough directly on the countertop surface, and the ability to easily clean it up again - without catching a peeling laminate edge - was a blessing.
Then, attitudes around Corian shifted. Granite continued gaining ground with luxury kitchen design trends, and Corian fell behind, often teased about its boring, "freckly and speckly" appearance.
Contemporary Corian is All Grown Up
You see, while DuPont was on to something in terms of durability and sustainability, early Corian patterns left much to the imagination.
On one hand, the consistent patterns were reliable (no choosing granite tiles based on a couple samples, only to find the natural stone had a big red streak running through it once it was all laid out). This made it easier to design the rest of the kitchen's finishes, not to mention the backsplash. On the other hand, as natural stone became more and more popular, Corian was viewed as too boring for the new wave of homeowners.
Now, our friends, that is not the case. DuPont upped their game.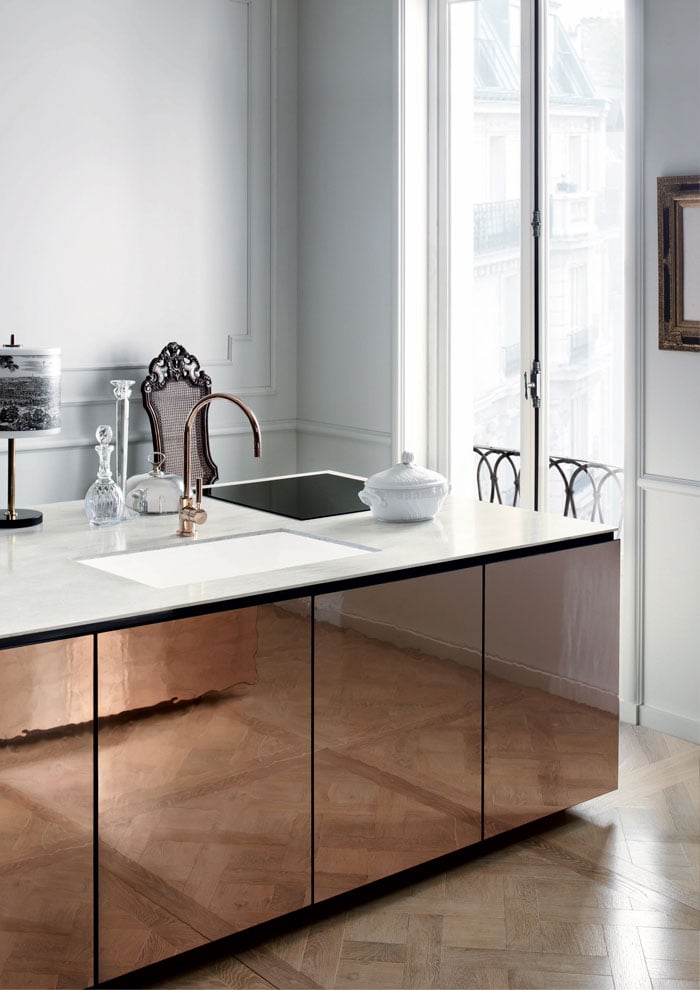 Photo by: Dupont
This next generation of Corian designers has done an incredible job of preserving everything we love about Corian while enhancing its aesthetics. Now, Corian slabs incorporate the same beautiful swirls of marble, granite or quartz - but the product is less expensive and still offers a desirable uniformity you won't find via natural stone.
What is Corian?
Like quartz, Corian slabs are produced using real minerals found in the earth (hence the crystalline mimicking of natural stone), These are blended and bonded together using a resin.
This resin provides nearly unrivaled durability in a totally sanitary product. Corian is considered non-porous, meaning there are no natural pores, miniscule crevices or small chips that absorb food materials that lead to grime build-up or staining. It's very hard, which makes it more scratch-resistance and, when it does scratch, the scratches are easily buffed out.
From an investment point of view, it's designed to last a lifetime - meaning you'll never have to replace it. And, because it's not mined the way marble and granite are, Corian is a considered a more eco-friendly product.
The look of natural stone without any of the hassle
We love today's Corian because our clients get the look of natural stone, without any of the hassles - price, variability in patterns, potential fissures, etc. You get all those beautiful swirls and striations present in marble and granite, but with a more consistent color and pattern, making it easier to select the remainder of your kitchen finishes.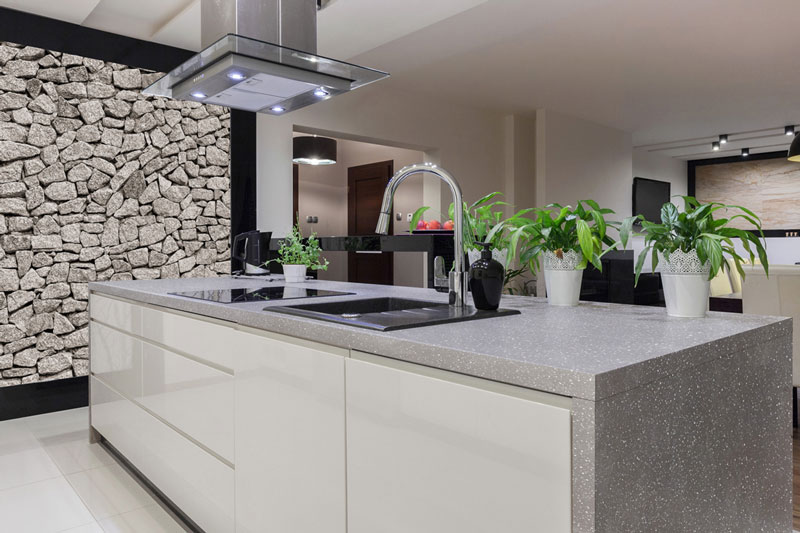 Photo by: Dupont
Another benefit of Corian? You have more control over kitchen colors. Because Corian is made with synthetic resins, designers also have the freedom to use any pigments they want. This means you can have the beauty of natural stone patterns in colors you'd rarely find - or never find - in Mother Nature. Currently, there are more than 100 colors and patterns to choose from.
Finally, we love that Corian can be shaped to fit any size or design, allowing all those beautifully curved and sweeping lines - seamlessly installed - that you can't always get with stone.
Come on down to the Kitchen Magic Showroom and take a new look at what Corian has to offer. There's a Corian option for every kitchen design.