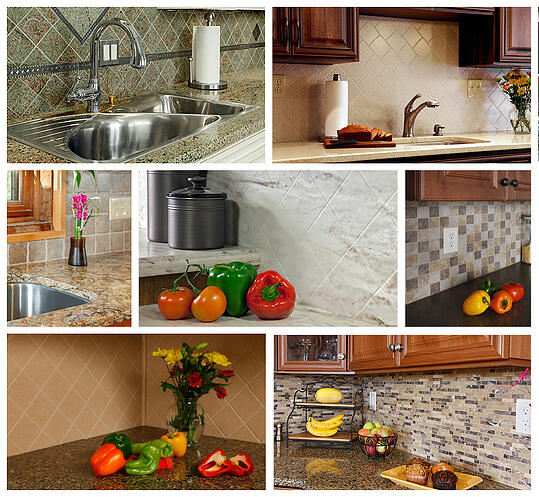 How do you feel when you hear the words mold, mildew, and grime? Does the word, "ick" come to mind? If you're debating between a Corian and tile backsplash for your kitchen upgrade, let us decide for you - choose Corian.
Corian is grout-free, easy-to-clean, low-maintenance and allows absolutely no room for disgusting mold to infiltrate your kitchen countertop.
A Grout-Free Life Is a Better Life
One of the many joys of Corian is that it's completely grout-free. But what's so bad about grout, you ask? It chips, cracks, fades, and gets darker with grime...er, we mean time. Grout has to be sealed and - to top it off - the multi-textured and porous surface (combined with the invisible and visible separations that occur along tile edges) allows moisture and kitchen counter debris to become trapped. This is a prime habitat for mold and mildew development.
If you like the appearance of fresh grout, you're in luck! Customers have told us that although they loved the benefits of a Corian countertop, they missed the look of a tile backsplash. So, Corian backsplashes now come in a wide range of finishes, including subway tiles and diamond squares. Or, we can rout your Corian selection to look just like tile.
Corian is Easy to Keep Clean
While tiles themselves might be easy to clean, the grout in between the tiles is more challenging. Ever tried to wipe avocado pieces off of a tiled countertop? All that green slime just keeps rubbing further and further into the grout. Blech! How about those pesky red splatters of pasta sauce that seem to magically appear no matter how low you set the flame? Gah!
With a Corian backsplash you can cook, bubble, splatter, or have a good old fashioned food fight in your kitchen and the cleanup will still be a cinch - just wipe it off, and it's clean. It's that simple. Plus, did we mention that Corian is nonporous?
How Does 'No Maintenance' Sound?
Grout sealing is one of those things that every new homeowner envisions themselves doing once a year. And then they never do. Have you ever had to replace chipped or falling-apart-grout? It's nearly impossible to match the shade (due to aforementioned fading/darkening), which means you have to replace it all or have unattractive seams.
Corian, on the other hand, requires no maintenance because its practically indestructible. The seamless transitions between your Corian backsplash and countertop will make you swoon with glee. So take our word for it and ditch your tile backsplash dreams and head on over to a Kitchen Magic Showroom and select the perfect Corian tile-esque backsplash for your kitchen remodel. You'll thank us for it.