One simple enhancement that can have a huge effect on your kitchen design is installing a ceramic tile backsplash.
Painted or papered walls can appear grimy over time from food or dishwater splashes, and then often require extensive re-painting or wallpapering. On the other hand, the glazed surface of ceramic tiles doesn't allow splashed food or dirty dishwater to stick. Additionally, if an area does get permanent marks or discolors, total backsplash replacement isn't necessary. You only need to replace the damaged tiles.

Ceramic tiles are also a favorite backsplash material because they are lightweight, easy to cut into various shapes and install quickly.

Backsplashes are typically installed above stoves and sinks. The the amount of wall you cover with a ceramic tile backsplash, and the tile pattern, are entirely up to you.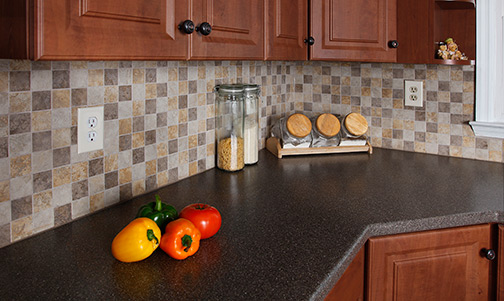 Popular Coverage Options

Wraparound -- Placement between upper and lower wall cabinets, or a custom height up from the lower cabinets.

Full wall -- Often a floor-to-ceiling placement in a single pattern. Full wall coverage also includes a single pattern broken by a band of different colored tiles near the lower cabinets or a horizontal line of different colored tiles at a custom height up from the lower cabinets.

Blocks -- One or more square or rectangular blocks of tiles with or without a border positioned only above areas where splashing occurs.

Popular Tile Patterns

Basic - Patterns made from large or small diamond, square, rectangle or convex brick cut tiles in one or more colors.

For example, you might install a wraparound checkerboard backsplash made of white tiles and one or more shades of blue ceramic tiles in a blue kitchen. Other popular patterns include diamond harlequin, convex brick basket weave and tiny square tile grids.

Custom - Basic backgrounds taken to the next level with accent tiles in different colors or materials, or special designs.

For example, you might break a one-color diamond pattern with small, complementary-colored square tiles in different spots; or a tile mosaic with or without a frame made of ceramic, stone, wood or other materials.

Kitchen Magic offers American Olean and Daltile ceramic tiles in a wide range of colors from basic whites and neutrals to earth tones, as well grain patterns. If you prefer to mix ceramic with other materials, Kitchen Magic also offers solid surface, tumbled marble, glass and natural stone blends, and glass mosaic tiles in a variety of colors.