Here's a scenario we come across more frequently than you'd think: Homeowners have existing granite countertops that they really like, often recently installed or just well preserved, and they don't want or need to replace them. But the cabinets underneath are noticeably not "up-to-snuff" anymore. What should they do?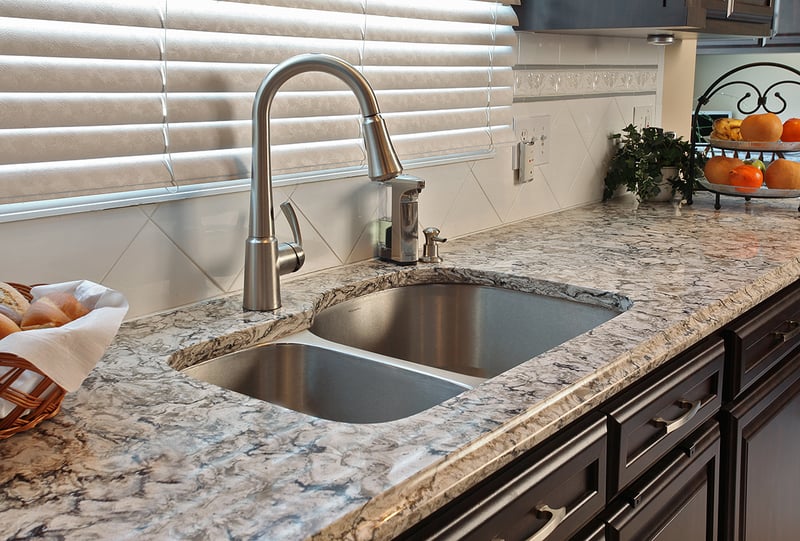 Cabinet Refacing: The Simplest Way to Replace Cabinets Underneath Your Granite
Only updating your kitchen countertop to granite or quartz may have been the obvious solution for dealing with the dings, chips or outdated color of older surfaces, or it may have been the start of a phased kitchen remodeling process. However, once installed, the beautiful new stone countertops may actually draw more attention, not less, to the condition of the cabinets beneath them. Then, the weight of granite (or quartz) slabs often makes homeowners worry about how to refresh their kitchen cabinets without the risky process of removing heavy countertops.
Cabinet refacing to the rescue! This method gives cabinets a brand new look, just without the brand new price tag. Your existing cabinet frames will be reinforced and a new solid wood or maintenance-free laminate veneer is applied over the plywood, giving your cabinets a look that matches the newness of your granite countertops. This same effect can be achieved when you're replacing cabinets under new quartz, Corian or laminate countertops.
Not familiar with cabinet refacing? Check out our helpful Cabinet Refacing page, equipped with quick videos that clearly explain the process and what to expect.
"Can't the Granite Slab Just Be Removed and Then Put Back in Place?"
Granite is a very hard surface that is unlikely to crack with normal use. Most cracks occur as a result of stress during handling, fabrication or installation. This is why removing a granite slab, once installed, is not ideal. It may even result in additional costs, rather than reduced ones, if the reinstall gets complicated.
You should always be wary about moving a granite slab once it's installed; that is a recipe for breakage and going over-budget. Granite slabs are impossible to repair well once they're seriously cracked, chipped or damaged. Separating them from the cabinet frames is a risky and delicate — and sometimes impossible — job. Keep in mind too, that removing your granite can void your manufacturer's warranty.
"Can refaced cabinets really look like brand new custom cabinet replacements?"
Yes! Refacing the cabinets — whether it's under your existing countertops or throughout your entire kitchen — can create a whole new look, just like a full cabinet replacement renovation. Plus, cabinet refacing is an innovative process that can help reduce your remodeling budget by upwards of 50% and leaves your kitchen looking completely new. Don't believe us? Take a look at these 8 Amazing Kitchen Transformations, all of which used cabinet refacing solutions.
Refreshing the appearance of the lower cabinets with kitchen refacing opens up so many opportunities to do something unique, too. Elle Décor magazine shows how contrasting or two-tone kitchen cabinets can transform your space. Kitchen Magic customers have beautifully paired blue lower cabinets with white upper, gray lower cabinets with with white upper ones, and more. This design choice may be the thing that gives your kitchen that extra pizzazz you didn't know you needed.
You can also apply this kitchen refacing process under solid surface counters, such as Corian. The same holds true for laminate countertops, including the exciting new line of Willsonart® surfaces, including ThinScape, which simulates natural stone, wood, and textiles, and comes in a myriad colors.
"What are some other benefits of cabinet refacing under an existing granite countertop?"
Here are some more benefits of using Kitchen Magic's exclusive cabinet refacing process under your existing granite or quartz countertop:
Your existing cabinets will be reinforced. There are very few occasions when cabinet refacing isn't a possibility, and they only occur when your cabinet frames have been water damaged or structurally injured beyond repair. In all other instances, our crew will use a proprietary cabinet frame reinforcement process, which will bulk up your existing cabinet frames, if needed.
You can have any look you want. There isn't a single style or aesthetic that cabinet refacing can't give you. We work with beautiful hardwood cabinets and practically indestructible maintenance-free cabinet doors. Our door styles complement any design style, from traditional, transitional, contemporary, modern, complementing and more.
It's a sustainable kitchen renovation option. Cabinet refacing is markedly more sustainable (aka: eco-friendly) than almost every full-cabinet replacement option available. With a full-cabinet-rip-out remodel, every single component of your old cabinets is disassembled and removed. Much of existing cabinet boxes function just fine, so there often is no need to install all brand-new everything. With cabinet refacing, the majority of the cabinet frames and structural components are re-purposed and saved from the landfill, and the only thing we need to "replace" are the doors and finishes.
One of the best benefits of refacing cabinets under existing granite countertops is that you can do all in as little as three to five days. A Kitchen Magic consultant will happily come out and provide you a free in-home consultation and quote for your new cabinets. Contact online us today to get started, or give us a call at (800) 272-5490. Your beautiful kitchen upgrade awaits!