Lining cabinet shelves and drawers has been a time-worn kitchen tradition. In fact, lining the cabinet shelves and drawers was almost like a rite of passage for previous generations. It signified making a new home their own and protecting their new cabinet shelves from water damage and food stains.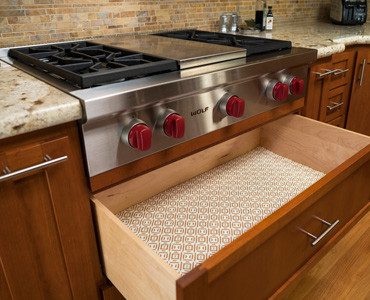 The flip-side of that coin is that some of us have also moved in to a rental or homes that were new to us, only to spend hours lifting up old, gummy shelf liner - disgusted at the crumbs, grime, dust and even insect remains that lay beneath. So, we wonder:
Is It True That Liners Extend Kitchen Cabinet Shelf-Life?
In a nutshell, using shelf liner doesn't extend the life of your cabinet shelves or drawers in any noticeable way. However, they can keep things more clean and sanitary (assuming you keep them clean and sanitary), and they will protect shelves/drawers from unsightly surface damage that can occur from water left on dishes when you unload the dishwasher, or the oil and stain rings that can transfer from the bottoms of food and sauce containers.
If you do like the idea of adding color, style or a layer of protection between your dishes and pantry products and the bare surface of your shelves, here are a few tips for you.
Tips for using shelf liners to their best advantage
Here's some advice to get the most out of using shelf liners for your kitchen cabinets and drawers.
Forget about the sticky stuff
While we don't feel like shelf liner makes any noticeable difference (i.e. after almost 40 years in the cabinet business, we have never replaced kitchen cabinets because the homeowner neglected to use shelf liner), using shelf liner can wreak havoc on the shelf and drawer surface if you have to scrape aggressively to get it off. This results in dents, divots and scratches that are cumbersome or impossible to remove. Instead, opt for non-adhesive liners that look great and stay in place, but can be easily removed and washed as needed.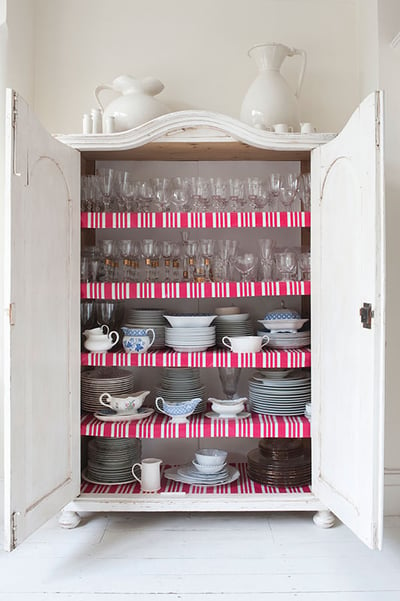 Clean your cabinets and drawers
Make cleaning your cabinetry interiors an annual ritual, giving you the opportunity to remove the non-adhesive liners and give them a good wash. Be sure to dry them thoroughly, as well.
Invest in slightly padded versions
Love those whisper quiet cabinet and door hinges? A person can get used to all that quiet. But, what's the point if the next sound is the banging and scraping of dishes and glassware on bare cabinet shelves? Consider using slightly-padded, non-adhesive liners and you'll appreciate their sound-muffling benefits.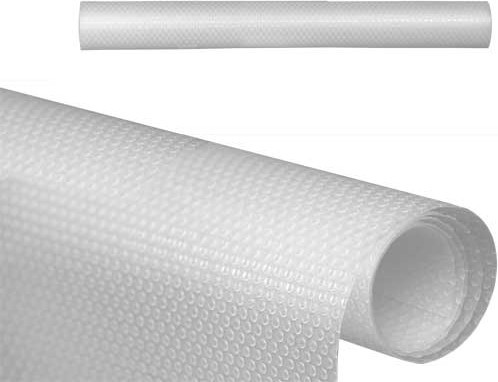 Bonus tip! Line the back of glass cabinets or open shelving
There are some great patterns out there in shelf-liner world, there's an incredibly wide selection. Designers and DIYers alike have utilized these stylish liners on the back of glass cabinets and open shelving to add a splash of color, or some visual interest, to a kitchen design. The kitchen below illustrates how this can be very tastefully done with the right pattern.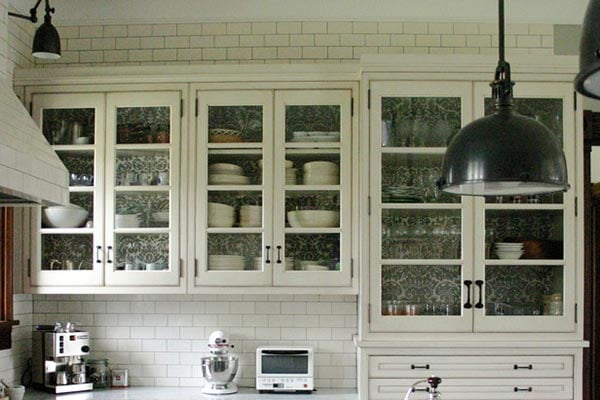 Ready to choose some gorgeous new cabinets to go with those liners? Contact Kitchen Magic, and we'll help you design your dream kitchen with cabinets that will last a lifetime.