Backsplashes can add significant visual appeal in the kitchen, but they can also create a bit of stress as homeowner's look through myriad tile option or mosaic patterns, trying to find the perfect one for their kitchen.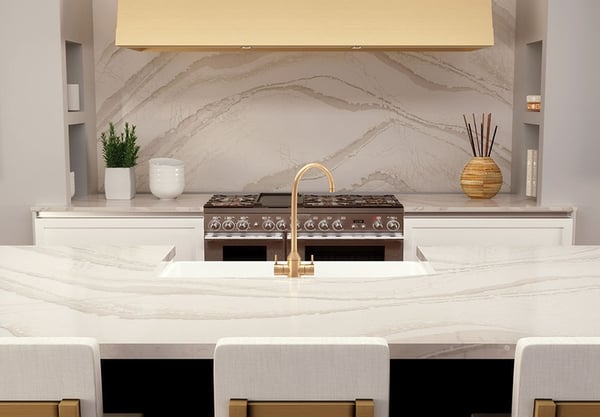 Well, guess what? Backsplash selections get a whole lot easier when you scrap the idea of finding matching tiles or fancy patterns and enjoy the stunning simplicity of sheet-style backsplashes.
Sheet Backsplashes Protect & Adorn Kitchen Walls
What are sheet backsplashes?
Sheet backsplashes are whole, continuous sheets of slab-style material - most typically quartz, granite, solid surface, or laminate - applied to walls behind sinks and stovetop areas to protect them from moisture and staining.
Of course, depending on the selected material, color and pattern, this protective element simultaneously becomes an element of kitchen style, too.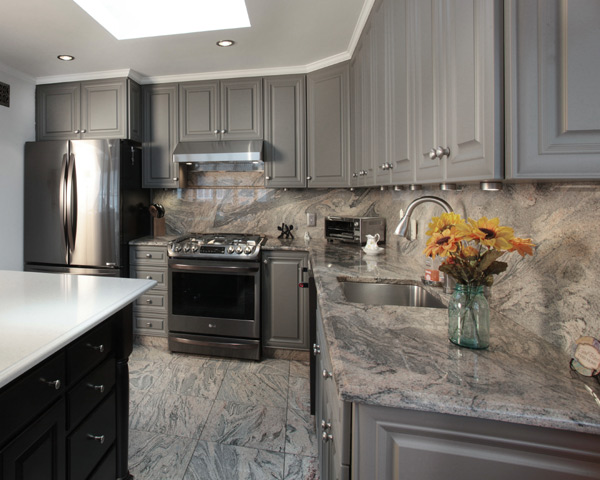 Benefits of selecting a sheet backsplash
There are several benefits to selecting a sheet of material - rather than a collection of materials - to serve as a backsplash:
Ease of selection
You'll have an easier time selecting a single sheet to serve as your backsplash. In most cases, you'll simply use the same material selected for the countertops, guaranteeing a perfect match. There are so many color and pattern options across the materials board, you'll be able to find something neutral - or something quite bold.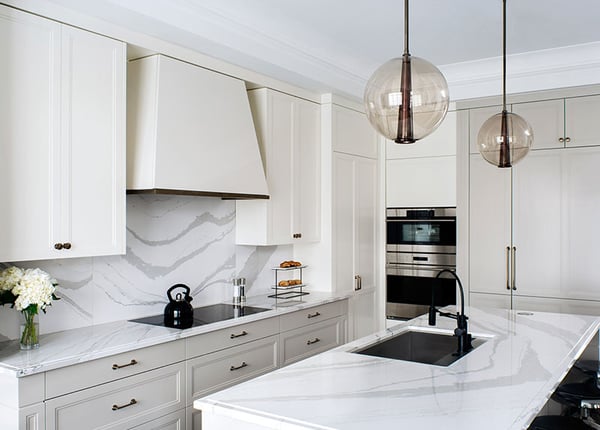 They provide better protection for kitchen wall surfaces
Not only are sheet backsplashes attractive, they're by far the best option when it comes to considerations such as easy clean up and protecting wall surfaces behind them.
Unlike their tile counterparts, there are no grout lines or penetrable spaces that can allow moisture or other materials to move beyond the backsplash and into the wall behind it. And, as a result of that smooth, continuous sheet - cleaning up messes is a breeze.
Sheets yield a seamless finish
While most people choose to use sheet backsplashes for the entirety of their kitchen backsplash, from counter-to-cabinet, and from wall to wall, you can tailor the application accordingly.
For example, those on a smaller kitchen budget, or who feel the continuous look is too monotonous for their taste, can opt to install full sheets in key locations - like directly behind the sink or stove top, while using lower profile versions elsewhere.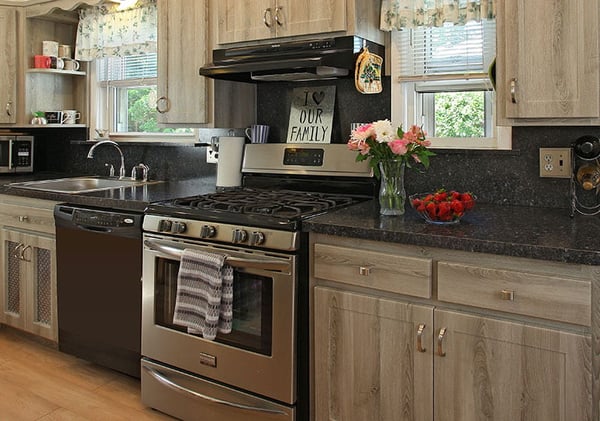 Get the best of both backsplash worlds with Corian
If you like the idea of a sheet backsplash, but you're still partial to the look of tile, there is an ideal solution for you—the routed Corian backspash! This option is a sheet of solid surface material, that has lines routed out to have the appearance of tile. The massive upside to this is the lack of tile grout. So, you get the look of tile, without all the maintenance, because anyone who's ever had to clean grout knows that it's no small feat. Not to mention, grout can be prone to mildew, in a very visible way. Who needs needs that in their kitchen?
However, Corian is a safe and nonporous material that is easy to clean, and available in a variety of finishes that mimic natural stone. Even if you already have your heart set on a quartz or granite countertop, you can coordinate a routed Corian backsplash from their plentiful color assortment. The example below pairs a routed Corian backsplash in Raincloud with a Cambria Quartz countertop in Bellingham.
Are you interested in learning more about sheet style backsplashes? Contact the Kitchen Magic team for a free, in-home design consultation.