The idea of taking on a complete kitchen renovation all at once may feel daunting to some people. It's easy to understand why: kitchen remodeling is a significant investment into the value of your home and the quality of your life. For some homeowners, doing the whole job all at once may not be a practical or financially feasible option at the moment. This is why taking a phased approach to remodeling can be an attractive solution.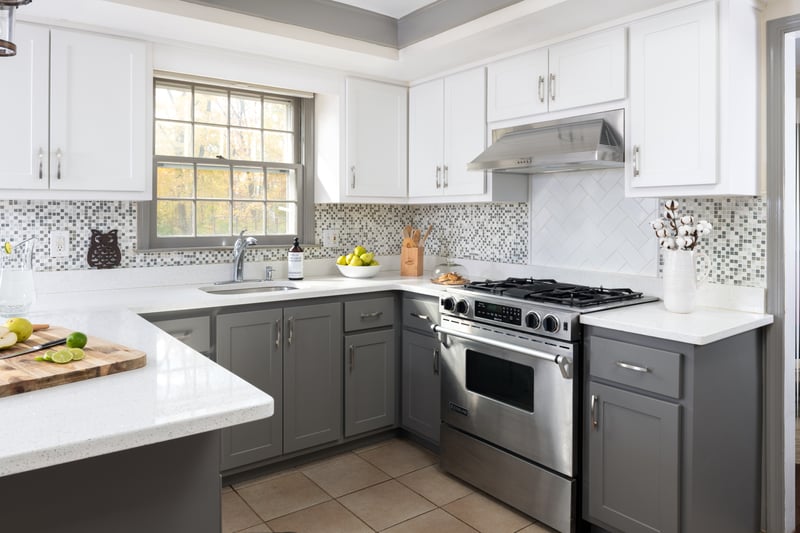 PHOTO CREDIT: Christian Giannelli Photography, 2020
The Benefits of Remodeling Your Kitchen in Stages
When it comes to the phased approach to remodeling, there are five main components to consider: the overall plan, cabinetry, countertops, flooring and appliances. Often, homeowners choose to break down these various components into stages, then they implement changes over a stretch of time that fits their budget or schedule. This could mean spreading out the pieces of the project over months, or even a couple of years or more.
According to Houzz, when homeowners break up their kitchen remodel project into several stages, they can get a sense of moving towards their goal, which can be very motivating and rewarding. It just takes a bit of patience and a strategic game plan. Below are some suggestions on how to take a phased approach to renovating your kitchen.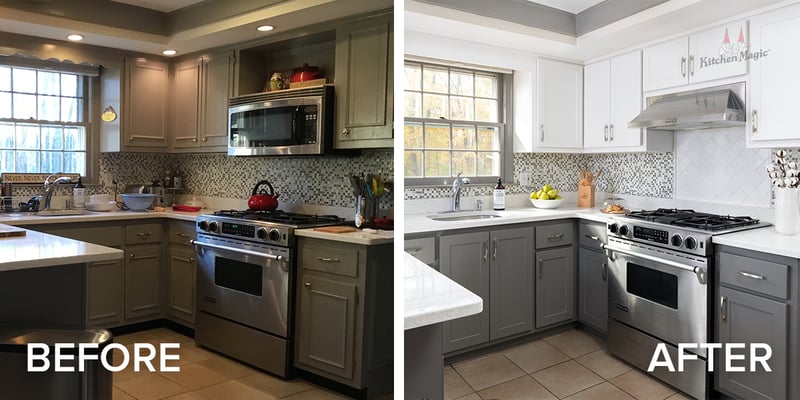 1. List your Top 5 Kitchen Needs and Wants
For the first phase, collect your ideas and create a complete kitchen design, so you can keep your eye on the finished goal and your budget. You may want to meet with a few reputable kitchen design/build teams to choose one that will work with your long-term, possibly multi-year plan. (We help our customers with this frequently, and we also offer flexible financing options for those who do not want to wait for their completed dream kitchen.) Once you've chosen a designer/contractor, you can begin setting a tentative schedule.
2. Evaluate the Existing Bones of Your Cabinetry
In most cases, the cabinet update will have the biggest impact on your new design, so it should get your full attention and consideration. The cabinetry could be the most expensive item in your kitchen remodel, depending upon which process you choose. So be sure to select the best cabinet color and style that works with your personal taste, lifestyle and budget.
If your existing cabinet "bones" are in good shape (meaning, the structural cabinet materials are not warped, damaged or compromised), you have the option to do cabinet refacing, which is usually significantly less expensive and quicker to have installed than all-new cabinets. Refacing can actually save you thousands of dollars over a traditional cabinet rip-out-and-install project, yet offer the same aesthetic transformation as all-new cabinetry.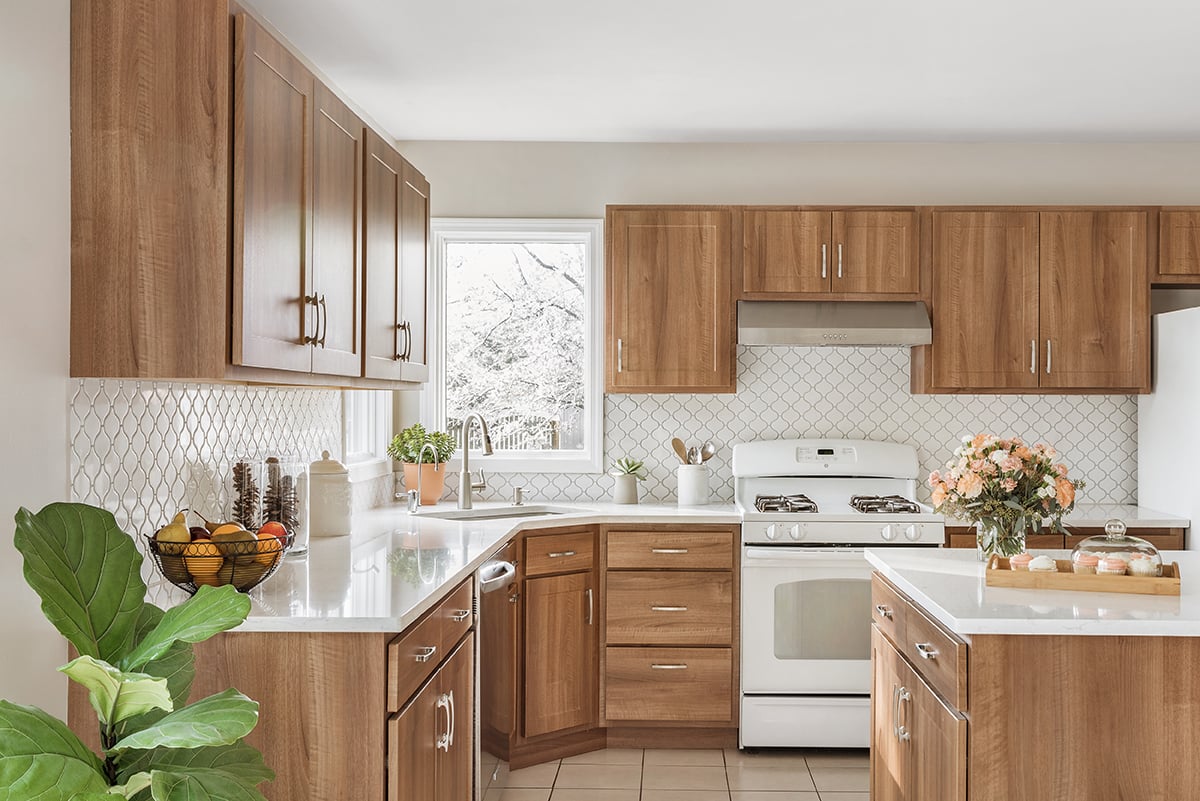 PHOTO CREDIT: Andy Ryan Photographer, 2020
It's best to bring in a professional contractor/remodeler to assess your existing cabinet's structure. Here are some things to consider when you are examining the bones of your cabinetry:
Are they structurally sound enough to withstand the weight of a

quartz or granite countertop

?

If not,

then work to upgrade the cabinets supporting the countertop will need to be done, or a lighter alternative (such as solid surface or laminate) will need to be selected.
Do you currently have a heavy stone countertop that you plan to keep? Keep in mind that stone surfaces can have natural fissures and tiny internal cracks

that make them vulnerable to bending and stress. This is the main reason why cabinets should be replaced before countertops.

Will you need to add new cabinet areas to the existing floor plan? This can be incorporated into a mostly-refacing project, or some other hybrid cabinet solution may be made.
3. Installing Countertops
Once the cabinets are updated and sturdy, it makes sense to have the next phase be new countertop installation. Ask your designer or Kitchen Magic consultant to show you countertop samples to complement your new cabinet style and color. Natural and engineered-stone countertops are popular right now, however, they come with a higher price tag. Solid surface and modern laminate countertop options can be a affordable alternatives.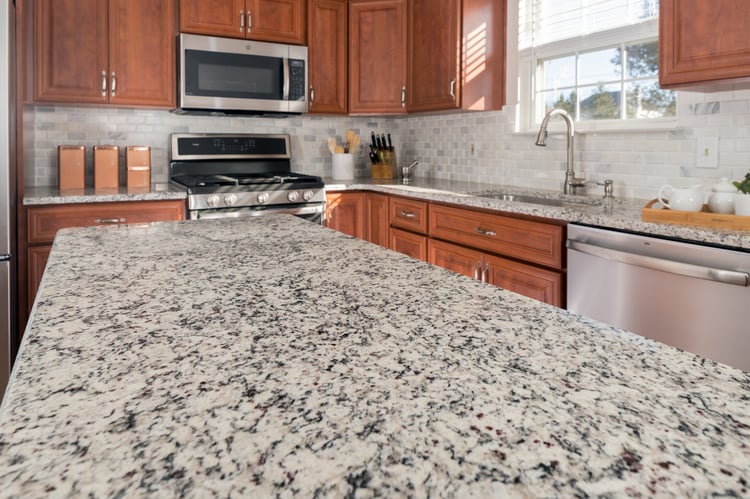 PHOTO CREDIT: Christian Giannelli Photography, 2020
4. Upgrading to New Appliances
This phase (in parts or as a whole) can also occur at the same time as some of the other stages. Homeowners may find it more practical to replace their older appliances one-by-one, in order of importance and need. Upgrades of stoves, ovens, dishwashers, refrigerators and more should be incorporated into all long-term plans, in order to ensure that they fit the spaces and over design styles desired.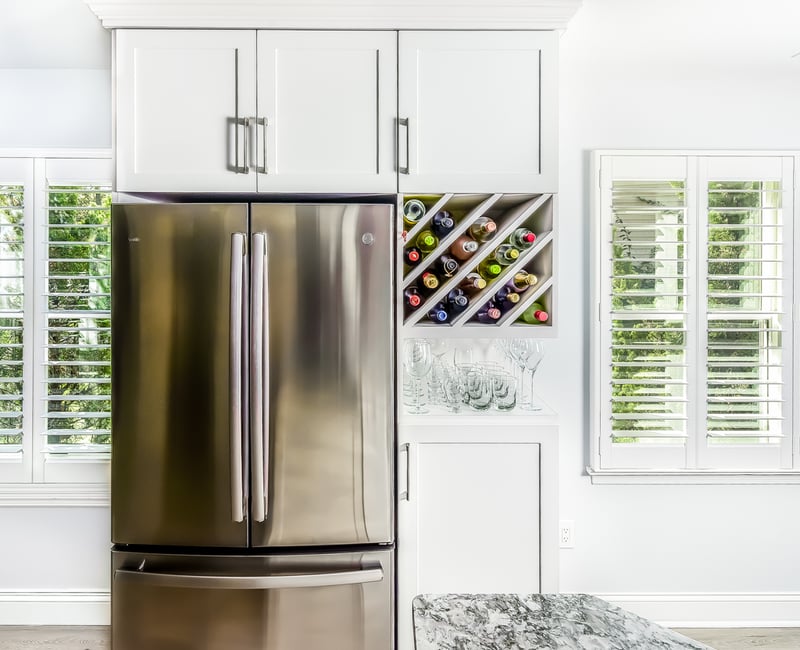 PHOTO CREDIT: PhotoSynthesis Photography, 2019
5. Putting Down New Flooring
Unless yours has major damage, flooring can probably be replaced at any stage of your phased remodel. Some homeowners prefer to save this for last because it allows them to consider what flooring options would go best with their new kitchen design. If you don't like the way your flooring looks prior to this phase of your kitchen remodel, consider using durable area rugs to cover them up.
Flooring choices run the gamut, and your Kitchen Magic consultant can help you select the right flooring material and color to fit your design and your lifestyle.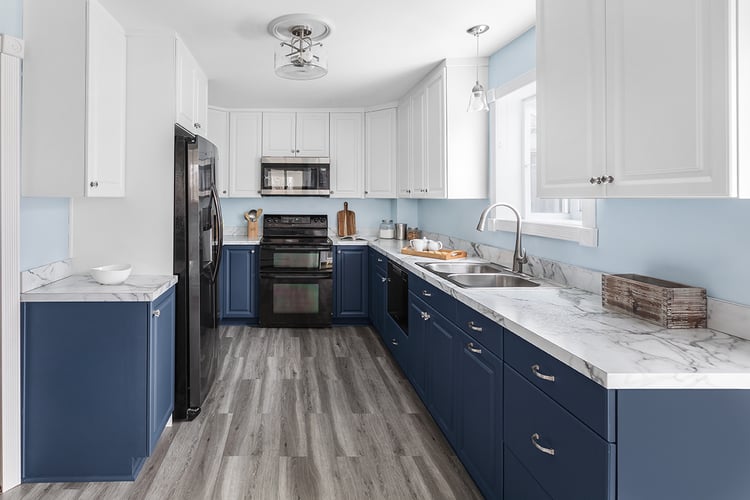 PHOTO CREDIT: Andy Ryan Photographer, 2020
Keeping Your Eye on the Prize
Most of these phases are interchangeable, with the exception of upgrading your cabinets. Replacing essential items by order of need, rather than want, will allow you to maintain your kitchen's functionality throughout the phased kitchen remodeling process. Remodel in stages does require a little more patience than doing it all at once, but the result will be a well-built kitchen that fits both your lifestyle and your budget.
Whether you want to take a phased approach or have your kitchen makeover all at once, our team can help you come up with great ideas, and help you choose products and designs wisely. Schedule a free in-home consultation with one of our Kitchen Magic design consultants today.