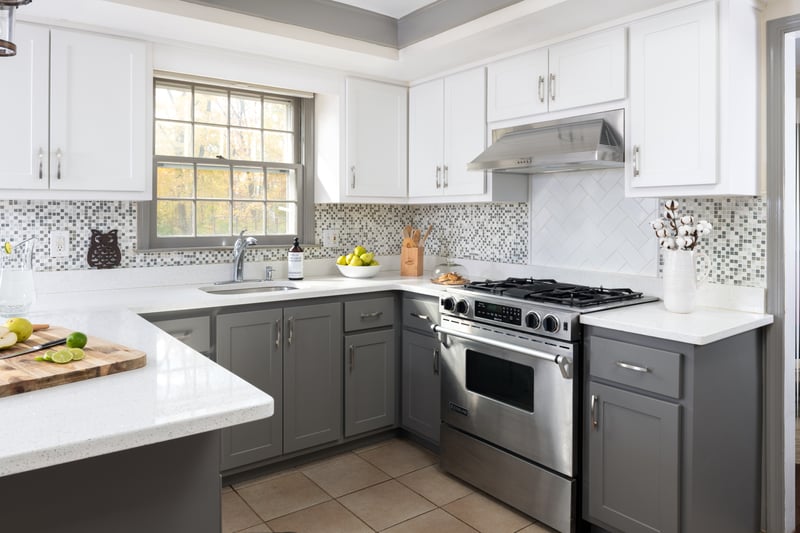 Big style, small budget and a kitchen remodel? These phrases rarely seem synonymous. However, you can significantly reduce the cost of your kitchen remodel with a few smart, money-saving tips from the top professionals. Whether you're trying to maximize your cooking space or give an outdated kitchen a makeover, these experts are here to help you get the kitchen you've always wanted.
Invest in a long-lasting kitchen design
Start by focusing on the longevity of your kitchen's design. Evaluate the overall color palette — do you really want bright and vibrant colors? It can be safer to lean towards calming tones for your essential high ticket items - countertops, cabinetry, and backsplash. A classic kitchen style almost never disappoints, so you'll be able to enjoy it for many years to come or for resale. Choosing neutral colors for your new kitchen design really can be an investment in your future!
1. Lighten it up
Light-colored Quartz countertops are trending in home design. And for good reason too! Quartz is gorgeous, extremely sanitary and highly durable. According to the 2021 National Kitchen and Bath Association (NKBA) Style Report, we can expect this trend to continue for several years going forward. Now that's some solid news!

2. Laminate: a world of possibilities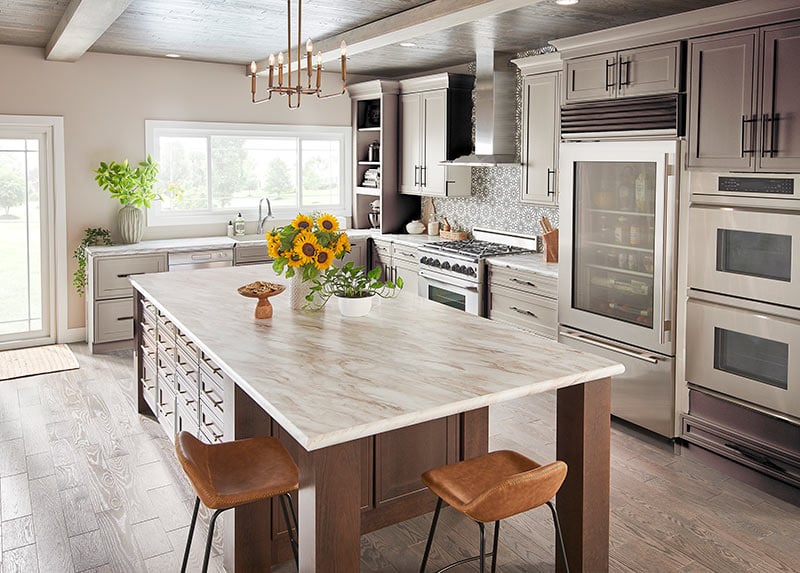 Look for laminates and discover a whole new world of stunning countertop options from innovators such as fully customizable Formica® and stunning Wilson® Art HD. These affordable countertops are both durable and budget-friendly. The latest laminate options available include upscale marble looks, varieties of stone, a myriad of wood grains and more! Plus, the love for laminate extends into refaced cabinets and flooring.
3. Reface your cabinets for an entirely new look
Professionally refaced cabinets are a permanent, transformational design solution for your kitchen remodel. Sometimes referred to as cabinet resurfacing, cabinet refacing provides your kitchen with an upgraded beautiful look and ambiance without breaking the bank. In fact, refacing saves construction time, money and the environment. This time-efficient, budget-saving process is perfect for homeowners whose kitchen layout will remain the same.

4. Color it up
Spruce up your renovation, and add a pop of personality, with wall paint and home décor. Sprinkle a neutral kitchen design with accent walls, lighting or a dash of home accessories such as throw rugs, seating, decorative dishware and window treatments. Color trends span from light to bright yellows, to calming Aegean Teal, to more natural and woodsy greens, to pinks and other precious jewel tones—all perfect for accents around your new favorite room!
5. Go for floating kitchen shelves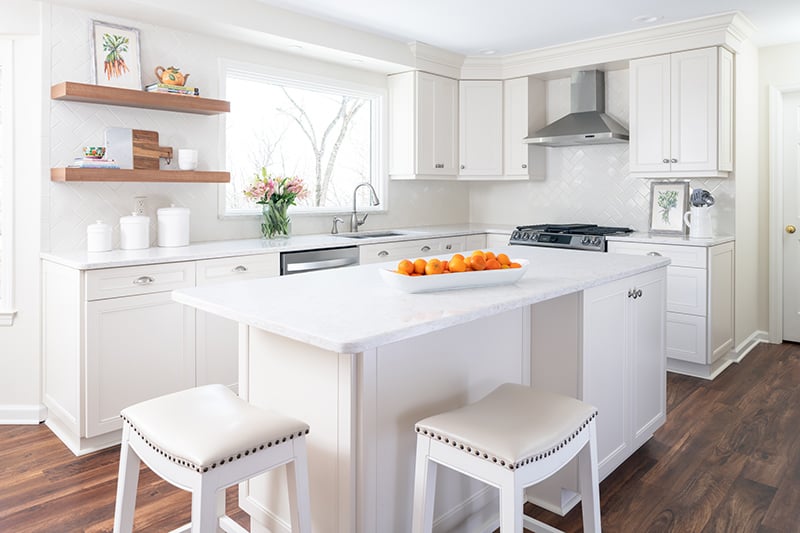 Visually enlarge any space by incorporating a modern and functional open shelving concept. This is another hot trend among HGTV's design celebs. The effect can visually add height to a room, maximize overall function and eliminate the cost of additional cabinet doors. Open shelving in the kitchen also provides an artful showcase for unique dishware, cookware and artisan pieces. Free up your space and mind with open shelves that will work with any design style for your home in Meriden, from modern to contemporary or rustic farmhouse.
6. Invest in high-quality flooring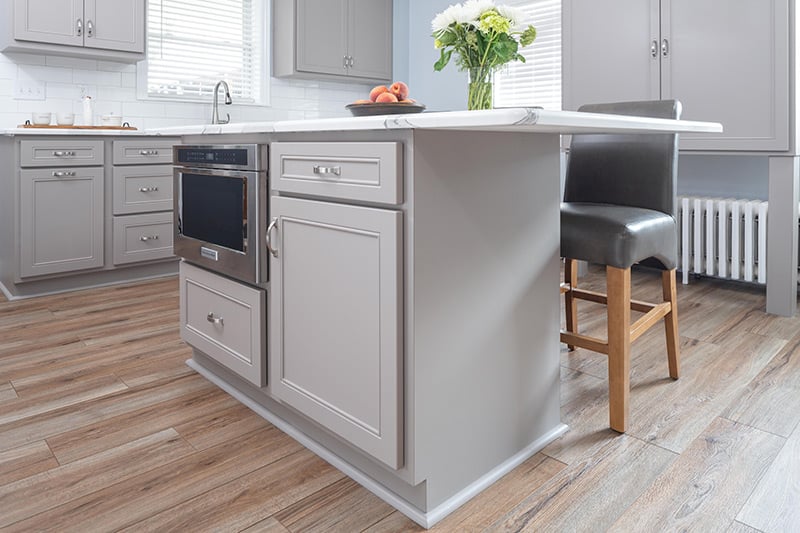 Save money with luxury vinyl flooring that mimics fine-grained to rustic wood planks. Easy to care for and practically maintenance-free, budget-friendly vinyl is definitely worth the look. Another perk? Chic vinyl is far softer to walk on than tile or ceramic flooring.
Where can I book a dependable kitchen remodel in Meriden?
Want to make the most of your culinary station, but you're worried about your kitchen renovation budget? Let us know what you have in mind, and we'll help you make it a reality. Reach out to us and our knowledgeable team will provide you with budget saving ideas you don't want to miss! We can help you transform your kitchen in less time, less stress and at a price you'll love! Schedule your free design consultation or call us at 1-800-237-0799 today!