The thought of taking on the expense of a complete kitchen remodel can sometimes be daunting. If you're like most homeowners, plunking down the whole amount may not be a feasible option. This is when we recommend taking a phased approach to remodeling your kitchen.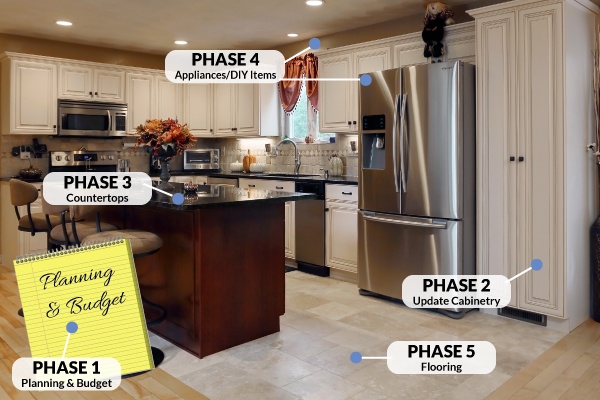 There are 5 main components to consider. The planning, cabinetry, countertop, flooring and appliances. Break down these components into 5 phases, allotting a month, year and budget for each phase to take place. Perhaps you do one or two things this year, and then spread the rest over years two, three (four and five) as your budget allows. In this way, your kitchen is continuously improving—with a classic and timeless kitchen design. Kitchen trends, like fashion trends, change frequently and you don't' want to worry about the trend-tide turning before your project is complete.
Phase One: List your Top 5 Needs & Wants
For the first phase, collect your ideas and create a kitchen design in its entirety so you can keep your eye on the finished goal and budget. This is also the phase when you should meet with a few reputable kitchen design/build teams to choose one that will work with your 3-5 year plan, and still be around in that time. Once you've chosen a designer/contractor, you can begin setting a tentative schedule.
Phase Two: Evaluate Your Cabinet's Existing Bones
The cabinet update will have the biggest impact on your new design. Start this phase by seeking out the best cabinet color and style that works with your taste and existing motif. The cabinets could be the highest dollar item in your kitchen remodel, dependent upon which process you choose. You have the choice of cabinet refacing or new cabinets. Refacing being the most cost-effective option, saves thousands over replacing your cabinetry. Yet, refacing will have the same aesthetic transformation as new cabinetry.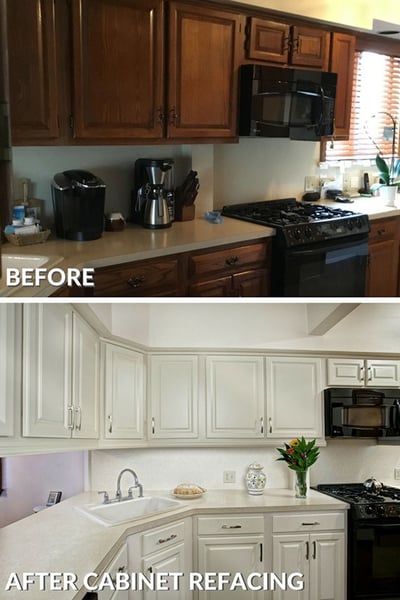 There are a few factors that can help determine which is best for you. For instance, are your existing cabinets structurally sound? Determining the soundness of your cabinets and if they can withstand the weight of a stone countertop is not for the 'average Joe'. Bring in a professional contractor/remodeler to assess your existing cabinet's structure.
If you can go the refacing route, you have the option to remodel the cabinets and countertops in whatever order you wish. If you are in need of new cabinets, then the new cabinets do need to be done before the countertops. In the meantime, your existing countertop can be put back on top until you're ready to replace that.
Noteworthy. When attempting to remove a countertop, particularly stone, you run the risk of cracking it. Stone has natural fissures and tiny internal cracks, that make it vulnerable to bending and stress. This is the main reason cabinets should be replaced before countertops.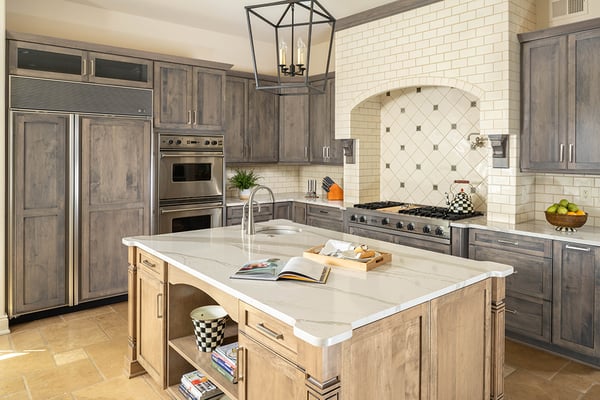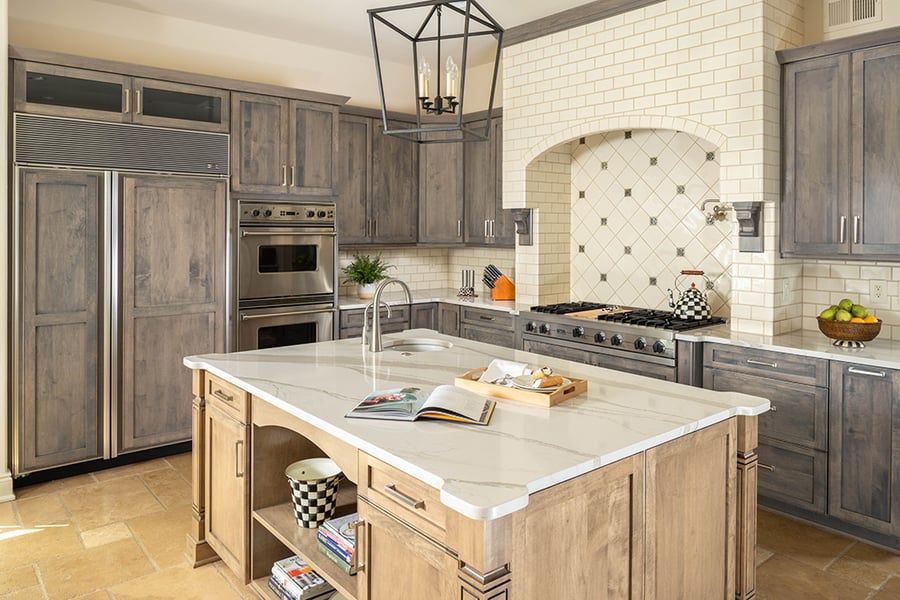 Phase Three: Countertops
Now that the cabinets are done and you're in a holding pattern until the countertop next phase, ask your kitchen designer to drop off some countertop samples to match up to your new cabinet color. Lay the samples on top of your cabinets to see which one best complements your new cabinet color. Natural and engineered stone countertops are in vogue right now however, they come with a higher price tag.
Cost-savings tip: Look for lower tiers of Corian or modern laminate samples like stone look-a-likes for a stylish countertop that looks amazing but costs a fraction of the 'real-deal' of stone.
Phase Four: New Appliances
This phase can co-exist with the others, replacing appliances one-by-one in order of importance and need. Look online or contact local dealers to see if they have an upcoming sale or a 'bumps and dents' department so you can take advantage of any cost efficiencies for this project phase. You may also take advantage of 0% interest financing deals, allowing you to stretch your budget to the next phase.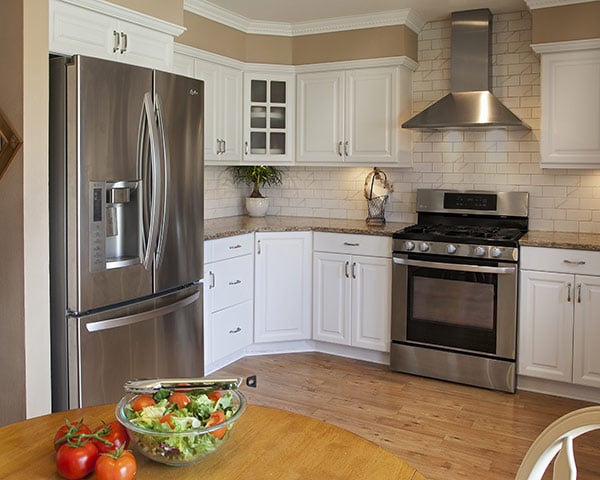 In the interim, this is a good time to do some cheaper DIY work or hire a handyman. Take care of tasks like patching holes in the wall, repainting the kitchen or putting up new window treatments. Doing this work yourself will also help you stay on budget.
Phase Five: Flooring
Unless there is major damage, flooring is the least of your worries and can be replaced at any time - even after your cabinets have been done. If you don't like the way it looks, consider purchasing stylish area rugs at a discount home goods store for a cheap and easy cover-up/fix.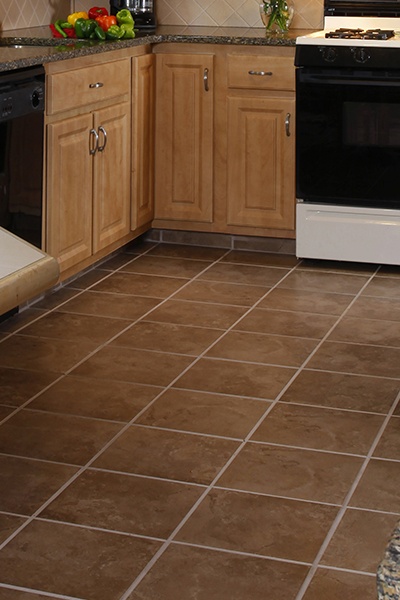 Keeping Your Eye on the Prize
Most of these 5 phases are interchangeable except for the new cabinets. Replacing mandatory items, like appliances (by order of needs, rather than wants), will maintain your kitchen's functionality throughout the process. Taking a phased approach to kitchen remodeling does require a little more patience, but the result is a well-built kitchen that fits both your lifestyle and your budget.