What's not to love about Art Deco? It's glitzy, glamorous, combines angles and rounds, and it's all about texture and contrast—two bullet points in any list of interior design tenets.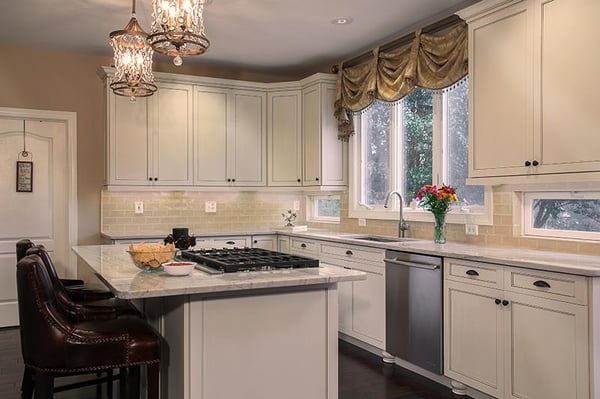 What is Art Deco Design?
The Art Deco movement began just before WWI, a rebellious response to the more formal Victorian era and a specific rally against its preceding Art Nouveau movement. Art Deco's proponents were fixated on everything modern, and this included a riotous collection of "characterizations"—many of which are contradictory.
Additionally, this design movement was infused with the essence of luxury and extravagance, so it's no surprise the style was notably tamed during the depression era.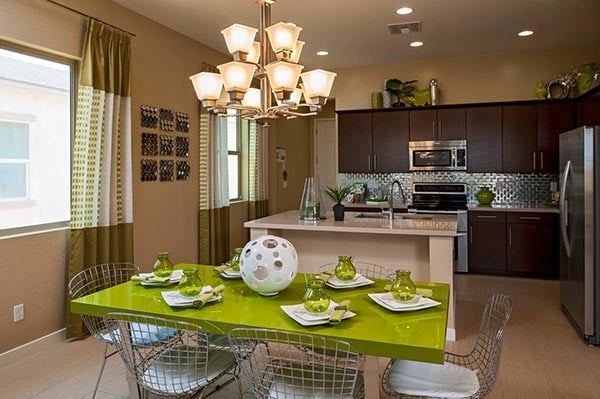 Elements to include in your art deco-inspired kitchen design
Today, elements of Art Deco are making their way back into interior design, especially for post-modernists who are looking for creative, stunning and bold ways to create a new take on an iconic historic style.
Geometric or repeating patterns
Think of the Chrysler Building, and you're picturing an example of Art Deco's emphasis on geometric shapes: straight lines, arches, squares and spires—all mingled together—and in repeating patterns and layers.
You can achieve this same look in your kitchen by intentionally pairing your lines and angles with arched hood vents and rounded island counter tops. You can also use the accents in your kitchen with a mix of shapes including: rounds, arches, triangles, pyramids and rectangles. Let your floor and/or your tile backsplash revel in geometric patterns and focal points.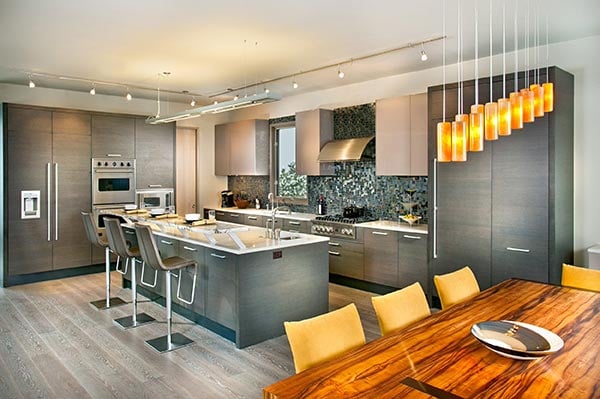 Bold colors & contrasts
The same idea of mixing and matching geometric shapes and lines can be explored via bold colors and contrasts as well. Of course, black-and-white is a good place to start. But, other ways to add disparity in your kitchen are:
Dark and light cabinet mixes
Contrasting tiles/patterns
Animal prints (another point for the bold pattern idea)
Choose a fun, bright color for perimeter cabinets (go a step further by featuring it on one section of cabinets—uppers, lowers or island)
Big Chill or other retro-reproduction appliances in fun colors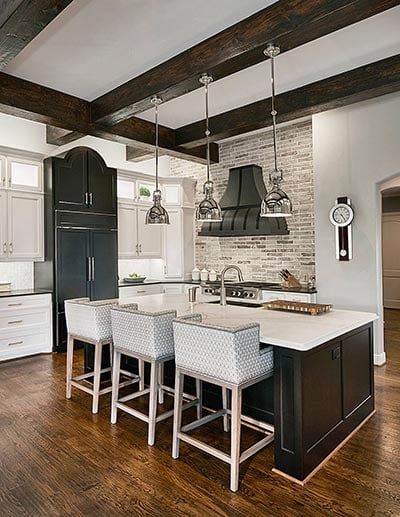 Textural diversity
It also makes sense that in order to achieve contrasts, an Art Deco-inspired kitchen will be a study in textural differences—metal/wood, velvet window treatments in colors that differ with the walls, high-gloss finishes paired with a high-shag carpet under the eating area, and so on.
Choose dramatic & luxurious finishes and accents
An Art Deco finish is dramatically luxurious, so finishes should live up to that expectation.
Select a clock that makes a statement
Throw a gorgeous mirror into the mix
Use open shelving and/or glass-front cabinets to display amazing collectibles
Think glossy and streamlined
Give your bar and island seating cushy, armchair-esque flair
Choose light fixtures that make a flashy statement
Ultimately, you're designing a kitchen with serious "Wow" factor.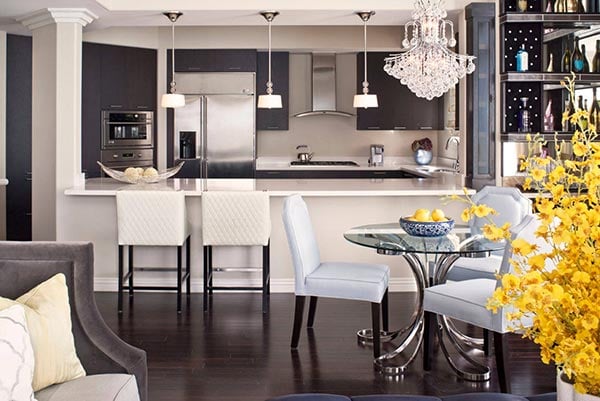 Mirrors & Metallics
You're probably not surprised to hear metallic accents are big for Art Deco design fans. If there was a way to make something sparkle or flash, it was embraced. Features and accents that can go this route include:
Metallic cabinet door finishes
Metallic backsplash materials/ Mirrored tiles in the backsplash
Shiny, luminescent glass tiles
A bronze or gold sink
Gold or brass cabinet/drawer hardware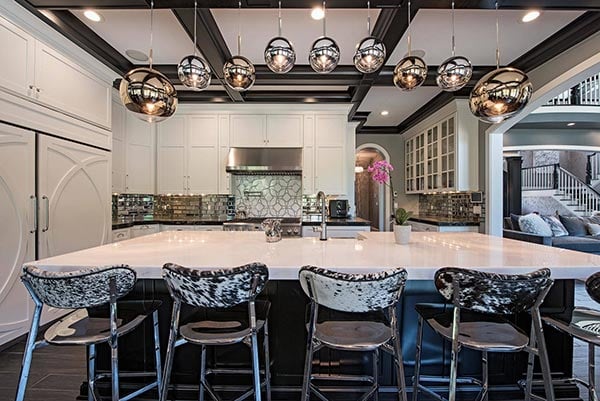 Bonus Tip: let light fixtures be the stars
Light fixtures are your greatest ally if you're looking for one-piece-wonders to achieve many of the ideas listed above. They can be luxurious in the form of chandeliers, which can boast a myriad of shiny metals, and you'll have fun looking through all Art Deco-reproduction pendants and suspended lighting options.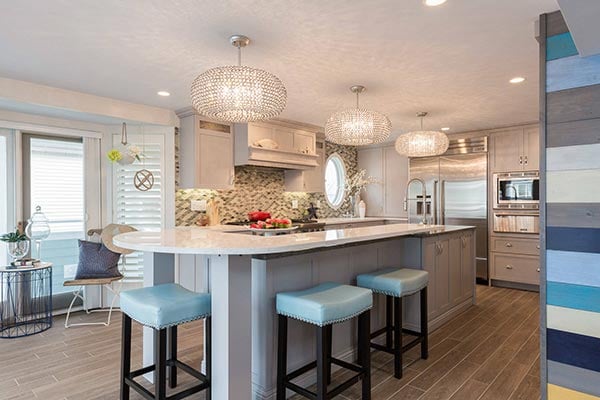 Ready to design a glamorous, Art Deco-esque kitchen space? Schedule a consultation convenient online form to request your FREE in-home estimate and discover how we can help you turn your dream space into a reality!