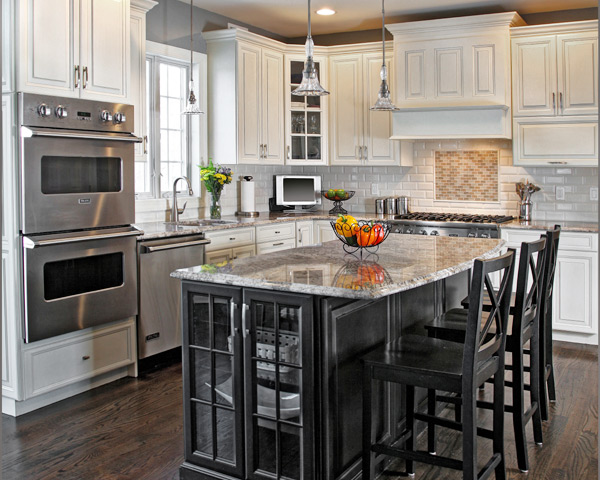 Why Does This Kitchen Make Me Want An Oreo?
It's probably the tasty way she matched up the colors. (sorry, we had to say it). I mean, what a bold move but, it really works. So the story goes, "I saw a picture of an old world, simply charming kitchen and it was black! I couldn't get it out of my head." Also, the rest of this kitchen is 'classically styled' so going bold on one item is really pretty safe.
She didn't want an 'all black kitchen' but wouldn't give up on it. With our designer's help, we found her the perfect compromise. A sophisticated kitchen with that one bold statement piece. Nailed it!
Ebony Black is a Classic Color
The Crystal White cabinets with pewter glaze are bright and beautiful. The gray and cocoa granite pulls the room together. The contrasting dark wood floor grounds the room, creating a backdrop for the lighter cabinetry. However, it's the richness of the black island that's the focal point here. They say every room should have one piece of black. The Ebony Black, mitered doors are classically styled and the way they showcase the homeowner's collectibles behind glass fronts (while daring with 3 small kids), is really the 'show stopper' here.
Countertops and Backsplash Should Not be an Afterthought
Granite countertops, if cared for properly, will stand the test of time. This swirling color scheme of the granite has every color in the room, even the chocolate brown from the floors. When you are pondering your new kitchen's design, think about every element.
The backsplash and countertops are where the 'multi-colors' will tie the room together and button things up in terms of design. Don't let the backsplash be an afterthought; it's the last piece of the puzzle and a very important one.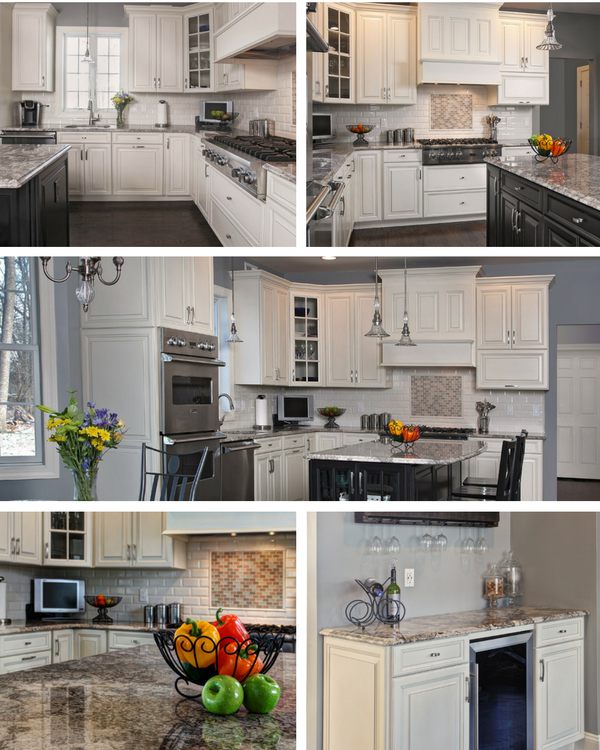 The backsplash color should be a minimal color found in the countertop, more so than the cabinets. In terms of this back splash color, the off white shade carries through in the countertops. Lay pieces of your backsplash samples on the countertop sample until one of the smallest amount of shades pops out. If it's in there, it will come out. This is vital for creating a marriage and completing your kitchen's color palette.
"Tuxedo" Kitchens are Trending!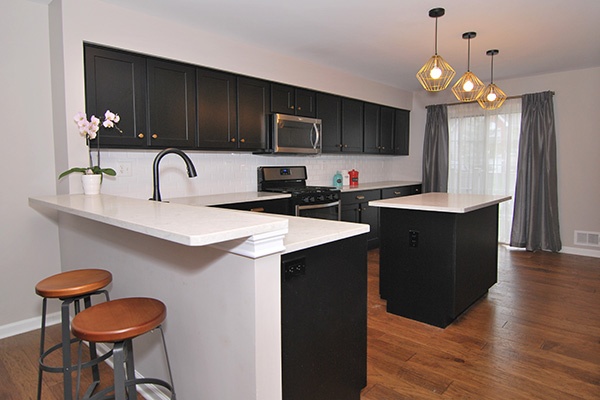 Don't be afraid to go bold in your kitchen! "Tuxedo" style kitchens are all the rage, you'll find them all over websites like Houzz, HGTV, and BH&G. This bright, high-contrast kitchen style is a smart choice if you want to add pops of color, or want to make a statement without getting overzealous with color. Since white kitchen styles are not losing popularity anytime soon, black countertops or islands can be that eye-catching detail you're looking for.