This question is kind of like the kitchen equivalent of the age-old "Chicken and Egg" conundrum—which comes first, the cabinets or the floors? Similar to the question we've already covered about whether or not your countertops need to be replaced before you reface, you're probably going to like the answer to this question.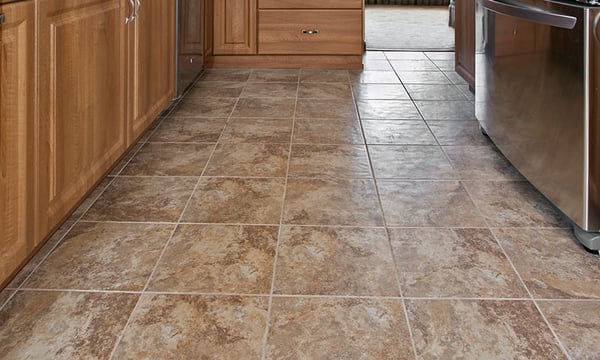 When you replace your cabinetry, your existing flooring runs the risk of damage—especially hardwood. Moreover, a full kitchen remodel that involves changing the layout will almost always require that the flooring to be replaced, or existing hardwoods be refinished, to accommodate the new layout and space. With cabinet refacing, your kitchen layout generally stays the same, so you do not need to replace your floors before you reface your cabinets. This gives way to the following perks:
You can keep your existing flooring without running the risk of damaging them during the process of completely updating your cabinets.
If you do choose to replace your kitchen floors, you can do so after your cabinets are refaced with their new style and color.
There are several advantages, actually, to having your flooring installed after the cabinets are refaced.
Choose a Flooring Material That Truly Complements Your Newly Refaced Cabinets
One of the benefits to refacing cabinets before installing your new floor is that you can be more confident in your flooring selection. Matching your cabinet finish to smaller flooring samples and hypothetical finishes is about as helpful as painting a home's interiors via the colors shows on small paint swatches—a process many of us have lived to regret.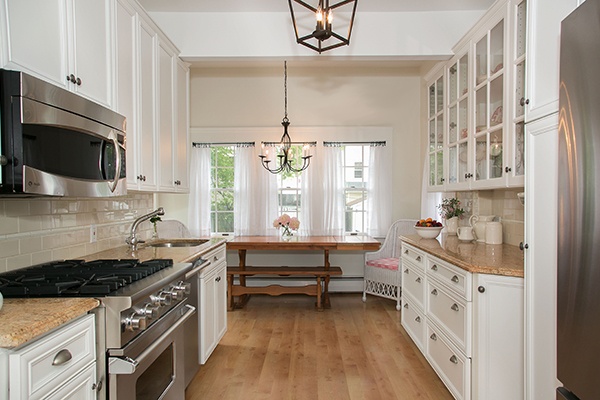 By waiting to install your flooring after the cabinets are refaced, you'll have some time take in your kitchen's new look and to ponder which colors or finishes will look best with your brand new cabinets. You might find that your new cabinets make other accents and finishes stand out, which may affect the style, color or finish of the flooring you end up selecting.
Let Those Floating Floors Float as They Need To
Another reason why it's okay to hold off on the flooring installation until after your cabinets are finished is the concept of the floating floor. Floating floors are used for many modern hardwood products, as well as hardwood alternatives like eco-friendly cork, vinyl and laminate flooring options.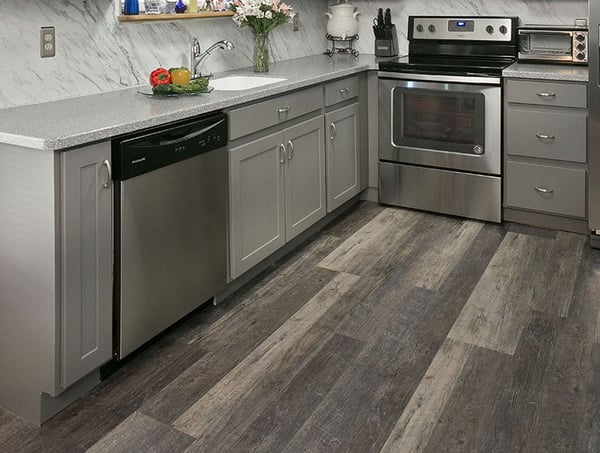 These floors expand and contract with temperature changes. If they are laid first, underneath the cabinet bases, the heavy cabinetry and countertop materials will prevent them from being able to move freely. This results in all manner of undesirable conditions down the road, like buckling, bulges or even breakage of your beautiful floors. Laying the floating floor and flooring products adjacent to your cabinetry, after its already installed, prevents any of these scenarios from occurring.
Choose a Reputable, Licensed Flooring Contractor
Whenever you make a significant aesthetic change in your house, like refacing cabinets or replacing flooring, you should always choose a licensed professional who is experienced and has a superb reputation in the industry. There are some flooring options, such as vinyl tiles, are more DIY friendly than others. But, in most cases, a pro is the way to go for quality work and for preservation of the other items in your kitchen.
While it makes sense to be concerned that replacing flooring after refacing will damage your new cabinets, most floor installations occur with kitchen cabinets already in place anyway (unless the homeowners are doing a complete remodel).Thus, a qualified flooring professional makes protecting existing cabinetry, furnishings and walls a top priority.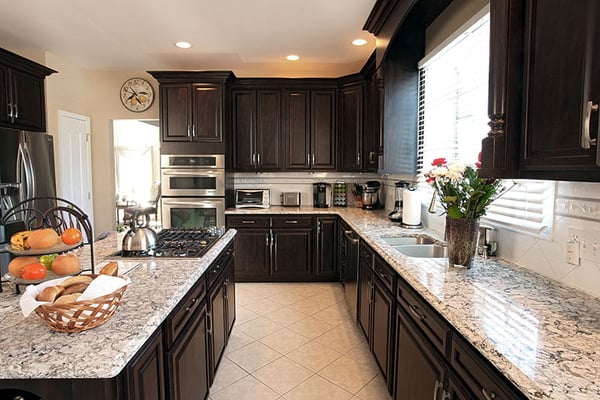 Still thirsty for kitchen flooring ideas? Check out our full collection of Kitchen Floor blogs for more helpful information and inspiration. Or, schedule a free in-home consultation with a Kitchen Magic design consultant for expert advice on all things refacing and kitchen design.