On the one hand, we could say, "anything is possible..." when it comes to kitchen remodeling. On the other hand, industry best practices assign an order, of sorts, in order to ensure each new installation, feature and/or finish is executed without ever risking the overall function or aesthetics of existing features.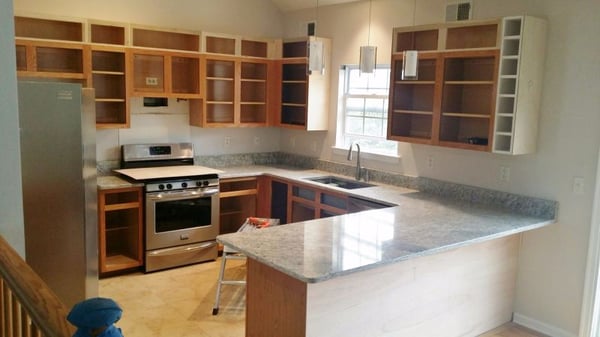 For this reason, we rarely advise replacing a countertop before the cabinets. It's generally recommended for the cabinets to be done first, protecting their integrity and making countertop installation as smooth as possible. This will ensure that:
The countertop material(s) are only moved/installed once
There is less chance of cracking, breaking or chipping of countertop material(s)
We know for certain the countertop fits the cabinets as designed
If you're not able to finance a full kitchen remodel at this time, we recommend reading, Kitchen Design on a Budget: Take the Phased Approach. It outlines smart ways to get the best bang for your buck - and also recommends the order in which to address kitchen updates - for the best, overall outcome.
3 Risks of Replacing Countertops Before Cabinetry
There are several risks associated with replacing the countertops before you replace outdated cabinets.
Your layout is restricted
Your kitchen layout is fundamental to the efficiency and function of your kitchen. Kitchen design/builders spend quite a bit of time with clients, determining whether or not their existing layout works - and then designing one that "fits" the household better.
However, if you replace outdated countertops before you've had this conversation - you will find yourself locked into a layout that may be less-than-ideal.
Maureen Kiley, Kitchen Magic's Purchasing and Materials Manager remarks:
"Many times, we are able to help a homeowner make small changes to their cabinet layout to make their kitchen more efficient, for example removing a restrictive peninsula and adding a more traffic-friendly island, replacing a cabinet with a dishwasher or trash can pullout, or relocating some crowded appliances to a new wall and adding a pantry for additional storage. When a customer makes an investment with a stone countertop, this really locks the current layout into place. Planning for any layout changes in advance of installing a very heavy - but gorgeous - slab of stone is always best!"
Potentially permanent damage to the countertop - without warranty backup
Keeping in mind that this conversation only exists for slab countertop options, there isn't a single countertop slab warranty - even for virtually indestructible quartz - that will stand up to a post-countertop cabinet replacement. Warranties are written with the industry standard, "cabinets first, then countertops..." in mind.
There's a straightforward reason for this - countertop slabs are more susceptible to breakage or irreversible damage when they're not firmly anchored to another sturdy surface. While you may be okay to attempt this with quartz (no guarantee), you are certainly risking things if you have granite because it's a natural stone, already prone to interior fissures or imperfections that crack without much impetus when given the chance.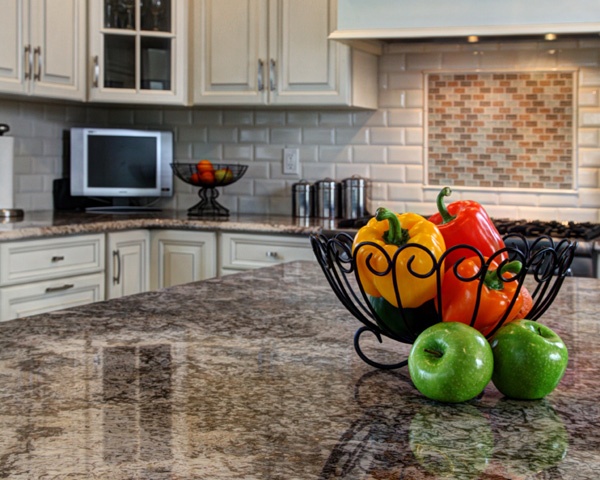 Already replaced your countertop? Refacing is the Solution!
Did you already replace your countertop and plan to now move forward with a cabinet replacement? You're in luck because cabinet refacing will do the trick.
Since your layout is already locked-in, you can have your existing cabinets exactly as desired - without doing one iota of damage to beautiful, new countertop material.
If space and reorganization allow, we'll also use this opportunity to address whether or not a peninsula or island could be added, along with other storage opportunities that will increase overall kitchen efficiency. Read, Things You Didn't Know You Could Do with Cabinet Refacing, for more on that topic.
Again, expert Maureen chimes in:
"If you simply can't do both at once and just want to freshen up the aesthetics of your cabinetry later on, refacing your existing cabinets is the best option and will give you the look of brand-new cabinetry without having to remove (and risk breaking) your new countertop."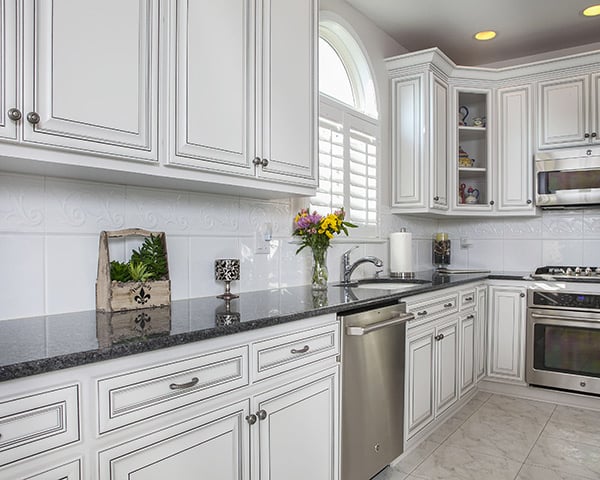 Interested in taking the first step towards your next remodel? The Kitchen Magic crew is standing by and ready to help. We'll make sure you wind up with exactly the kitchen you were dreaming of - without risking any damage to your already-installed updates.