Is your interest piqued by the wonderful things you've heard about quartz? We don't blame you. Quartz is undoubtedly one of the best countertop options on the market for many reasons, not the least of which are color/pattern options, durability, hygiene and its sustainable origins and manufacturing processes.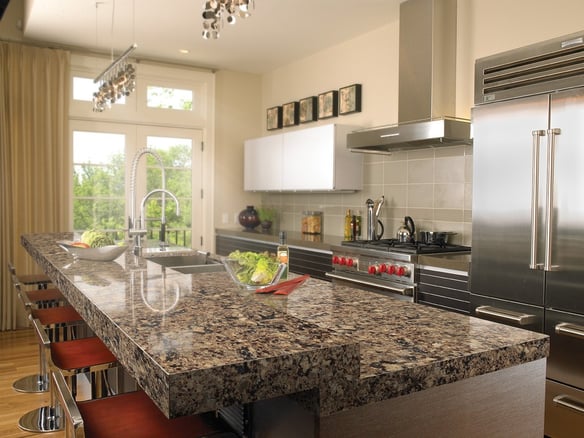 In fact, we're so smitten by quartz that when we hear a client is considering granite, we like to say, "Have you met our friend Quartz....?"
In case you're doing a little research, we thought we'd share five facts about quartz that you might not already know.
1. Quartz is NOT considered a natural stone countertop
While it sounds like it would be a natural stone countertop product, quartz countertops are made using pieces of quartz that are all bonded together with a non-porous resin. You can read more about this process in our blog titled, How Are Quartz Countertops Made?" For this reason, they are considered a manufactured countertop. There are several benefits to this "factoid".
In addition to hardness and non-porous attributes (which we'll talk about later on), quartz products can be molded into more unique shapes - like "granite" sinks - creating curves or unique dimensions that wouldn't be possible for granite or marble countertop options without an abundance of unsightly seams or cuts.
2. They are not 100% percent quartz
While they might not be considered a natural stone product, almost the entirety of a quartz countertop's "body" is comprised of natural minerals. The average quartz countertop slab has 97% quartz minerals. The remaining 3% (plus-or-minus) resin is used to hold it all together.
Some quartz countertop products incorporate additional pre- and post-consumer recycled products to expand the color offerings so customers can have a countertop that resembles natural stone but with colors rarely found in nature.
3. Quartz is the 2nd most abundant mineral on earth
Here's where that sustainability factor comes into play. Unlike marble and granite, which has to be mined in very specific locations and of which there are finite quantities, quartz is the second-most abundant mineral found in the earth's crust. It will be a very long time before man comes anywhere near to extracting noticeable quantities of quartz from the earth's crust, which cannot be said of other natural stone products.
4. Quartz is better than granite
Period. We don't say this subjectively, it's simply true. If you want to read more about one of granite's biggest pitfalls - sustainability - you can do that via our blog, Granite Secrets: The Lesser Known Truths About Granite.
Quartz is five-times harder than granite, which means it is virtually crack-, chip- and break-resistant. Because resin is non-porous, it doesn't need to be sealed - EVER - which makes quartz impervious to staining or etching, not to mention unsanitary bacteria, grime or mold/mildew build-up.
Quartz is one of the lowest-maintenance options on the market; no sealing, repairs, or pro-active maintenance should be required for the entirety of its lifespan.
5. It's made in the USA
Almost all of the countertop products rivaling quartz in the aesthetics department are mined and fabricated elsewhere, and then shipped to warehouses, vendors and suppliers in the United States. Not so with Cambria quartz products, which are made here in the USA. Not only does this save fossil fuel resources and overhead shipping costs, it also helps to keep your dollars at work in our very own country.
You can view samples of beautiful quartz countertops online, but we recommend visiting a showroom in person so you can see them in "real life" with ample access to knowledgeable sales staff.