Are you in love with dark cabinets or sleek, black granite countertops? You may love the modern and stark look of a dark kitchen but feel uncertain if the design matches your home. It's natural to question your design choices before a kitchen remodel. You want to ensure you're choosing the best color scheme and materials possible for your home.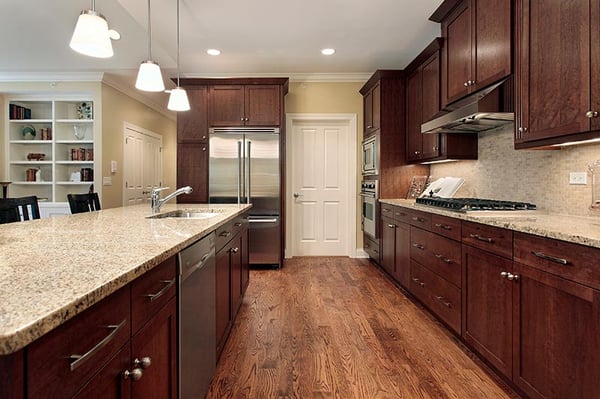 Even though the most popular color for kitchen cabinets has been and continues to be white, medium and dark wood colors are still much loved. For one thing, dark colors can add a dramatic flair to your kitchen.
Things to Consider When Choosing Dark Cabinets and/or Countertops
Here are a few guidelines and ideas to help you decide if a dark color scheme will work for you.
1. Size and Natural Light
If your home has a lot of natural light, a dark color scheme works to tone a bit of the brightness down without creating a dark, enclosed feel to the space. If the area is already dark, then too many dark colors may make the space feel cramped.
In general, larger kitchens are safer bets for a dark color scheme, because the space is already open. If you have a small kitchen, however, you don't need to rule out dark colors. Open shelving, a black kitchen island, and two-toned colors can help you incorporate a dark color scheme without overwhelming the space.
2. Children and Pets
If your home is full of life and activity, white cabinets might require more care to stay spotless. Darker cabinets hide many scuffs and imperfections that lighter cabinets don't. You'll also find it easier to keep them looking clean than snow white fronts.
Think about how many people are in your family and how rough they are on your home. Then, make a decision that works best for your household. If you're doing all the cleaning, then a dark color scheme definitely has its appeal.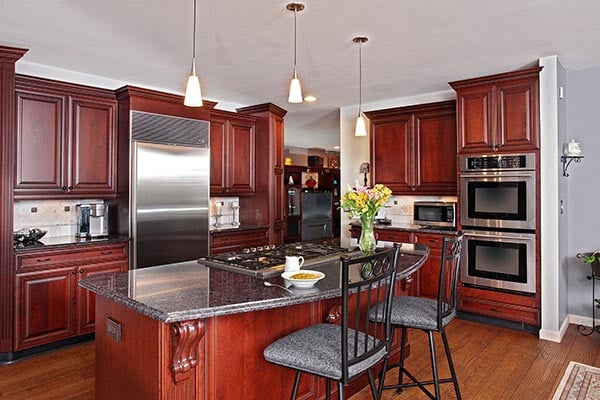 3. Your Personality
Think about your personality and how the color scheme can show it off. If you're like most people, you spend a lot of time in your kitchen. When you have family and friends over, it may be a gathering spot. Make sure the colors you choose reflect your personality.
Think about the colors you love and hate. A dark color scheme in your kitchen can look sophisticated and bold. If you like to make a bit of a statement or are looking for elegance, then this might be the right color scheme for your remodel.
4. A Combination of Dark and Light
For a sophisticated look, go with a combination of dark and light elements in your kitchen. For example, add black cabinets offset by a white backsplash. This helps prevent any one shade from feeling too overpowering.
A good rule of thumb is that a light floor goes with dark cabinets goes with light countertops. A combination of white and black offers a clean and refined look that meshes well. In general, neutrals are always a timeless pick if you're unsure of which colors look best together.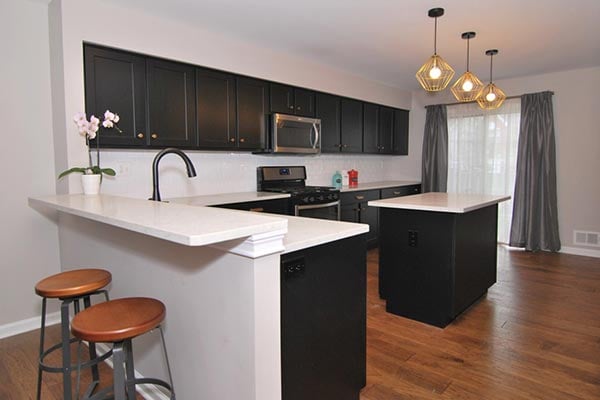 5. Whether You Enjoy Bold Colors
If you adore brighter colors, it doesn't mean these colors are the best choices for cabinets or countertops. However, if you set the scene with darker colors, you can then add pops of color with bar stool chairs, artwork and accessories.
Splash in the bold colors you love without creating a kitchen that makes it impossible to resell your home for a premium price. This way, red, blue and other more vivid colors can still be present in a more timeless kitchen.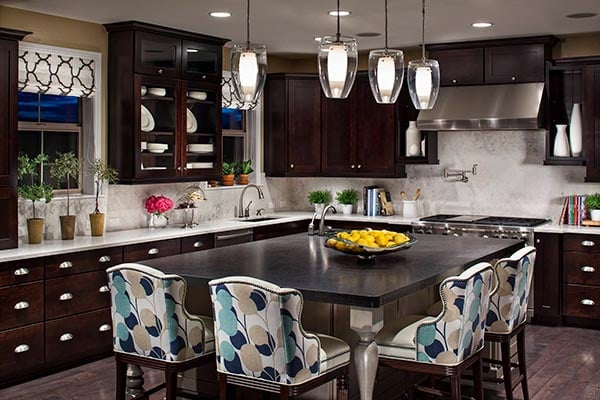 6. Understanding Current Trends
The problem with trends is that things go in and out of style every year. Those antique white cabinets that are all the rage next year may be outdated in five years. Gray is a popular color now, but that doesn't mean it's necessarily the right fit for you.
Consider how long you'll be in your current home when you're choosing colors for your kitchen. If you plan to sell the house in the next few years, stick with whatever is current and trending but still neutral enough to stay in style.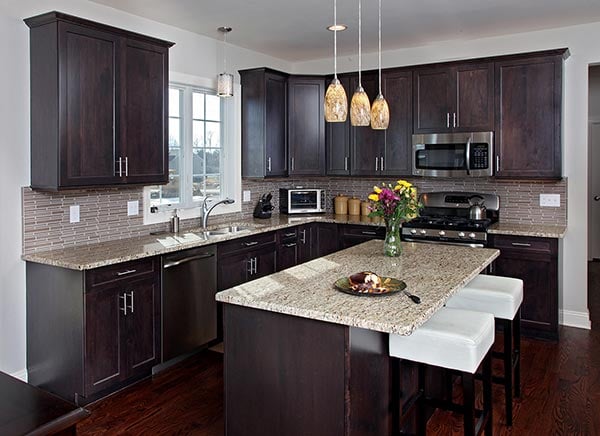 On the other hand, if you plan to live in your home for 20 or 30 more years, go with what you love, as most kitchens need a remodel by then anyway.
Dark Colors in Your Kitchen
It's easy to get caught up in all the rules of design and confused by conflicting expert tips and advice. We hope these simple guidelines have helped you figure out whether a dark color scheme will work for your kitchen, whether you're concerned about space, maintenance or what's trending this year.


Holly Welles is a home improvement writer with her own blog, The Estate Update. She dreams of having a kitchen she can call her own, but for now, she'll just keep posting everyone else's great designs on Pinterest.