Winter White happens to be one of our all-time most popular cabinet finishes. It may have a seasonal description, but it's a year-round favorite here at Kitchen Magic. In fact, white cabinets are favored everywhere. Even when white is technically "out," it is always in the Top 3 cabinet colors in any given survey.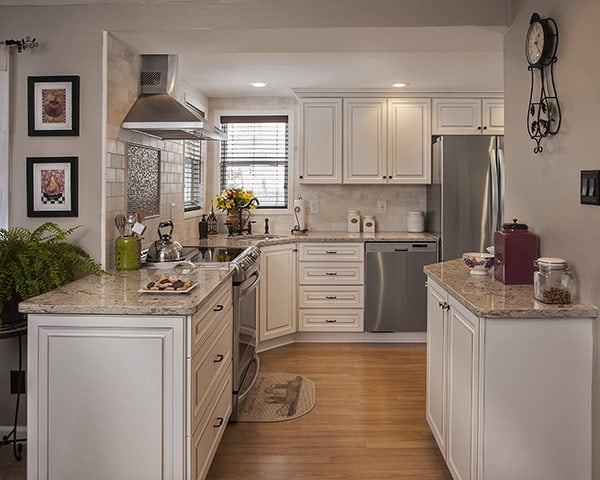 You can read NKBA's Kitchen Remodeling Trend Reports year after year, and you'll always find sentences like,
"

Neutrals are still strong with white remaining the most widely-used color for both kitchens and bathrooms...

"
So, what gives?
What's So Great About White Kitchen Cabinets, Anyway?
Well, to answer those questions, we'll take you on a tour of recent kitchen remodels that show exactly why white cabinets will continue to trend until the end of time.
Airy and Spacious
Along with white cabinets come a handful of buzz-words, two of which are "airy and spacious." This is due to the way our eyes perceive things. Dark colors are reminiscent of enclosed spaces, nighttime, or cloud cover; lighter colors are found outside, in sunshine and nature. Thus, after tens of thousands of years, human brains connect light and bright colors with airy and spacious surroundings.
This kitchen, for example, was refaced with Antique White in a Walnute Glaze. It's an excellent example of how white cabinetry makes a small kitchen feel larger, but even homeowners with medium to large kitchens value this quality.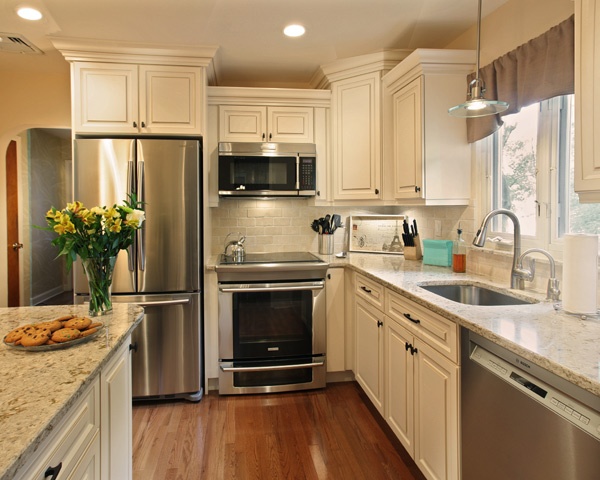 Light and Bright
"Lighter and brighter," is another set of buzz-words associated with white kitchens, and there's a scientific reason for this. Light Reflectance Value (LRV) is a measurement of how much light a color reflects. The higher the LRV, the more light it reflects, and the more light will be available in a room. Not surprisingly, White has an LRV close to 100%, while absolute black has an LRV of 0%.
If your kitchen lacks access to natural light, or you want to capitalize on the light that is available, white finishes are the best way to do it.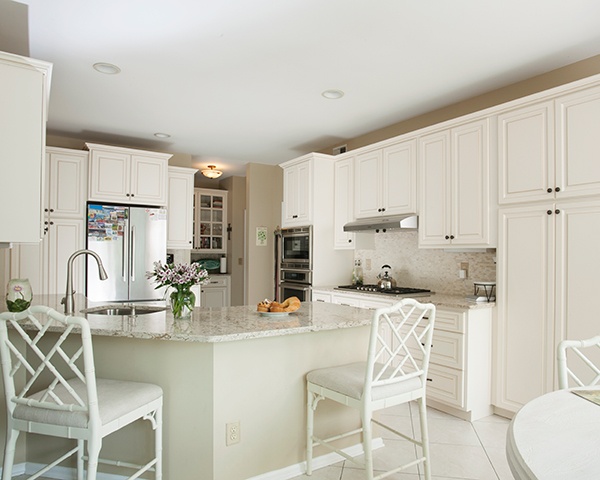 Fresh and Clean
In truth, white cabinets aren't any fresher or cleaner than their darker contemporaries. But, again, this value is more about illusions and associations. Cleanliness and good hygiene are valuable kitchen attributes and it's hard to hide dirt, food stains and mold/mildew on white surfaces.
The kitchen shown below is a study in hygiene, with white cabinets and non-porous countertops. Bright, white kitchens are equated with a clean and safe place to sit down and eat without even an inkling of contagion.
Easy to Decorate
Choosing colors, patterns, styles and fixtures isn't all fun and games. It can take a considerable amount of time and effort. The good news about white is that it goes with everything. You can pair it with just about any countertop surface or flooring choice, and you can continue to do so throughout the life of your kitchen. Thus, choosing white can take the pressure off homeowners who want to keep the kitchen remodeling process as simple as possible.
For those who worry that white cabinets will come off as too stark or bland, take a look at this New England style kitchen, which has a large expanse of white cabinetry while maintaining a homey and welcoming feel. The secret? Subtle accents of color and decor add dimension, warmth, and interest.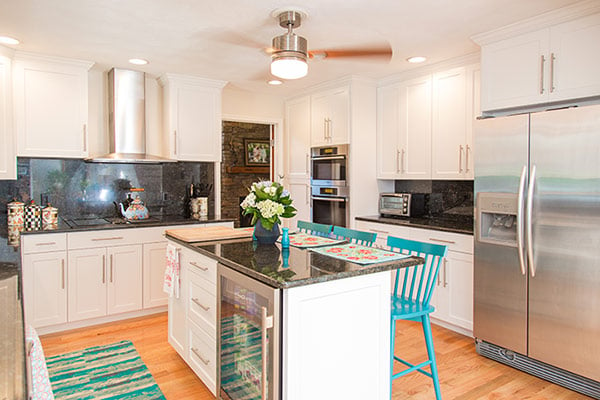 White is Timeless
When it gets right down to it, white cabinets are timeless. They have been a top trend for years, and even decades. This is important because designing a timeless kitchen means you only have to remodel once or twice in a home's lifetime. Plus, white cabinets are an easier sell for future home buyers.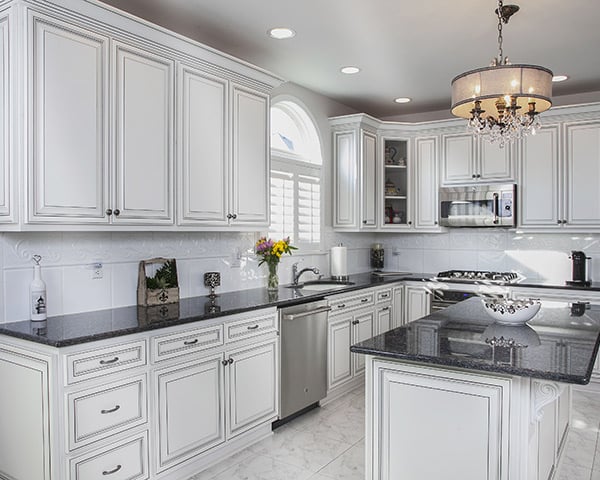 If you're feeling a little uninspired by all-white cabinetry, read "Would a Small Kitchen Look Good With Black Cabinets?" (or Does My Island Have to Match My Cabinets and Countertops) for ideas on how to add other colors or finishes into your mostly-white kitchen design.
Schedule a free in-home consultation with Kitchen Magic to see more examples of white kitchen cabinets that illustrate why this bright neutral color continues to be one of the most popular finishes of all time.