Well, look at you! While the rest of us fantasize about heading to the Cape each summer, you're living in your very own Cape Cod-inspired home.
What fun you will have as you work to design a kitchen that highlights the best of your home's existing architecture and design. Cape Cod architecture is famous for ample window exposure, seaside color palettes, and charming adornments such as shutters, window boxes and more traditional trim accents.
Ultimately, your new kitchen will make everyone feel, "home sweet home."
Think Crisp, Airy and Spacious as You Design a Perfect Cape Cod Kitchen
Here are some of the things to consider as you work to re-design a welcoming and no-fuss Cape Cod kitchen.
You're in the market for an open or nearly-open floor plan
An open or nearly-open floor plan will maintain that airy and spacious environment we mentioned above. Those who vacation on the Cape are all about entertaining, and having a kitchen that opens up to adjoining living spaces will facilitate your connection with all who gather 'round for snack time and family-style meals.
U-Shaped and L-Shaped kitchens are also an option, with plenty of countertop space to help you prepare homemade meals for weeknights and larger weekend and holiday gatherings.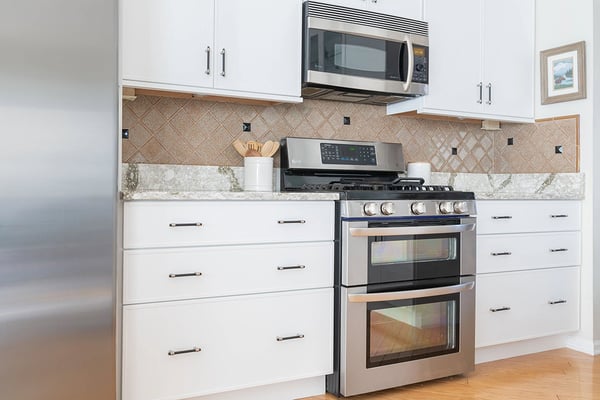 Is it time to add windows or skylights?
If your kitchen didn't get quite what it needs in terms of windows and skylights, now's the time to fix that. We can help you make room for either, and all that added light will do a world of good for your kitchen space. The simple act of streamlining innovative storage solutions might allow us to remove upper-cabinet boxes for added window space.
On that note, there's nothing like sitting in a custom breakfast nook, looking out your large picture window, as you sip on your morning cup o' coffee, so keep that in mind.
It's all about the bright white kitchen
Okay, so you're not beholden to design a white kitchen but that's definitely the Cape Cod tradition. Plus, white kitchens continue to trend year after year so it's a good future selling point as well.
Cape Cod kitchens also benefit from seaside color palettes, so sandy browns, a range of blues and grays, pastel colors - all compliment the white cabinetry and general design style. Don't be afraid to use natural wood elements either, perhaps on the kitchen island or an upper- or lower-cabinet bank.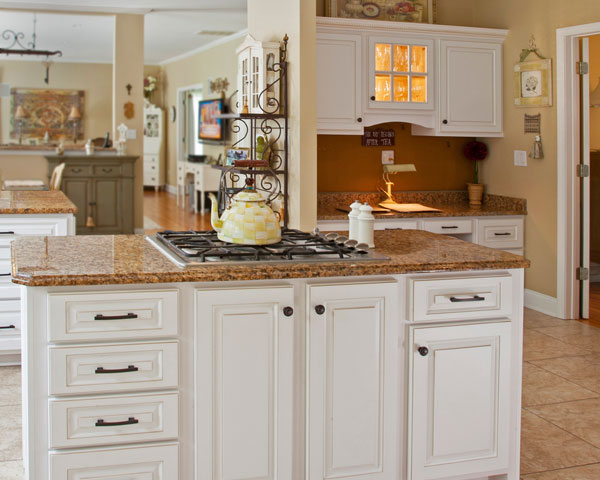 Cabinetry and countertop choices are unlimited
Because Cape Cod designs run from the ultra-traditional to the very modern, any door style you like will work just fine. What we would encourage are a few glass panel cabinet doors with attractive mullions and/or some open shelving. Both of these will enhance the appeal of your kitchen's design and continue the spacious feel you're after.
Countertop choices are equally open so take your pick of Corian, quartz or granite. A butcher-block style counter on the island or in a section of perimeter countertop wouldn't go amiss either.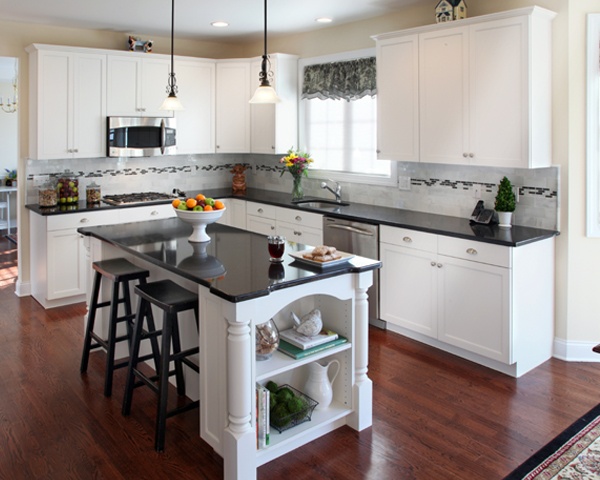 Choose cabinet-friendly hardware
Since you have so much freedom with the type of cabinets you select, based on whether you prefer a modern or traditional design - you have equal freedom with hardware selections.

If you need inspiration, read, Our 16 Most Popular Knobs and Pulls for Kitchens, 5 Door Styles and Hardware Combos You'll Love, and 4 Cabinet Hardware Styles to Snatch Right Now.

Would you like professional assistance as you update your Cape Cod kitchen design? Visit us here at Kitchen Magic or schedule a free, in-home consultation. All we ask in return is that you invite us to your first lobster feed...