It once was, that the knob simply assisted in opening a cabinet or drawer. Today, hardware is nothing shy of a showpiece. Think of knobs and pulls the same as you do when choosing the jewelry for your outfit. If you have a minimalist style kitchen, then the sky is the limit; choose what appeals to you. Done right, it may even be the driving component—creating the kitchen's overall style and personality.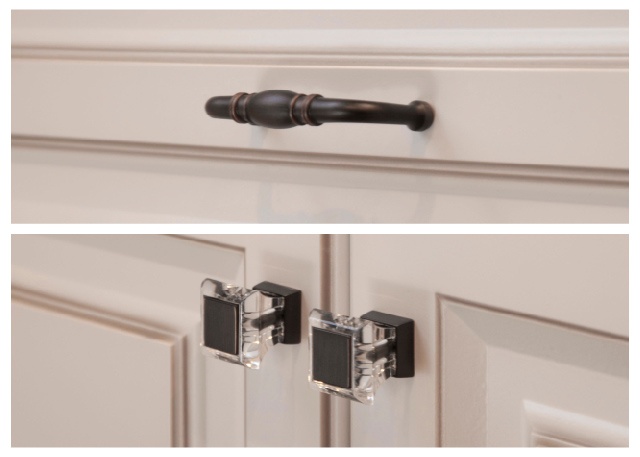 Classic Industrial Style
Who would have thought that an 1800s plumbing pipe and spigot would be the inspiration of kitchen design over a century later? Yet, here it is! Classic Industrial Hardware is really trending right now, making a big Designer-esque statement in the kitchen. Classic Industrial collections are heavy and ornate pieces, instantly giving the kitchen an old-world charm. Its popularity may be because it can be used with any style of kitchen, or homeowners are just going outside the box and using their imagination.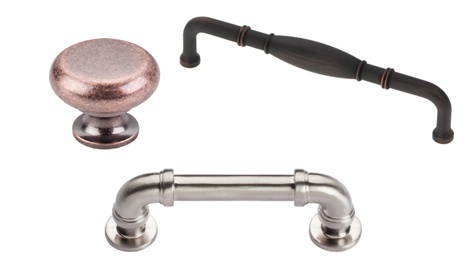 Steampunk Collection
It's not just men looking for these masculine pieces either. They offer a whimsical touch when used strategically with just the right cabinet style and countertop. For another whimsical look and feel, discover the new Steampunk Collection, crafted to evoke a unique and innovative motif. Reminiscent of old Victorian era elegance, yet strong industrial machinery, these vintage valve-like drawer pulls will transform the whole kitchen, giving it that shabby-sheik Soho vibe. The color palette is typical of your basement water-valve; black, red and matte gray.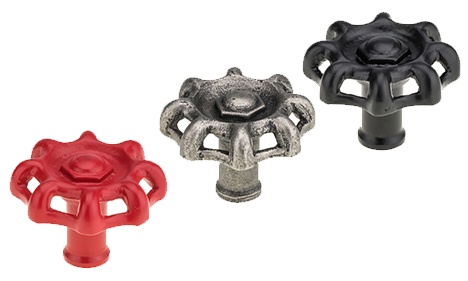 Translucent Crystals
Crystals shine on, with that bling that every girl wants! Hardware manufacturers are building on a 1929 line of products with translucent crystal knobs that offers a fresh take on the contemporary glass trend. The honed crystal knobs are available in a variety of geometric shapes—oval, large round and large square and are crystal-clear, with mirrored centers for enhanced sparkle.
Consider how the knob will feel to the touch. Crystal knobs have a certain jewel quality that you'll experience as your fingers slide around the smooth and heavy surface. Crystal and glass knobs are popular for older and historic kitchen styles, even customized to use in certain homes to enhance its architectural era.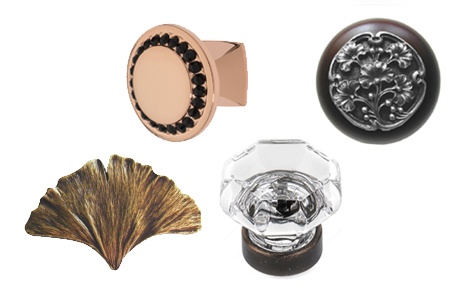 To the Finish Line
The finish of the hardware plays a huge role in the design. Brushed nickel, gold and oil-rubbed bronze are still popular. However, the palette has expanded to the dramatic ash gray, black, honey bronze, polished nickel, sable and umbrio. The seriously-decorative collections include rose gold, brass, bronze, matte black and even gunmetal. Take your kitchen one step further and combine duo-finishes with silver & gold and chrome & matte black combos. Fanciful blends of materials such as glass & metal, ceramic & metal and even metal & wood.
While functional hardware (hinges and touch-to-open mechanisms) are preferred invisible, the knobs and pulls are right out in front. The bigger, brighter, and chunkier, the better. If you can envision it, then it can more than likely be found in today's knob or pull collections.