Answer: No. Your kitchen island does not have to match.
Although matching an island to surrounding cabinets and countertops creates symmetry within a kitchen, using different cabinet colors or different countertops can turn an island into a beautiful focal point that complements the rest of your kitchen.
So, What type of combinations work?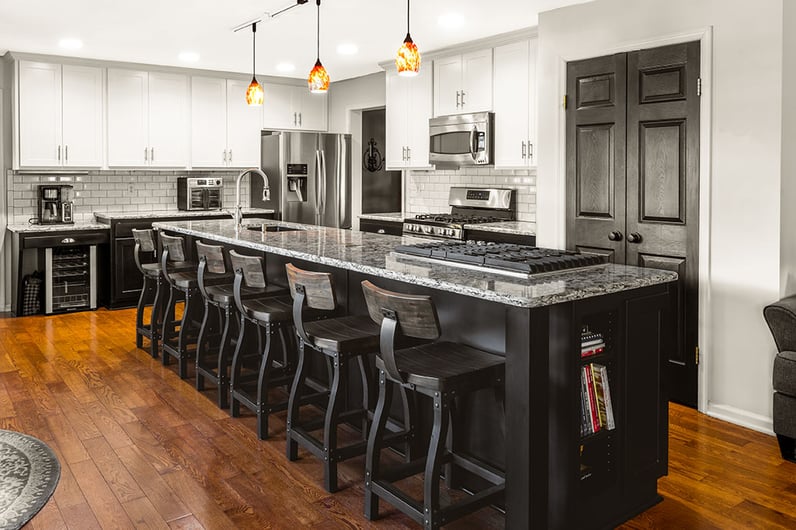 What Colors for my Cabinets
Many homeowners use a light color for the upper and lower wall cabinets and a darker shade of the same or different color for the island.
For example, you might use light brown for the wall cabinets and dark brown for the island, or two different colors such as light cream for the wall cabinets and dark greenish-blue, navy or black for the island cabinet, with the same countertop material throughout. The different cabinet colors add a bit of variety to the kitchen, while the similar countertops tie everything together.
Countertops Styles & Colors
Mixing up countertop materials, colors and styles also adds variety.
For example, imagine a large kitchen with light-cream wall cabinets and gray granite counters featuring double eased or single bevel edges wrapping around two walls.
To spice up the kitchen, you might renovate the island to have a dark chocolate cabinet and a large light cream marble counter featuring gray veins and single ogee or repeat waterfall edges. Although the island countertop's material, color and style are completely different from the wall countertops, the marble's cream color and gray veins match the cream wall cabinets and gray counters, while the dark color of the island cabinet and the counter waterfall edges act as accents.
Hardware & Decor
With any of these combinations, you shouldn't feel that you're restricted to using matching hardware or decorations. In a kitchen with contrasting cabinet color shades, you might use light-colored hardware on the wall cabinets and dark hardware in the same or a different style on the island. Additionally, if you want your kitchen island to stand out, you might forego using any decorative pieces on the wall cabinets and use fillers, appliqués, tile or even artwork on the island.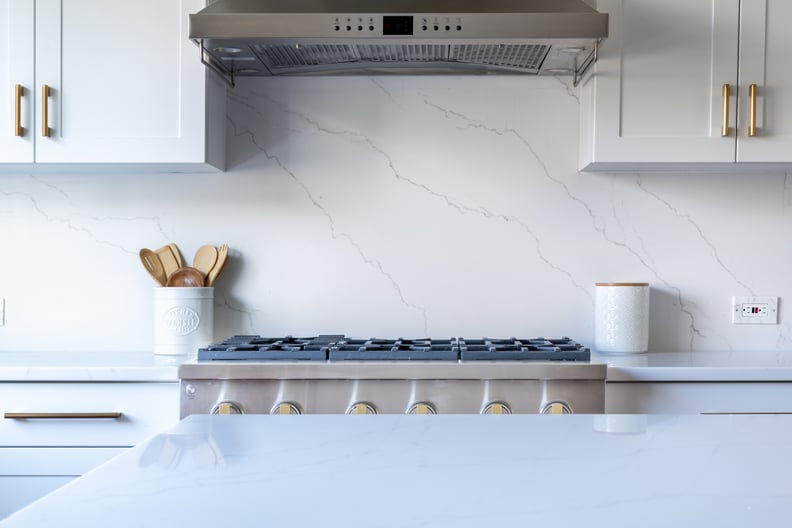 The combinations you use for your kitchen depend on a number of factors including the kitchen size, theme and cabinetry. Always consult with a kitchen specialist before starting a renovation project to help you determine the best combination of colors, styles and hardware for your kitchen design.