The kitchen is the chameleon of the home, it transforms into whatever homeowners and families need it to be. It's got many uses for the family but one thing's for sure, it's the hub of activity. Some congregate in the kitchen for a celebratory party or friendly gathering, they use it for completing home business or education-related tasks, or simply for dinning. Whatever the many uses of your kitchen, you'll want a design that accommodates everyone's social needs.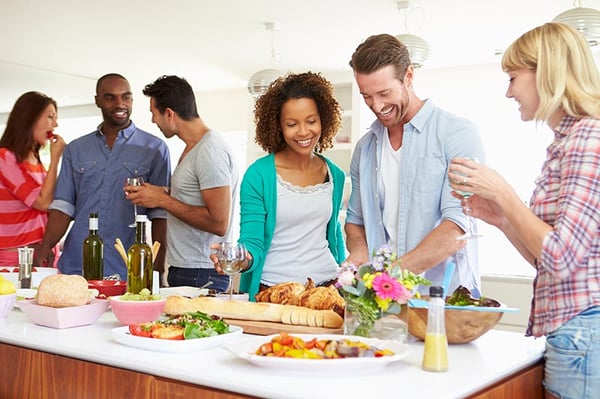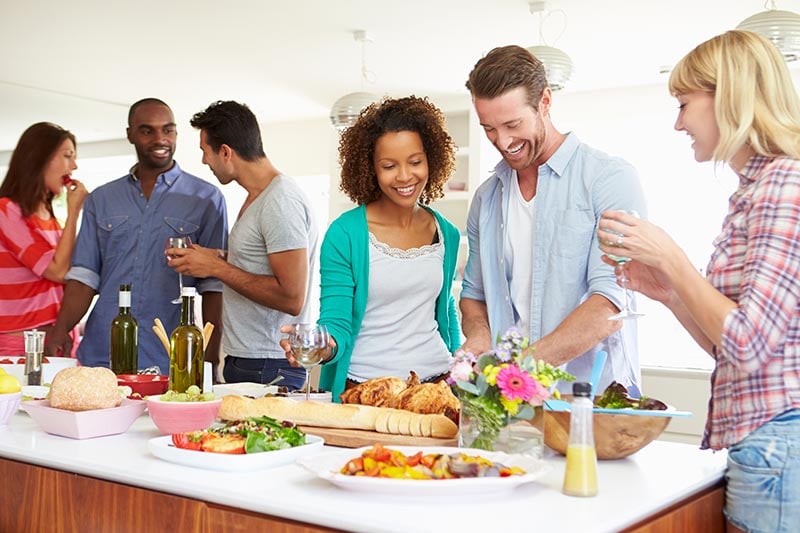 Essential Design Elements of The Social Kitchen
At any given moment family and friends may gather in your home and your kitchen will quickly become the hot spot for social activity. It is the heart of the home after all and with food prep and conversation flowing, you'll want a space that accommodates everyone. If you have a kitchen with a layout that doesn't easily permit a flurry of activity, consider these design ideas to transform it into a more social space.
Kitchen island bar and stools
If the kitchen becomes whatever you need it to be, the kitchen island complements that idea matching whatever you need in the space. A stationary island or a rolling cart can instantly create a more social kitchen. Depending on the size, you might have the focal point and gathering spot for all your friends and family.
Not to mention the extra cabinet storage you gain for food, pots/pans, appliances and other kitchenware. An island can store items directly related to social activities, such as wine, party decorations, games and books. It can also provide extra countertop real estate for food prep and non-cooking tasks. The bottom line, it gives you the extra space you covet for all your social gatherings.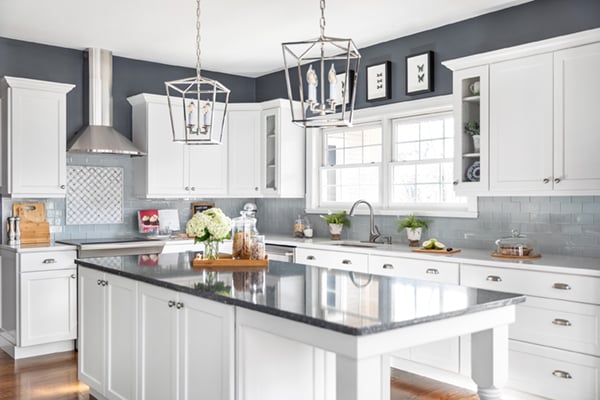 Additional kitchen counter space
Speaking of the benefits of an island, think about ways to include extra countertop space in your kitchen. You can never have enough room to prep, place food or store drinks. Think about the kitchen layout you have or are building.
An "L" and U-shaped kitchen can be perfect layouts for the addition of an island. But as you design your layout, think about where you can add standard or custom bottom wall cabinets. You could even incorporate pull or lift-style countertop extensions for the extra room when you need it. By increasing the number of work areas available, the additional counters improve space efficiency and traffic flow allowing more people to work and interact. Instead of dealing with the frustration of having "too many cooks in the kitchen," you can invite more to join in on the fun.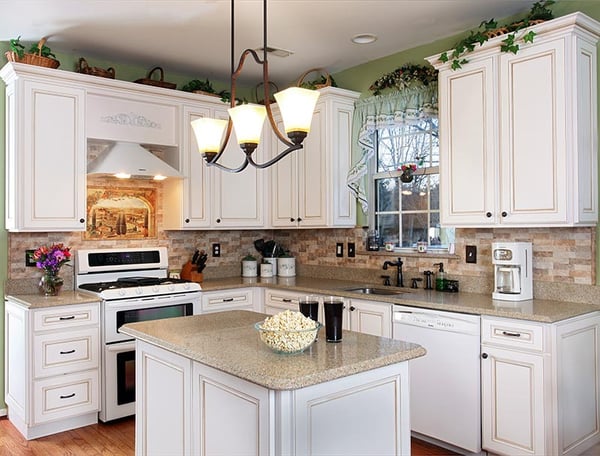 Open it up with open floor plans
While we're talking about layouts, the open floor plan is the ultimate in creating a social environment. Wide, open spaces make it easy for traffic to flow in and out of every area. You'll never be closed off from the action when you have a clear sight line to everything that's going on.
But, if you're not into having all that open space, or want more distinction between rooms you could incorporate half-walls with shelves into the design. Better yet, a glass cabinet or wall gives the impression of open space but still allows for division of space.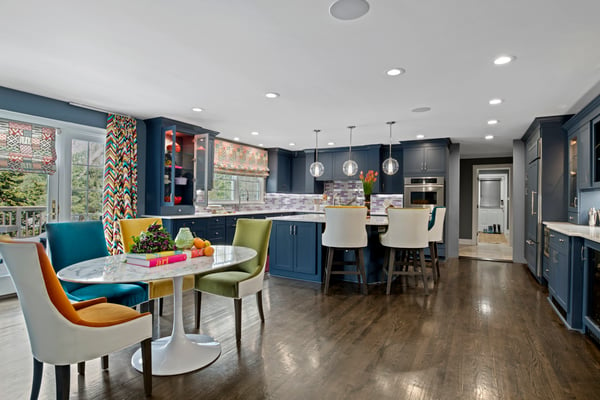 Kitchen materials that are up to the task
A social kitchen means you're getting a lot of use out of the space. To be sure you can entertain for years to come, you'll want to select materials that are durable and long-lasting. Homeowners with little ones around know the importance of resilient products.
Quartz countertops are made from some of the strongest material on the earth. It'll be able to take the wear and tear your little ones and guests can throw at it. Granite is another material that can take the hit and stand the test of time. Your countertops will be seeing a lot of action, so be sure to choose something that'll work for your needs.
Stainless steel appliances are up to the task. Those little hands may smudge and print the outside, but you'll be able to easily clean the material to keep it in working order.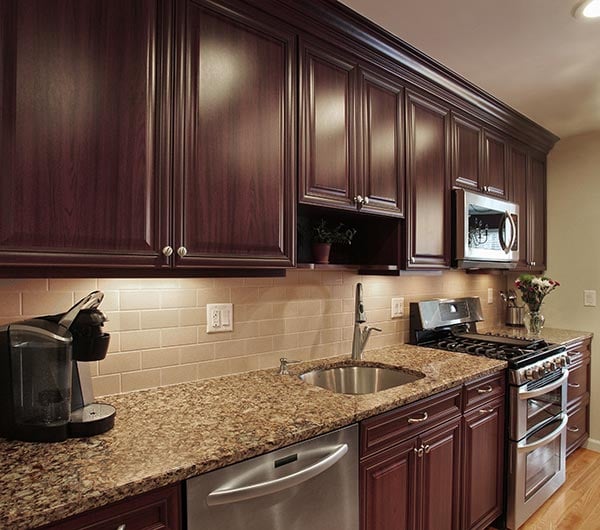 Add a homework zone or message center
Think about crafting out some room for a homework zone or message center for your kids and family. While you're prepping dinner, they can be getting their homework done. All you need is a spot for a table and a few chairs—it could be separate from where you eat. Incorporate some shelves for books, or even paint some chalkboard paint on the wall for notes and help during homework sessions.
A cozy spot for everyone to gather and work together makes it easy to keep an eye on little ones, while you're getting things done.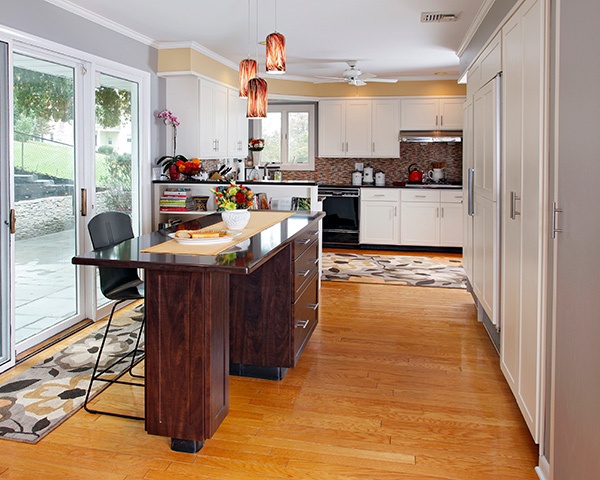 Kitchen seating options
Sit-down furniture, such as chairs, stools and benches can also create social zones. The sight of chairs in a kitchen subconsciously prompts some people to take breaks when cooking. Add a mini table with benches and you can comfortably socialize with a visitor over coffee or tea in your kitchen rather than lug trays or glasses to another area of the house. This type of setup also helps if you want to cook and socialize at the same time when family or friends stop by for brief visits.
Think about banquette seating in the kitchen. It's a convenient spot for everyone that prompts discussions and conversations.
Thinking about how you could make your kitchen more entertainment-friendly? For additional social kitchen design ideas, schedule an appointment with a Kitchen Magic specialist.