We're thrilled to announce that we now offer HanStone brand quartz countertops as part of our material selections. With this new brand option comes a slew of color and texture combinations for you to choose from. We know you'll find a quality choice that'll look spectacular in your new kitchen.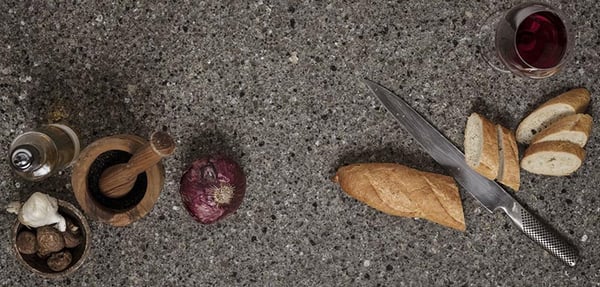 Photo of Blackburn Quartz by HanStone Quartz
Behold the Beauty of Affordable Quartz Countertops
Granite is a popular pick when it comes to countertops—it's a beautiful stone that exudes luxury and sophistication. We get it, granite is tops. But we've said it before, and we'll say it again—quartz is a viable alternative to granite. It's a durable, hygienic product that'll fit in with any kitchen design. With HanStone quartz, you'll have an affordable product that'll last for years to come and look just as sharp as granite.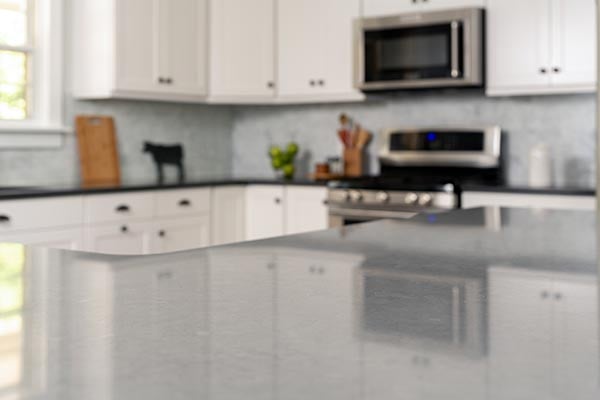 HanStone quartz countertops are made to last
HanStone quartz has a North American manufacturing facility that'll meet all your needs. Quartz is made from one of the hardest materials on the earth—even harder than granite. The surfaces require no conditioning or polishing so you'll have a sparkling countertop with just a wipe of a cloth.
Quartz is also non-porous, so there will be no sealing required at installation and it's resistant to chips and scratches. This hygienic and low-maintenance product will be one less thing you have to worry about in your kitchen.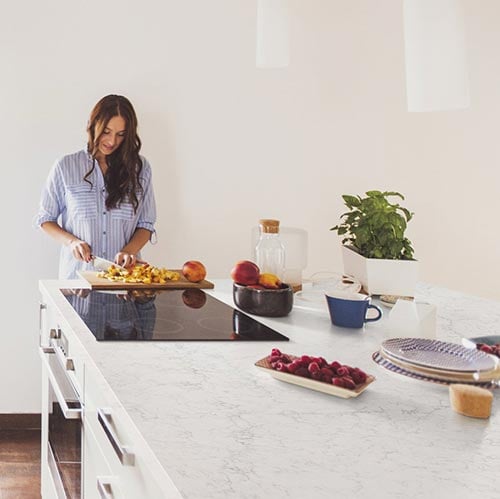 Photo of Campina Quartz by HanStone Quartz
The mystical colors of quartz countertops
The new brand offers a variety of color choices that'll work with your kitchen design. From darks to lights and everything in between, you'll create a unique space that'll brighten your mood no matter what kind of day you've had. HanStone has diverse choices in its arsenal that'll add a splash of personality and vibrancy to your space, here we'll show you just a few to whet your appetite.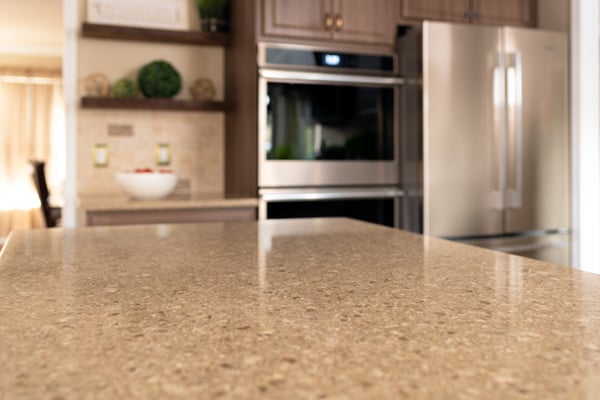 Unearthed quartz color collection
Want a touch of nature in your space? Looking to create your own private sanctuary right in the heart of your home? Colors in this collection offer very raw and natural selections to showcase our inspirations and love affair with Mother Earth.
Terra quartz creates a sandstorm of warmth
No it's not a mirage, Terra replicates the look and feel of hot dessert sand. The lighter shade of subtle movement throughout gives you a toasty swell of heat that'll make your guests feel right at home. You can practically feel the sun radiating around you just standing next to it. Create your own private oasis in the dessert by dressing it up with some living potted plants—a cactus or two will work. As a more neutral color it'll pair well with any color. too!

Photo by HanStone Quartz
Coast quartz brings the beach home to you
Creating a coastal getaway in your kitchen is easy. When you choose Coast as your countertop color, you'll be halfway there. Replicate serene white sandy beaches with this flowy design that creates texture and gives the impression of soft grains of sand right at your fingertips. With complementary color palettes such as sea glass on the cabinets and throughout your décor, you'll be relaxing in no time, hearing those waves crash ashore.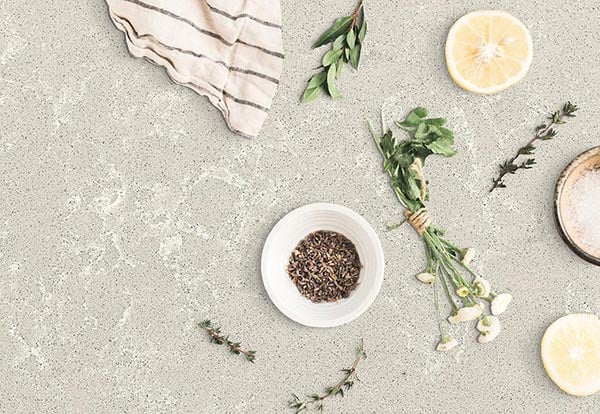 Photo by HanStone Quartz
Brave the Storm quartz for a magical night
If you're looking for a statement piece in the kitchen, Storm will create brilliant contrast and beauty that captures attention. The darkest color in the collection, it brings a hearty balance through movement and shades that create the perfect illusion on your countertop. Mesmerize family and guests alike while capturing the raw elements of nature in your home. Combine it with white cabinets for sleek visuals.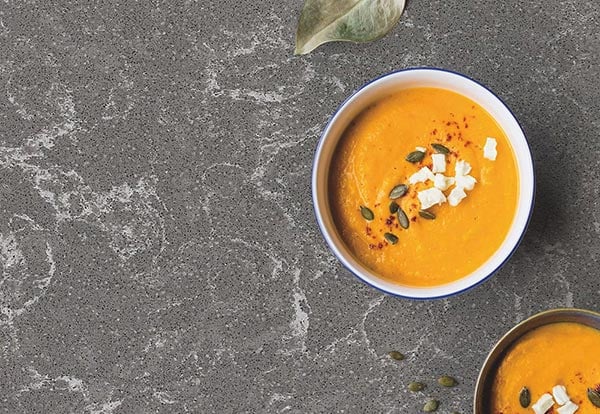 Photo by HanStone Quartz
Boutique colors offer class and sophistication
The boutique collection has luxurious and chic options. The names say it all—a collection inspired by places of beauty and grand ideas. If you're looking for classic and timeless here are some choices for your countertop.
Bring trendy Manhattan vibes to your kitchen with Soho quartz
One of the trendiest neighborhoods in Manhattan is epitomized in this quartz countertop. Soho has a smoky white base overlaid by pewter and brown veining for a whimsical pattern and feel. You can never go wrong with a white kitchen design. The hints of color here will balance well with your monochromatic palette. It's a hip and cool choice for a fashionable and contemporary kitchen.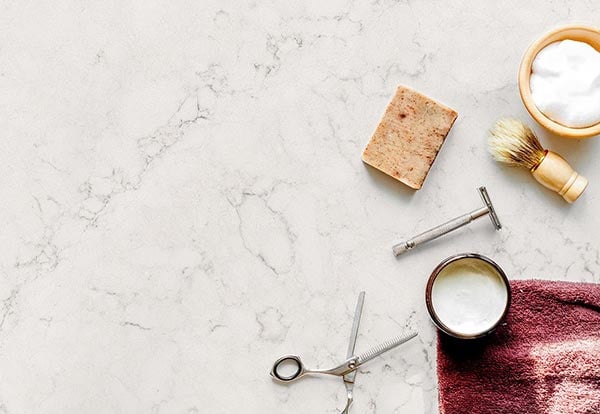 Photo by HanStone Quartz
Old meets new with Montauk quartz
Continuing with the New York theme, Montauk is another stylish countertop option. Reminiscent of those rich, fanciful Long Island beach towns, it's another choice to pair with a white color scheme. The soft pearl backdrop sets the stage for the warm sand and ivory pattern that mirrors the veining in an elegant marble. Old meets new with this design. You've got the vintage marble and old-world charm coupled with the modern white surface for class and elegance.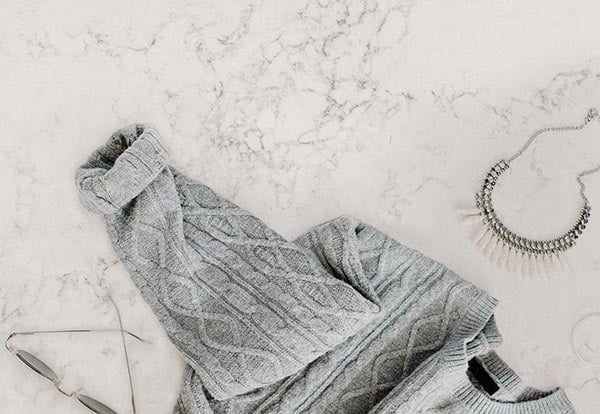 Photo by HanStone Quartz
Chantilly lace has a pretty quartz
This offering in the boutique collection is delicate and fine just like its lace namesake suggests. The crisp, pure white background sets the stage for the airy charcoal feathering throughout. It's subtle enough to blend in with your modern, classic design but powerful enough to stand on its own. Create a focal point for your kitchen with this countertop and stun all your family and friends.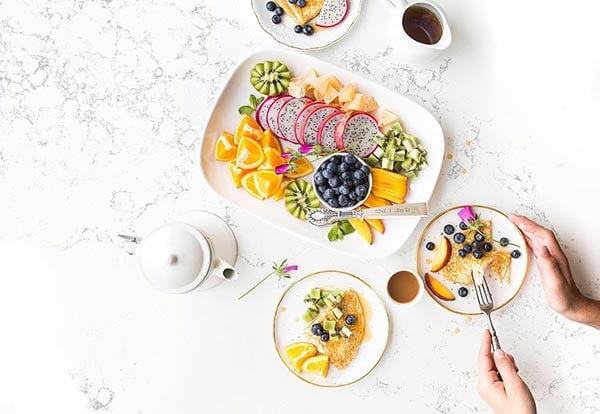 Photo by HanStone Quartz
Go with marble-like quartz in the Cascina collection
Lovers of marble rejoice because these quartz alternatives have patterns that resemble its sharp, stunning visuals. A collection of glossy, cultured options with strong undertones and delicate veining are perfect for your kitchen work space.
Ride the quartz Italian waves
Imitation is the sincerest form of flattery. With Italian Waves, you'll be imitating rich Carrara marble. A warm Mediterranean escape is waiting for you. This classic white, infused with a hearty gray marbling has wispy movement throughout. The sheen of this sleek finish will be sure to garner compliments from all who enter your kitchen.

Photo by HanStone Quartz
Get some peace and quiet with Tranquility quartz
The peaceful and serene feel of Tranquility offers classic beauty for your home. The base is made of the crispest white marble-like coloring and is paired with a contrasting charcoal veining to give you a timeless appeal. The hint of color helps break up a uniform white and will flow perfectly with your accent pieces. Get lost in a sea of happiness when you add Tranquility in your kitchen.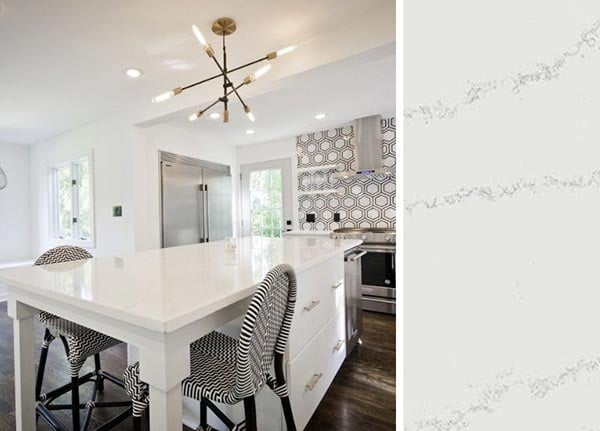 Photo by HanStone Quartz
Brava Marfil
Looking to break up the white color scheme? Brava Marfil will do just that. A taupe background provides subtle color and the brown marbling pairs well to create a distinct showpiece. Overindulge with the understated decadence of this quartz countertop.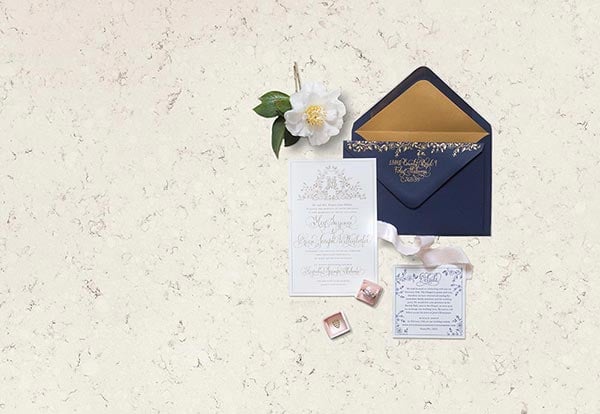 Photo by HanStone Quartz
Quartz is engineered to be the right choice for you. But these are just a few of the many new color offerings we have. Thinking about upgrading your kitchen and looking to include some quartz in the mix? To see more or for a sample of specific options reach out and schedule a free in-home design consultation today.