Mediterranean kitchen design is a holistic blend of cultures spanning the coast of the Mediterranean Sea. You will find elements from kitchens of the southern regions of Spain, France, and Italy, as well as Moroccan, Turkish, and Greek aspects influencing this eclectic design style. Therefore, there's a plethora of combinations available to create a sincerely unique Mediterranean kitchen design of your own.
An Amalgamation of Kitchen Styles from the Mediterranean Regions
Mediterranean kitchens can sometimes be conflated with Tuscan style kitchens, which makes sense because the Tuscany region of Italy is situated on the Mediterranean coast. In our previous blog article, we covered Tuscan kitchen design specifically. Read, Give Your Kitchen That Warm Tuscan Look to learn more about the Old-World style of Tuscan kitchens.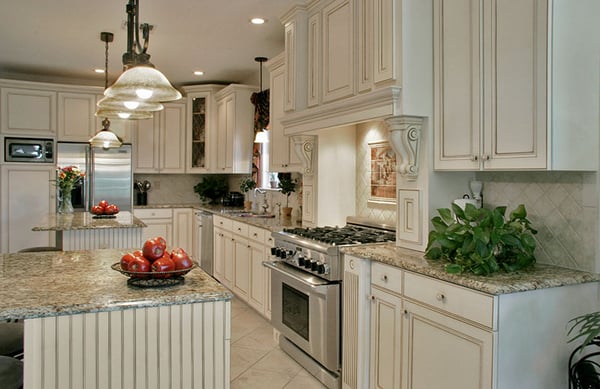 Tuscan is only one of the styles that can lend itself to a truly Mediterranean kitchen design. You will find that there are basic elements that make up the Mediterranean style, and that these elements can be swayed by one coast or another to exude the culture of that region. Here are the design details that make up the basic building blocks of Mediterranean style:
Intricate wood detailing
A hearth structure over the range
Open shelving
Iron, bronze, or copper fixtures and sconces
Hanging pots and pans over the island
A color palette that includes: blues, greens, browns, oranges, beiges, yellows, lavenders, bright jewel tones, and of course black and white
The best way to find your own Mediterranean style is to review the elements from each region, and then you can pick and choose your favorite details to incorporate into your kitchen.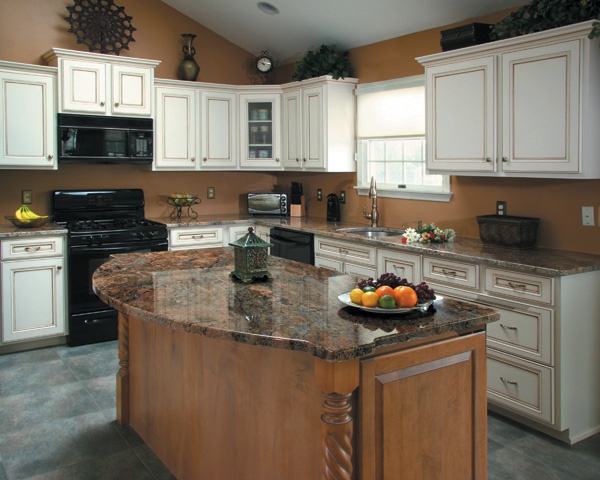 The Spanish Riviera
Spain's influence on Mediterranean design comes by way of hand-painted Spanish tile, furniture with large rivet detailing, wrought iron and aged metals, and dark wood cabinetry with vintage hardware. This Houston kitchen, inspired by the Riviera of Spain, exhibits many of the aforementioned basic elements, but also notably brings in the color lapis blue. These tiles and décor feature that ideal Mediterranean color, influenced by the color of the sea itself.
The Riviera of France
From the south of France comes an interesting design style that blends French provincial style with a little panache of the Riviera. The strong black and white contrast in this kitchen, accented with brass hardware and fixtures, and natural stone backsplash chicly evoke the style of Monaco. There's a simple, but elegantly rustic hearth over the range, large central island, and open shelving to indicate that this is indeed a Mediterranean example of very French kitchen. And, to those lovely velvet, riveted stools, we say, "oui oui!"
Riviera de Italiano
We felt it deserved a blog of its own, so we did thoroughly cover Tuscan kitchens earlier this week. However, let's just touch on the design style that comes from the Italian Riviera. For instance, this contemporary farmhouse, located in Siena, Italy, embodies coastal Italian style with its stucco walls, brick archways, and hearth over the range. This is a great example of how to modernize a typically more traditional Tuscan design.
Morocco's Riviera
Morocco has a flair all its own, and is easily recognizable amidst its Mediterranean counterparts. Though, you could probably summarize it best as a happy marriage between Spanish and Middle Eastern coastal styles. Unsure about whether or not a kitchen is Moroccan? Hand-painted tiles will be your first indication, and then the vibrant colors with deep warm woods will give this unique design style right away. If you find that you're digging Moroccan style kitchens, incorporate open shelving, arabesque tile flooring, an antique iron lamp, and tasseled throw pillows to top the look off perfectly!
A Riviera of the Turkish Persuasion
In the Eastern regions of the Mediterranean, we find many kitchens that are influenced by Turkish—also referred to as Moorish—style. Displaying the beauty of Middle Eastern concepts, while still retaining the earlier outlined fundamental elements of Mediterranean design. So, you're going to see a lot of tile, woodwork, and hearths, but your also going to find stained glass, intricate throw rugs, and ornate fixtures. Like all Mediterranean styles, Turkish interior design favors a nostalgia, but more inclined towards the creative aspects of the Muslim world.
One of the great things about Mediterranean style is the versatility available to designers who choose this look. Each of the coastal hubs along the Mediterranean Sea present their own unique cultural elements and flavors, from which you can select your favorite aspects. Include them in your kitchen to further reinforce the Mediterranean-ness of the space. Find your perfect Mediterranean kitchen by mixing-and-matching the ideas here that appeal to you the most.