Are you ready to design a showroom kitchen? One that dazzles the eye with its magazine-worthy perfection? That's great, but shouldn't your kitchen also serve as a personal reflection of you, your household and your values?
As professional kitchen designers and builders, we're all for creating beautiful kitchens, but first and foremost, we are People. We have spouses, partners, families and friends. We have interests, hobbies and precious keepsakes from loved ones who've passed on.
These personal attributes are what makes each of of us unique and priceless in our own right - and we feel the kitchen is the place to celebrate that.
Honor Your Loved Ones with More Than a Picture
We all know the kitchen is the heart of the home, so why not find ways to celebrate all those amazing heirlooms, secret family-favorite recipes, antique china and even furniture pieces within that very same heart?
Here are ideas on how you can honor your own treasured family heirlooms alongside that swanky new quartz and refaced cabinetry.
Shadowbox them
In this digital era, recipe boxes are quickly falling by the wayside. But with each recipe card that's lost in the shuffle (or painfully recycled) goes a piece of paper, displaying beautiful, handwritten script that was held by someone you hold dear.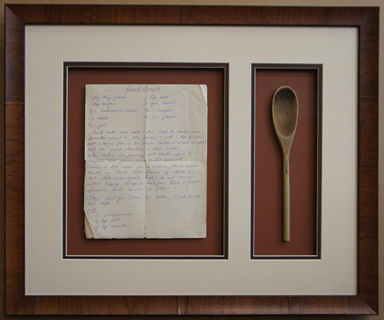 Image via DIYS.com
With a shadow box, you can choose a handful of your very favorites, and also include a vintage kitchen tool or two (great-grandmas rolling pin? the mixing spoon that faithfully stirred up decades of Sunday morning pancakes?), for a timeless treasure that will look just right in any kitchen design - even the most contemporary of the contemporary.
Showcase - and use them - via open shelving
There's a reason why people are tearing out cabinet boxes to add open shelving, and functionality is only the tip of the ice berg. We know those crystal Champagne and wine glasses are treasures, we love those Pyrex mixing bowls and casserole dishes that have survived 70+ years-and-counting, but is tucking them away behind closed doors the answer?
We say tuck some away for posterity's sake, and allow a select few to join the world of the living, becoming functional characters in your kitchen life - both in use and on display.
Choose lit glass panel cabinets
Did we say to tuck some away....? What we meant was, install beautifully lit, glass panel cabinet doors so the more priceless members of your heirloom china and crystal collection can live safely behind closed doors, while still radiating their full glory to all who pass by.
Integrate antique furniture pieces
Why spend hundreds - or thousands - of dollars on hunts for rustic, vintage pieces when you probably have freebies (or affordables) at your disposal via re-thought existing pieces or furniture forgotten up in grandma's attic or storage unit.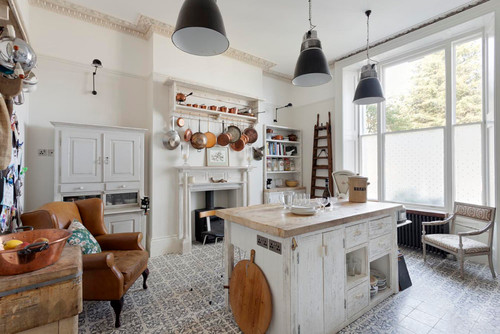 Large dressers topped with a quartz or marble slab make for fabulous kitchen islands or baking stations (respectively). A re-finished or painted hutch or dining table will add tremendous personality compared with recent reproductions. If your inherited dining room furniture is just a bit too much, consider using a sturdy chair or two at the ends of dine-in kitchen section with upholstery that matches your own design.
Get a designer in on the idea and there are all kinds of ways you can incorporate heirloom furniture pieces into your kitchen remodel.
You deserve that showpiece kitchen, but you also deserve all the personal accents and beloved heirlooms that keep you rooted in who you are - regardless of which trends come and go.
Get together with a designer from Kitchen Magic and we'll show you what personalized kitchen designs are all about.