Gather round because we've got some big news to share! We're rolling out the red carpet for an exciting event. It's the launch of nine new color offerings for your kitchen cabinets and we think you're going to like what you see.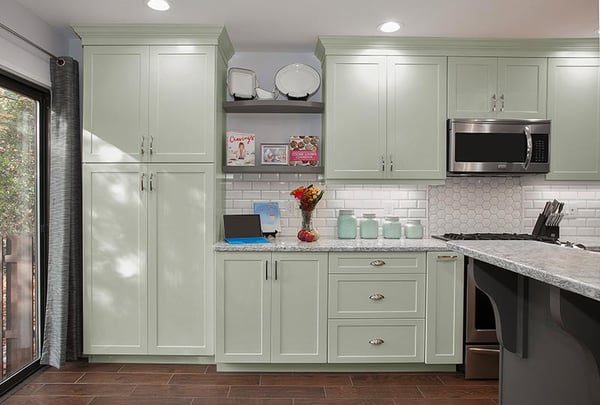 The Cabinet Colors of the Future
The nifty nine make their debut as part of the fresh and trendy options that will transform your kitchen into a modern masterpiece. These new choices are available for inclusion in your kitchen design today. So, without further ado let's look at each one in a little more detail.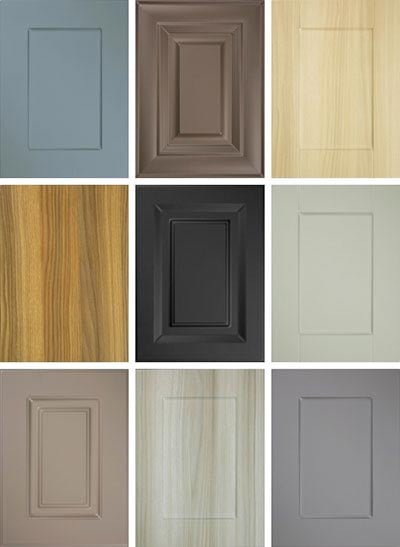 Sea Glass
Who doesn't love the beach?! Even if you don't have a seaside getaway you can bring elements of that design style home by choosing the right color and material combinations. Sea glass should be your first choice as you can see from the first photo above. This color screams beach and relaxation—I mean the name says it all! This color can pair perfectly with woods and raw materials for a natural and earthy feel. Maybe you're looking for an accent color—this will look stunning on the island. Create your own sanctuary for when you can't get away. Simply step into your kitchen and enjoy the refreshing and peaceful atmosphere you design—you'll be happy with it for years to come!
Cadet Blue
Are you feelin' blue? Because we are! We're feelin' this Cadet Blue for the kitchen and we think it's going to rejuvenate your space. it's not quite a shade you're used to, you might think of pale blues or cool blues for design choices, but this color is muted. It incorporates more greyish undertones which minimize the pop a blue might usually make. It's just enough to create a look that's neutral and pleasing to the eye. You won't be disappointed when you include this color in your kitchen because it's sturdy and strong as a backdrop for the striking cabinet design combinations you'll create—good ol' tried and blue.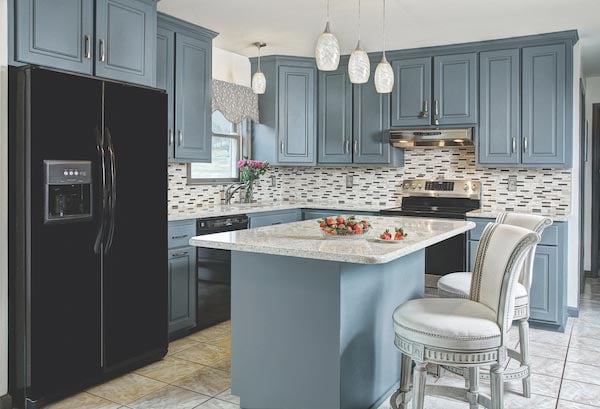 Fade Grey
Whites and greys are always a timeless design choice. The Fade Grey is no different. If you're into the monochromatic design palette, then you'll be a fan of this color. Thinking of going all grey in the kitchen? Why not this one, it creates a sophisticated atmosphere that will make your other design choices stand out. Dress it up with funky art deco inspired light fixtures or include a statement backsplash in a contrasting color. It can stand on its own as the shining star of your kitchen or pair seamlessly with other options. Either way it'll create a timeless look.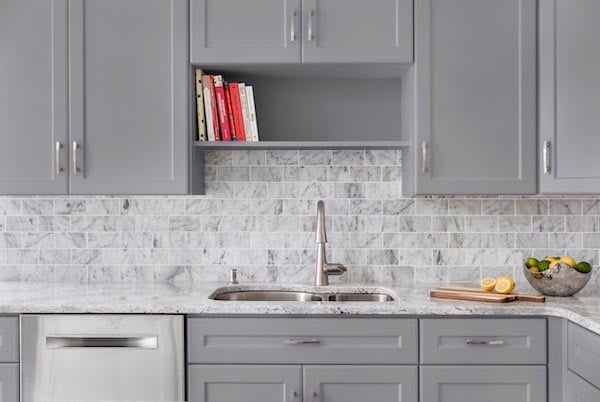 Folkstone
Are you itching to do something bold and daring? We're not talking about sky diving—no need to go that daring!! We were thinking more along the lines of giving white colors a rest in the kitchen. Shake things up with Folkstone, a charcoal-like color. It's darker than fade grey with a cappuccino and chocolate-y undertone that adds a little warmth to your space but still has versatility. Give your kitchen cabinets a makeover with laminate that's sleek and will surely have family and guests alike raving about your space. Pair this darker cabinet color with lighter countertops for an aesthetically pleasing contrast.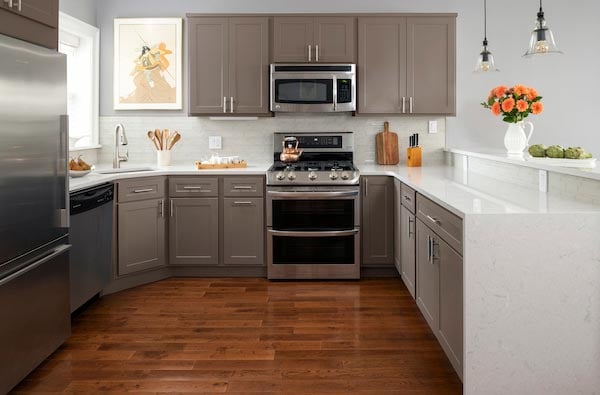 Luxe Black
We're excited to offer this matte black color. If you want to have a stylish kitchen that falls in line with the latest trends, then you'll want to choose this one. Black matte in the kitchen is especially popular right now from cabinets and countertops to appliances and finishes. Throw the white kitchen design out the window when you choose cabinets in Luxe Black. The finished product will be a sophisticated space to share with family and friends. You may even create a timeless look of your own.
If you're hesitant to go all black on the cabinets that's OK too. You can mix and match in a tuxedo style with black on the bottom and white on top. The results are still the same, you can't go wrong with this color choice.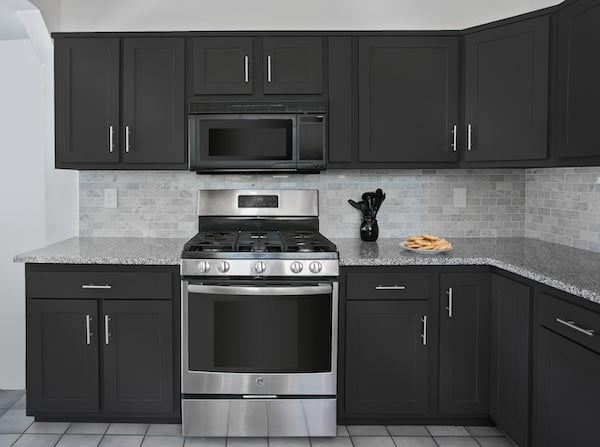 Stone
Greys and greige seem to be popular year-after-year, which is why Stone fits in perfectly. This slate grey color offers an understated and earthy vibe. It's an adaptable option that can stand on its own but is a complementary playmate for mixing and matching as well. It's one that will help you create a warm, hospitable space to share with all your guests.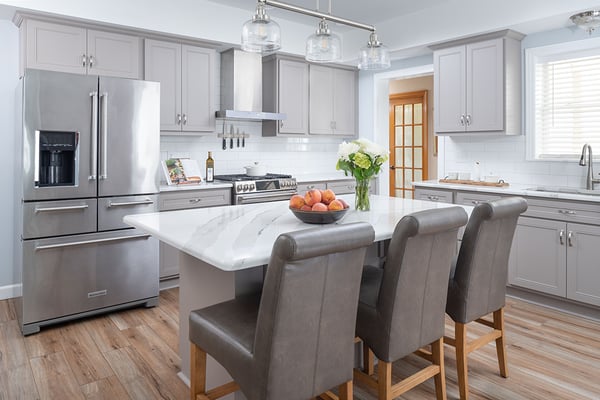 New Wood Grains
The last three options are wood-like colors in different shades. If you're going for a minimalist design style—like the Scandinavian—then you want to check out these options. Create your own personal retreat indoors with any one of these serene and calming options.
Bergen ash
Bergen Ash is a light choice for those who enjoy the softer tones but don't want to go quite as plain as white. The wood grain appearance adds some texture to your space but won't overpower your design. It can easily be paired with whites—wood and white creates a tranquil place to relax and gather with the family. Take a hint from the Scandinavians and go for the feel of your home. You'll be glad you did when you warm up with a hot mug of coffee surrounded by the enchanting embrace of your own private retreat.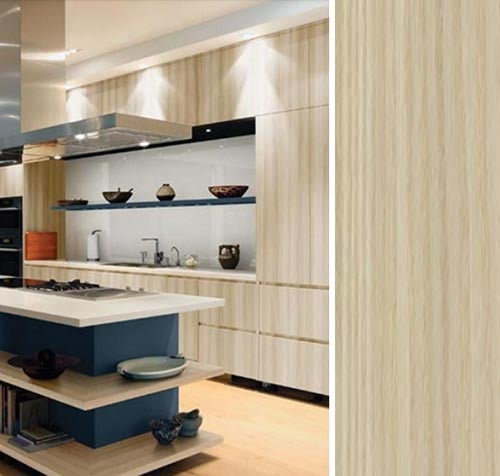 Sarek ash
Sarek Ash is a greyish wood grain that won't darken your space or your mood. It's bright and airy which will pair well with the natural light in your home. You'll have the illusion of the outdoors contained right in your kitchen. The muted color adds a unique character to your room but will work well with your other design elements. Usher your family and friends right in with this subtle shade that gives off a warm feel for an inviting and appealing style.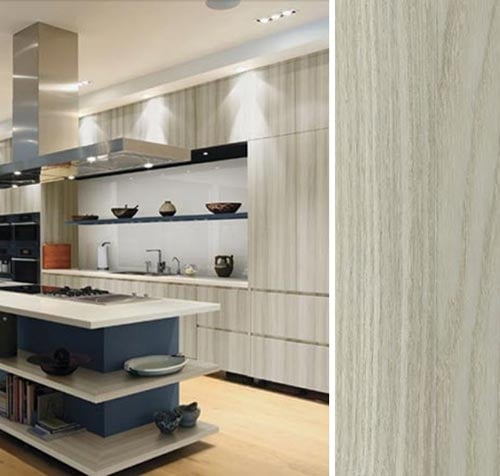 Karuna ash
The darkest of the three options—but still delicate and light, Karuna Ash offers a realistic wood feel. Again, it's perfect for the minimalist and the mid-century modernist. With the impression of the outdoors, Karuna has a natural and raw sensation that can easily be paired with materials like exposed brick or stone and some greenery. Cozy up in the elegance of your own little wooded paradise all in the comfort of your own home.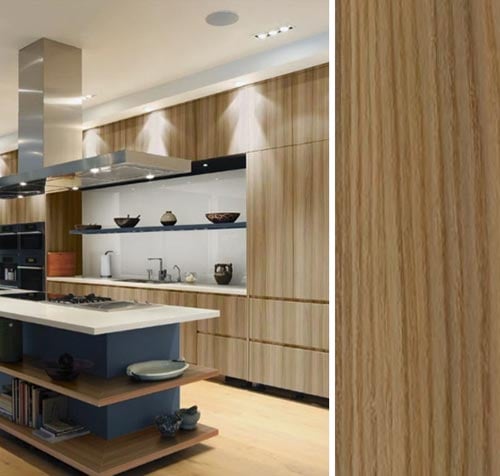 There you have it, the nifty nine in all their glory! Now that you've had the chance to bask in their fresh, new glow it's time to pick the best option for your kitchen. If you already know which one is right for you or you would like to discuss with a design expert, schedule a consultation with Kitchen Magic today.