Sure—a gorgeous, full kitchen makeover with all new custom cabinets, granite countertops and stainless steel appliances would be ideal. But sometimes, that stunning transformation of your dreams isn't quite within reach.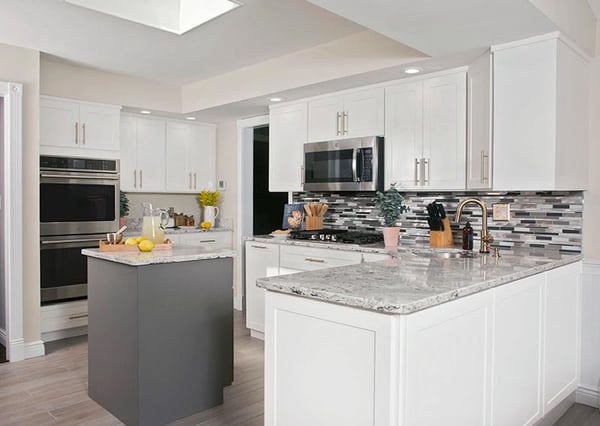 Don't Wait to Make Kitchen Updates
To hold you over until you're ready for the real deal, here are 5 quick do-it-yourself tricks to update your kitchen's style and breathe some life back into that tired space. You may not be able to get the new countertops you've been wanting but these small improvements will refresh your room just the same.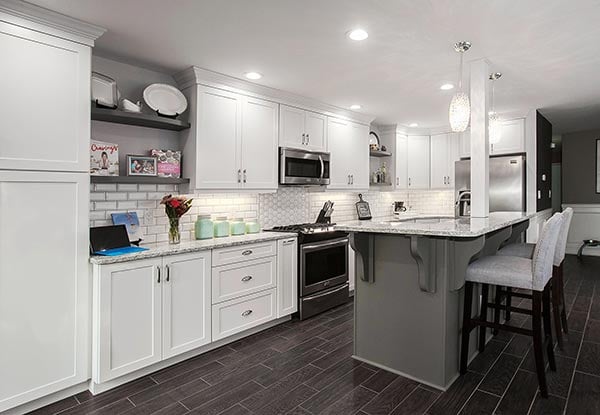 1. Create an accent wall in the kitchen
If you're tired of the same old look in your kitchen think about adding an accent wall. This will create a focal point in your space and give you an upgrade without hurting the budget. Pick out new paint or a color scheme and apply it. If you're only painting one wall you should be able to finish this project in a day.
If painting isn't something you're interested in, then think about adding a backsplash. There are many different options out there including press-on adhesive choices. A bright backsplash can add a bit of flare to your space. Go colorful or patterned for something eye-catching. It's just enough to make a change while you save away for your bigger upgrade.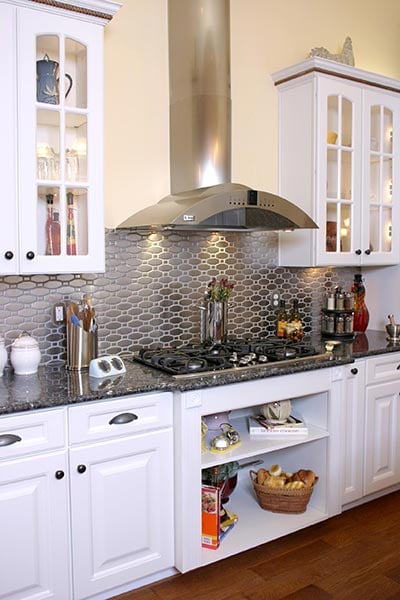 2. Kitchen updates on a smaller scale
When your budget just won't allow all the updates you're looking for you've still got options. Just think on a smaller scale. Changing your décor, accent pieces and appliances can make a huge difference.
Change up your kitchen décor
Think about adding some unique décor for an inviting space. Terrazzo candles, coasters and bowls bring a splash of color to the room and are trendy items right now. If the maximalist style intrigues you then go for a funky and unique wall clock. These pieces can be as extravagant and flashy as you want. You'll have a topic of conversation for guests and family alike. If you've got windows in the kitchen, update those curtains and treatments with something more modern or contemporary. Everyone needs a change now and then!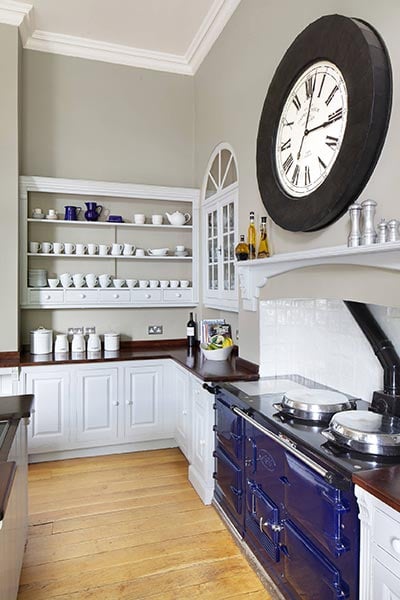 Re-think kitchen accent pieces
Outdated lighting fixtures can really hold back the look and feel of your room. It might be time to take the plunge and upgrade your lighting fixture. Pendant lights are a popular choice right now, but you can go with whatever works for your space. While you're at it, think about under cabinet or task lighting for all the heavily used areas of your kitchen. Brighten up the space and you'll see the difference!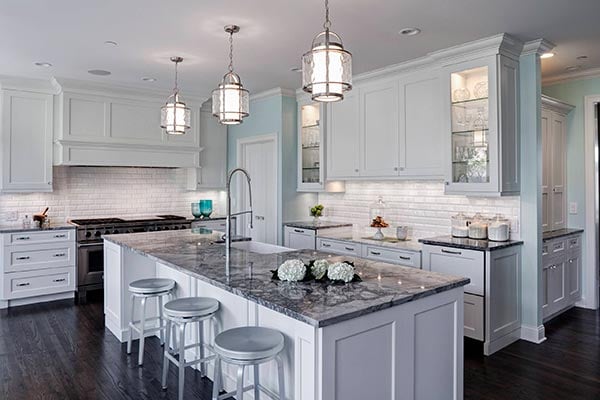 Switch-out old kitchen appliances
Bigger appliances like a refrigerator or stove may be too heavy on the budget right now and that's OK. In the meantime—on that smaller scale—you've got the option to replace sink faucets. Find something that's functional for your family, maybe think eco-friendly with a touch-faucet to save water. You can play around with finishes here, mixing up metals or going with a sleek matte. Little changes will have a big impact.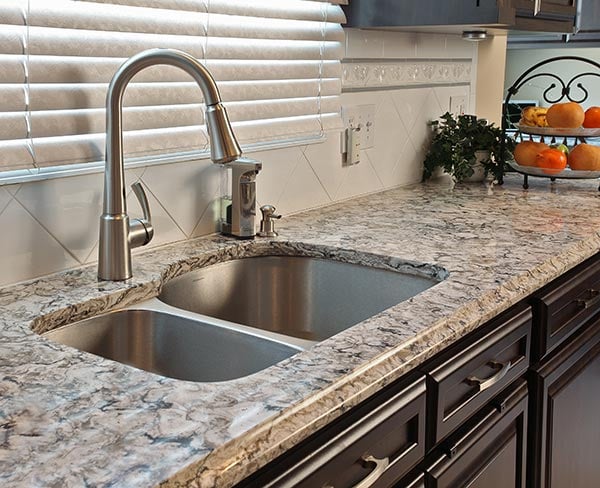 3. Install new hardware
While your cabinets may look outdated, they may still be in good condition. If your kitchen was built in the 1960s or 1970s, chances are your cabinets are made of sturdy, solid wood. For one reason or another you may not be ready for a full kitchen remodel with all new cabinets, or even for the less expensive process known as cabinet refacing. You can still update your kitchen. Change the cabinet hardware for a fresh look—you'd be surprised at the difference it makes.
If your kitchen is old and drab, odds are, your hardware is just as ugly as your cabinets. The good thing is that cabinet knobs and pulls are an inexpensive and easy replacement that will instantly invigorate your kitchen! Swap out those worn and dirty pulls for modern and glossy knobs. Mix up the metallic finishes for something visually appealing.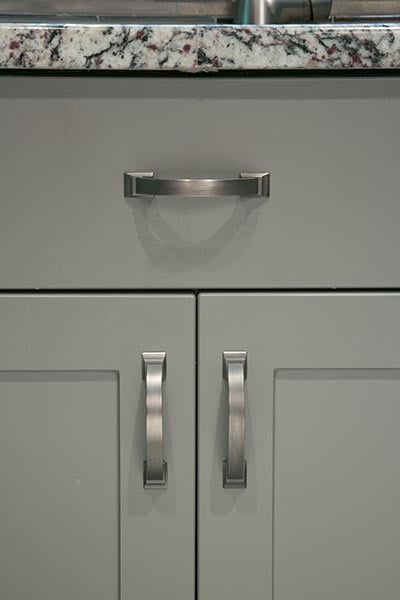 4. Line the inside of your cabinets with scented paper
This is an old wives' trick that has been used for centuries by mothers trying to get some extra shelf life out of their shelves. The modern version of contact paper puts a fun twist on an old trick and offers some style as well as a fresh scent. By using patterned contact paper, you'll bring a touch of color and texture to your kitchen—and help keep it clean, too!
The best part about using scented paper to line your cabinets is that it's a very budget-friendly option that can be updated as frequently as you'd like. Our personal favorite is a simple chevron or herringbone pattern with lots of color to brighten up the dark insides of your old cabinets. If you've got glass cabinets, this adds something extra for the eye to catch.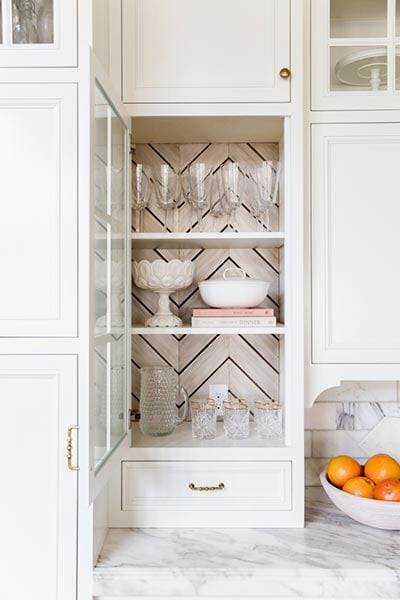 Photo of Rachel Parcell Kitchen by Rachel Parcell
5. Clean cabinet clutter
Although it's not everyone's first choice for upgrades, cleaning is quite beneficial in the process. Go through all your cabinets and drawers, clean out and toss any unused or old items. You'll create more space and efficiencies by organizing as you replace. You may even find some room to store items previously kept on the countertops. It's all about creating a clean visual for the eye. With more room in your cabinets and drawers you'll free up space in the line of sight, which will put you in a better mood. A de-cluttered home is a happy home!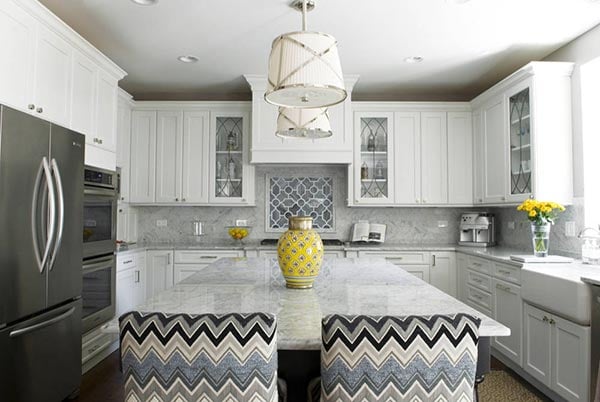 While all these do-it-yourself design tricks will help update your kitchen in small ways, it's just the precursor for the stunning transformation of a real kitchen remodel. Schedule your free in-home estimate and consultation with Kitchen Magic today, and one of our kitchen specialists will offer custom design advice tailored to your personal style wants and function needs.