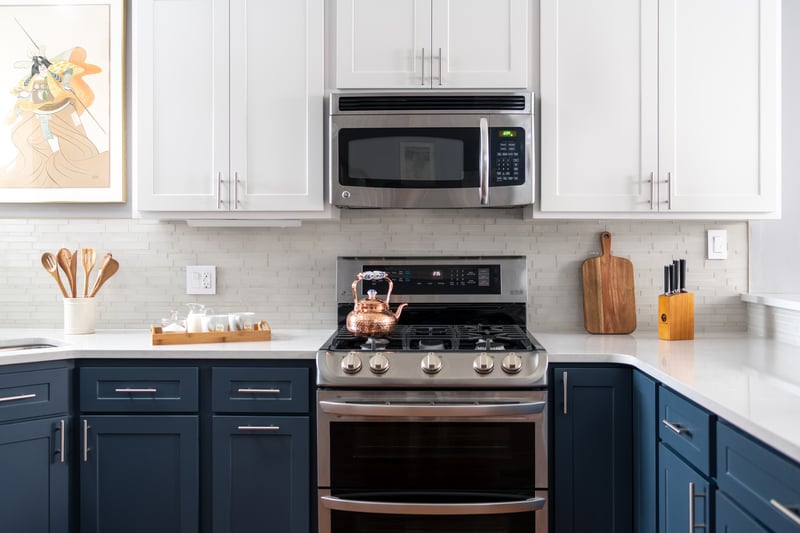 Whether you're completing a full kitchen remodel or simply looking to add a few finishing dashes of spice to your project, kitchen cabinet hardware is the enriched flavor that can tie your entire living space together. From a wide variety of styles and finishes, cabinet hardware is the undisputed jewelry of the kitchen. And, especially if silver-toned hardware options have garnered your attention, you are not alone. Chrome, nickel, and stainless steel kitchen hardware are all widely popular. Each provides a unique variation of neutral silver tones, and work well in both contemporary kitchen designs, and adorn traditional spaces as well.
The Differences Between Chrome, Nickel and Stainless-Steel Hardware
The hues in each metal group range from white to silver, or an array of gray tones, depending on the finish and available light. Each element can even appear nearly identical depending on the surface finish. However, understanding their subtle differences will help you select the best material for your kitchen design and maintenance needs.
So, we've gathered advice from our Kitchen Magic Remodeling Experts to explain some of the pros and cons of choosing silver-toned metals for your new kitchen cabinet doors.
Chrome
Shiny and bright, kitchen hardware made from chrome is a sophisticated stand out. Standard chrome cabinet hardware has a polished surface that shines like a mirror and reflects light. Satin or brushed chrome provides a more matte finish. Chrome is made with a metal core that is then plated with a thin chromium veneer. And quality chrome hardware is rust-resistant when cared for and maintained properly.
A few points to consider about chrome cabinet hardware:
Polished surfaces like chrome can reveal fingerprints and scratches.
Chrome may appear dull when damaged. The metal core may become susceptible to rust if the plating is damaged, either accidentally or through natural wear and tear.
The plating on lesser quality chrome can peel or flake.
Highly reflective, chrome has the potential to create glare depending on the lighting in the space.
Chrome may require some tender loving care, but it is a beautifully dramatic accent when paired with a lighter palette such as white, light gray, or soft, neutral cabinetry. In summary, chrome is an excellent option for any homeowner looking to put a unique spin on detailing a modern, contemporary, or transitional kitchen design.
Nickel
Highly versatile, there are plenty of nickel cabinet hardware finishes and tones available. Nickel hardware can have a high polish, a satin finish, or even stylish weathered and antique looks. Made from a metal core that is plated with a thin nickel veneer, nickel cabinet hardware is often considered by homeowners for its inherently warmer silver tones. Nickel can also morph into intriguing, darker or textural surfaces and designs - the options are nearly limitless!
Some thoughts to consider about nickel hardware:
Suggested maintenance includes frequent cleaning and wiping down to help prevent any discoloration and damage from foods, grease, and oils.
Nickel does resist corrosion and wear, but it can dull and tarnish over time.
A lacquered finish can help to slow the natural aging process.
Nickel hardware is a standout in current trends with cabinets for all kitchen styles, from traditional to contemporary and even farmhouse rustic. Care for it well, and your nickel kitchen hardware will treat you well, too.
Stainless Steel
Stylish, yet highly durable, stainless steel kitchen cabinet hardware not only resists corrosion, but is tarnish and scratch resistant as well. Made from a solid metal alloy composed of chromium and/or nickel, stainless steel hardware is most notorious for its ease of care, and often, sleek contemporary feel.
A note on stainless steel cabinet hardware:
The limited finish options are really its only drawback.
Stainless steel hardware is often associated with contemporary, and iconic, bar-pull handles. However, stainless steel hardware also serves well in traditional to transitional kitchen designs. Durable stainless steel can be as beautiful as it is tough.
Become a Master of the Mix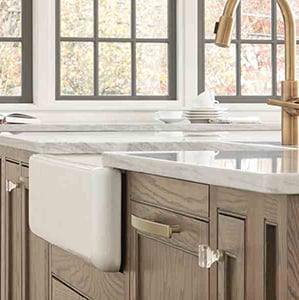 Consider becoming a master of the mix. Mixing materials, finishes and tones in cabinet hardware can offer your kitchen design a welcome and creative effect.
For example, many cabinet hardware products designed by Amerock® Hardware are created to mix and match across their collections, according to Michelle Zeller, CMO, at Amerock. Zeller sums, "this allows homeowners to create a style that's uniquely their own."
To find out more about how kitchen cabinet refacing can transform your kitchen, request a free in-home or virtual consultation, including a personalized quote. Our Kitchen Magic design consultants can help you design a kitchen that you'll love for years to come. Why wait? Contact us today!