Are you looking for a way to update your already functional and attractive kitchen? With the right design foundation, your kitchen will remain "hot" year-long using simple decorative updates that offer style galore.
Keep Your Kitchen on The Hot List This Summer
From broken floor-plans to patterns and retro lighting, here are ways that you can add some sizzle to your summertime kitchen design.
Eat-in (and out!) at the table
Dining a fresco is a summertime given, but we also recommend sprucing up your eat-in area. These days, kitchen table sales are on the rise, and many designers are going for a table rather than an island. Kitchen tables offer optimal kitchen versatility, and this is an exciting trend to watch!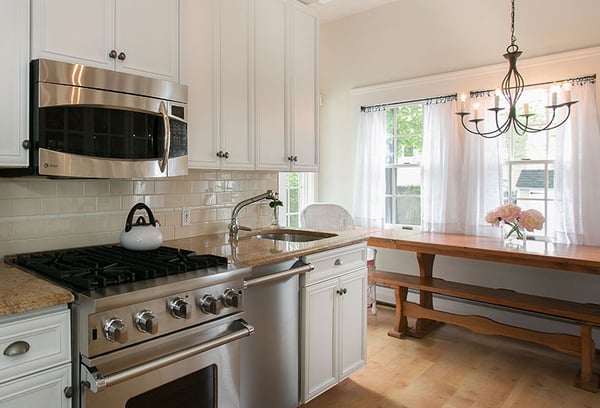 Break up monotony with a broken floor plan
While open floor plans continue to dominate, there's no need to be 100% open. Instead, use things like banks of open-shelf storage (great for adding pops of color via seasonal dishware and decor), a beautifully etched glass screen, a double-sided fireplace or even planted greenery to break-up the space.
This can help to divide the view between the kitchen and adjacent living space if styles aren't as fluid as they could be, to create a sense of separate-but-together or to lend a sense of formality to a no-longer formal dining area.
Take an exotic Moroccan "stay-cation"
Have some fun and re-vamp the decor in your kitchen to match an exotic location you'd love to visit—or have in the past. For example, Moroccan-design inspiration is all the rage these days—combining old-world charm with nature-inspired elements.
You don't have to install new backsplash tile to enjoy this trend—rugs and curtains lend themselves to this trend, place-mats, too! If you're a regular Kitchen Magic subscriber, you know earthenware features and tiles, bone inlay and natural wood accents were trending last fall. That's still the case, so combining those design highlights with Moroccan inspiration keep the trends consistent through summer. Once finished, you'll be able to relax into a free "staycation" with exotic ambiance.

Use motion-rich patterns to make a statement
As long as you're touring Moroccan tile work, consider investing in fun, motion-rich patterns to add texture and interest to floors, walls and/our countertops. Or, perhaps you're just not feeling the arabesque look, in which case, this would be your trendy alternative.
Another way to gain statement patterns is by alternating the tile direction in your backsplash, or between your backsplash and the wood on your cabinet doors. But, if tile seems too permanent for you, the textile and fixture world beckons—window drapes, area rugs, placemats, vases—all are ready to up your pattern ante.
Navy is here to stay
Navy is the more conservative approach to adding fun color to your kitchen then we've covered in previous trend articles (remember Pantone's Jewel-Toned Palette for 2018?)
The nice thing about tried-and-true-navy-blue is that it does the trick when you want color—but nothing too crazy. Just like navy-and-white stripes on a favorite beach towel, your navy kitchen accents are versatile and go with just about anything. These gold and navy stools are an excellent example!
Greige offers infinite neutrality
A combination of beige and grey, greige has been a kitchen interior favorite because it's neutral effect makes the ideal canvas from which to show off your seasonal, or annual, color preferences. When gray is too cool, and beige is too bland, greige is what Goldilocks would refer to as "just right". (P.S.—It looks great on the walls!)
Have fun with Edison bulbs & retro lighting
Retro styles are still trending strong—and that includes lighting design. We love retro options because they're so versatile. Whether modern, traditional or contemporary farmhouse—everyone benefits from Edison lightbulbs or dramatic, vintage-style suspended fixtures. Since lighting is a central aspect of any kitchen design, adding task and safety lighting, as well as style and ambiance—why not make it fun?
Mix-up the metals for eclectic glam
Not only is it OK to mix metals (and finishes), it's trendy to do so! From stainless-steel appliances with brass knobs and handles to lighting fixtures that don't match the hardware, you can go hardware-wild as you mix-and-match complimentary metal fixtures.
Interested in adding more than just transient trends? Schedule a free in-home estimate with a Kitchen Magic design consultant to build a timeless kitchen design that's primed and ready to embrace seasonal accents and updates.
For more kitchen design trend inspiration, check out these related article: