It's that time of year again, the days are longer, your feet are bare and the grill is fired up. That's right, it's summertime once again! We've been waiting for this kind of weather all year round. You may be spending more time soaking up the sunshine outdoors but think about turning your kitchen into a summer sanctuary. We've got just the tools to help you, it's time for our regular installment of the summer kitchen décor trends for 2019.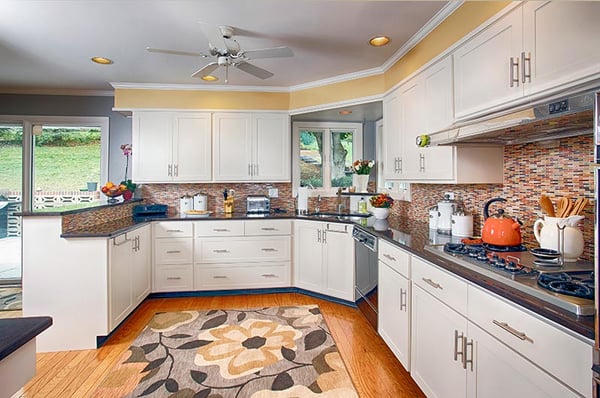 Stylish and Affordable Kitchen Décor Trends
We've compiled the hottest kitchen décor trends that will freshen up your space this summer for only a small amount of green. Check out these ideas to revamp your kitchen so you get the most out of your home during these warmer months.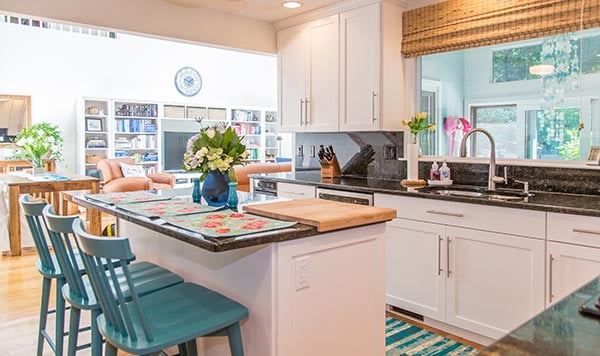 Turn your kitchen into a seaside getaway
No, we're not talking about tracking all that sand into the house because we know it gets EVERYWHERE! We were thinking more along the lines of adding some fresh new accent pieces into your home to spread those beach-y vibes. When you can't get away this summer, take a stay-cation within the peace and tranquility of a beach themed refuge. If you haven't checked out our new cabinet color offerings then you'll want to consider Sea Glass (more on color choices later!), it's the perfect option for a beach re-decoration. But painting and new cabinets are bigger projects to tackle.
In that case, think about adding beach décor in the vein of nautical accent pieces. Think seashell centerpieces for the table or island or wicker furniture items like stools or hanging baskets for produce. Even your bowls and plates can get in on the maritime theme. Open shelving is the perfect opportunity to display these nautical novelties for the summer.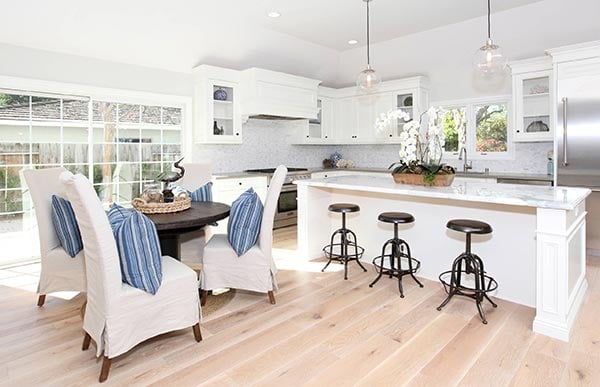 Show off bold and bright hues for summertime fun
As noted above, the injection of colors are a great way to revitalize your room. The color of your kitchen will affect your mood, so be sure to choose something that will brighten your day even when it hasn't been all that chipper.
If you like the nautical theme, navy or other shades of blue are classic colors to include in the kitchen in summertime. If you really want to go for something different and bring a smile to your face, try yellows and oranges. Even still, shades of green or turquoise will give you a shot of happiness on those sluggish days. Splashes of these vibrant colors are an effective way to bring summer inside your home at any time.
Think about changing up your wall art to something vivacious and summery. Switch out old seat cushions and pillows with a bright, bold choice to liven up the space. Add some knick-knacks to your shelving to spread color throughout, you won't go wrong with these options.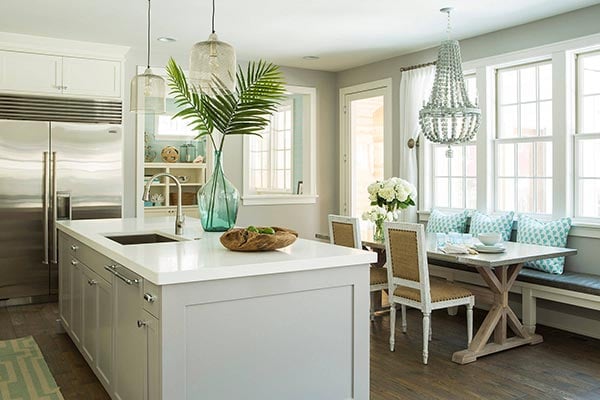 Add a kitchen rug or curtains with a summery pattern
Think about adding patterns to break up continuous space. We've mentioned patterns in the kitchen backsplash or even the flooring—if you're bold enough! But if you're not ready to make that leap into more permanent options, try it out on a smaller scale. A rug or floor mat with intricate patterns will break up uniform spaces. Not only will it add some summer flare, it'll keep your bare feet comfortable when you're popping in and out during all those pool parties. Consider updating your curtains as well with something vivid and eye-catching to extend the theme.
Go wild with some animal prints
Animal prints seamlessly blend nature and home together. Channel an African safari ride with something like zebra, leopard or giraffe prints. It's a fun twist for your kitchen space. No matter what you're up to this year, let your kitchen be an extension of all your outdoor summertime fun.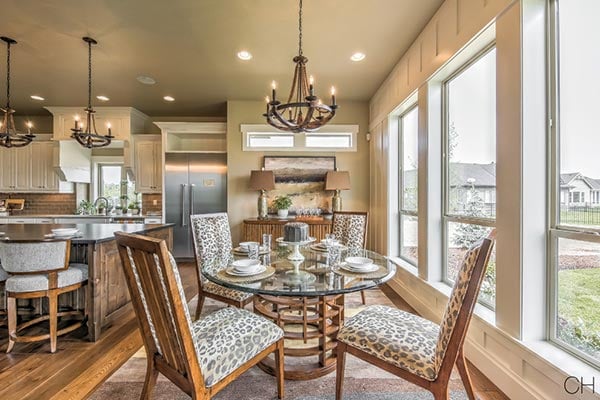 Keep serene with a calming white and wood kitchen
For the minimalist fans, and even those trying to accomplish the Scandinavian kitchen design, you'll like the idea of adding wood to your space. We don't get much closer to nature than appreciating our outdoor hideaways in the summertime. When you bring natural, raw elements inside the kitchen it'll feel like you've never left the great outdoors. Display your wood bowls and cutting boards on the countertops. Consider hanging these items in the open too for more decorative appeal. The aesthetically pleasing visuals work well against the backdrops of white.
As long as you're bringing nature inside, consider planting your own succulents—like aloe or cactus plants in the kitchen. To add a little twist, try growing them in a giant sea shell. You'll incorporate that nautical beach theme and get a little greenery in your indoor space too.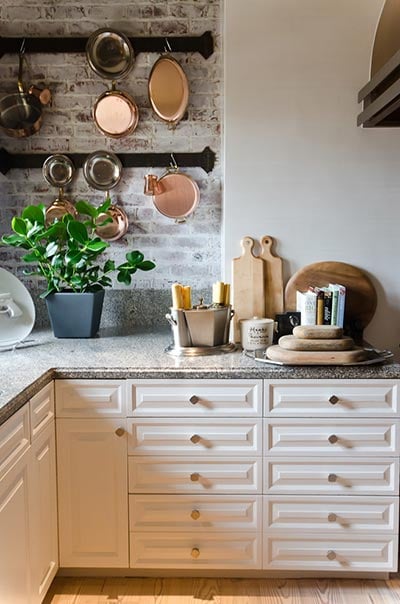 Textural enhancements for a cozy summer kitchen space
It doesn't matter what season we're in, adding texture to your kitchen is always a good thing. In the summertime you'll want to incorporate it via burlap and linen accents. Burlap is a versatile material. You can add it as a table runner, for your elegant Fourth of July and Labor Day parties. It looks good wrapped around decorative candles or mason jars too (see below!). Linen is just as adaptable. The light and airy material is perfect for the scorching summer days.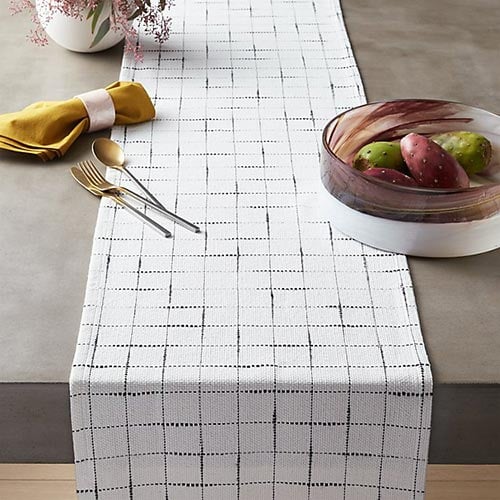 Photo of Woven Black and White Grid Runner By CB2 Exclusive
Terracotta takes the stage
Continuing aboard the texture train we come to the terracotta stop. This clay-based ceramic adds an earthy and Mediterranean feel to your kitchen. If you're going the raw, natural materials route, then this clay will work with your décor choices. Achieve the look with terracotta planter pots and kill two birds with one stone. You'll add the texture to your space and include some lively materials in your home.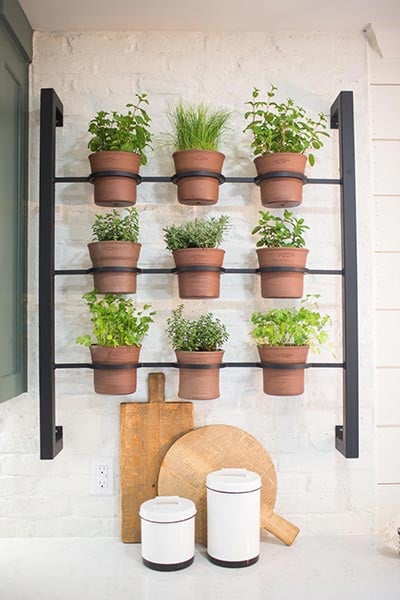 Photo of Joanna Gaines Remodeled Kitchen by Magnolia
For a golden summer—rose gold and copper(tone)
Metals, metals and more metals. We've been talking about metals in the kitchen design world for a while. That's because metals are popular in the kitchen whether it be through stainless steel appliances, sinks, or the knobs and pulls on your cabinets and drawers.
If you're looking to upgrade your décor with a quick and easy DIY project, then replace your cabinet hardware, update lighting fixtures or add some accent pieces. Remember that mixing and matching metals is always a good thing. Rose gold and copper are the perfect options for neutral spaces this summer. They add warmth to create a homey and heritage feel in the most used room in your home. Plus, you need that copper(tone) to protect your skin!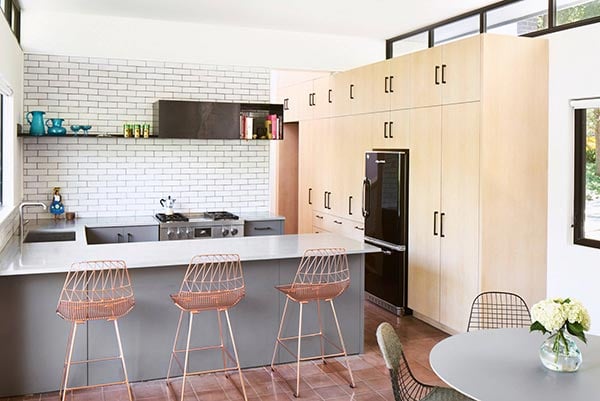 Freshen up with a decorative kitchen scent
It's well-documented that scents impact our moods. Summertime is all about the outdoors and soaking up as much sunshine and fresh air as we can. Incorporate some revitalizing smells like cucumber and melon or summer breeze into the room. In addition to providing an enchanting aroma for your space, candles double as decorative pieces around the kitchen, especially wrapped in burlap!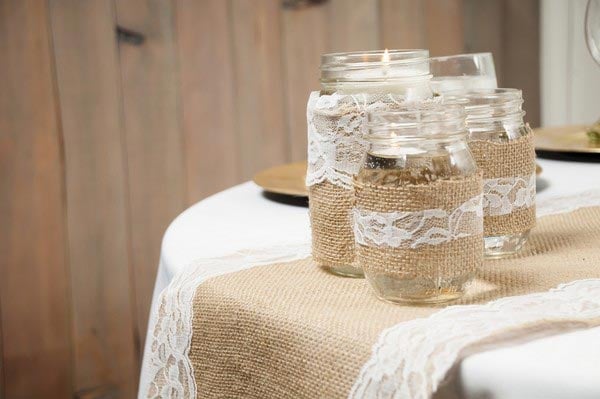 Photo of Burlap and Lace Wrapped Mason Jar by Linen Tablecloth
Feeling like your kitchen needs a little more than a décor facelift? Schedule a free in-home estimate with a Kitchen Magic design consultant to build a timeless kitchen design you'll be able to enjoy the rest of the summer.
For more kitchen design trend inspiration, check out these related articles: