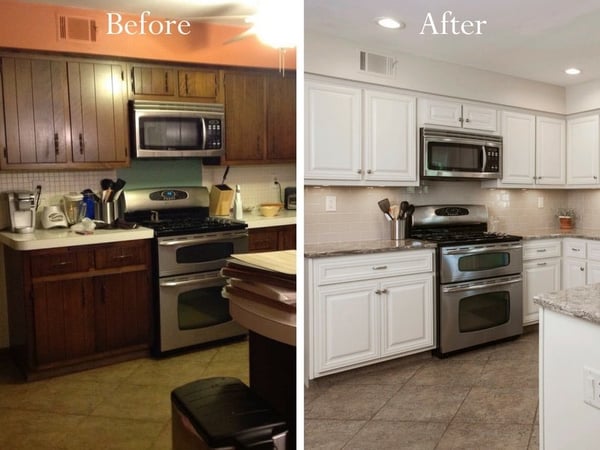 Remodeling takes place in both big and small packages - budget packages, that is. You don't have to take out a second mortgage on your newly purchased home, nor should you suffer the well-intentioned, but unprofessional, finishes yielded from YouTube-based DIY attempts.
Refreshing an outdated kitchen can happen when you change out any part of the kitchen. Depending on what you change and how you change it will greatly affect the cost. This can go from a minor purchase to the equivalent of 5 mortgage payments.
3 Places to Start When an Outdated Kitchen Needs a Refresh
The biggest bang for your buck will come from updating the cabinets. Eighty percent of the vertical space in your kitchen is cabinetry. We've outlined three affordable options available to you when an outdated kitchen just needs a good refresh.
Throw on a new coat of paint
This is a DIY move you can make on your own but bear in mind that the best results will be had from a professional. Equipment like spray guns and power sanders go a long way in creating a quality finish that will last. We cover the pros and cons of DIY cabinet painting in more depth in this article.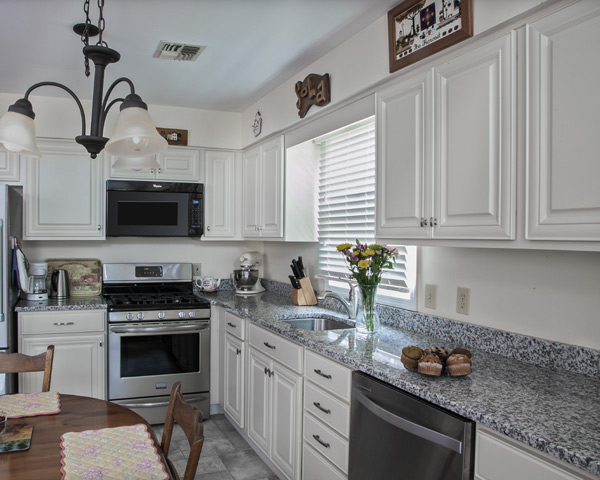 This option is best when you want to change a wood grain color to a solid color like white or gray, which is really trending right now. If your cabinets are in great shape, but you just need a change of color, you're a candidate for paint. Painting require that the surface be sanded, so if your cabinets are made of a lower quality particle-board material, you'll want to be careful. Sanding thin or low-quality cabinet material too much can cause it to warp, and the same warning goes for the next option...
Refinish or restain, it's the same thing
Stain is the best way to maintain the integrity of good quality cabinets and the door style, only updating the shade of the stain. Going this traditional route, the knots and grains of the wood will remain the same. Oak in particular has an intense grain that adds character to a kitchen.
The process can be intense and there are some ventilation precautions that should be adhered to, but your backyard or a garage should be a good work area. The cabinets will need to be emptied out, taken apart, unhinge, sanded (precisely), stained, dried and then put back together.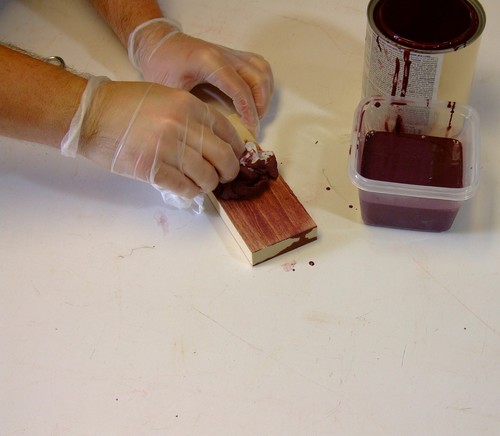 Staining can be a time-sponge so make sure your schedule is freed up for a while. It's also labor intensive, which is why (again) we recommend hiring a pro to help. They'll have the tools to deliver fantastic results, without turning your life upside-down.
Refacing: more than just a pretty face
A great alternative would be refacing the cabinets for about half the cost of replacing them, in 4 simple steps—and we do all the work. At the same time, you:
Spare yourself the mess and hassle of your own DIY attempts
Save landfills from unworthy cabinet boxes (75% of existing cabinet materials will remain in place)
Benefit from sturdier-than-new cabinet boxes from the double-lamination process
Save yourself the embarrassment of an outdated look when showing off your new home.
With refacing your doors and drawers are all replaced, and the cabinet boxes are durably laminated to match. Refacing kitchen cabinets packs an incredibly powerful design punch, updating most of the what you see in the kitchen, for far less cost than a full kitchen remodel.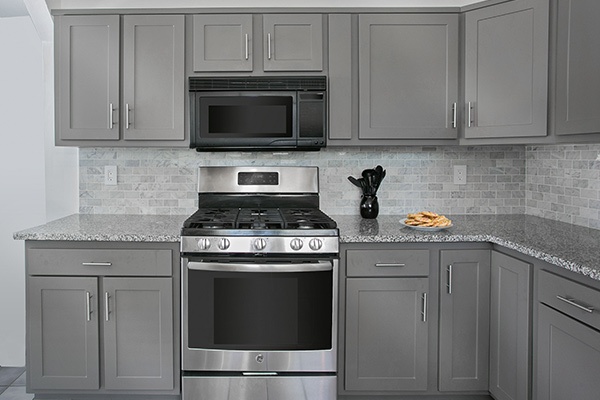 We love showing people how much a kitchen can be refreshed with the most modest of budgets. Living with a kitchen that's a flashback from the 1970s has many drawbacks. The kitchen should be more than the work horse of the home, it's the place you start each day and invite friends and family. Considering a refresh goes far deeper than a cosmetic update, it's the room where your life happens.
If you still have questions about what cabinet refacing entails, check out our video below for a full explanation.