The kitchen backsplash started as a design element rooted in practical means. It was meant to help protect your walls from splatters and well, splashes—hence the name. They keep your whites their whitest when you're cooking that red pasta sauce for dinner. Today however, the backsplash has evolved into so much more. From elaborate designs that are eye catching and detailed to simple and understated it can be another area where you add something special into the heart of your home.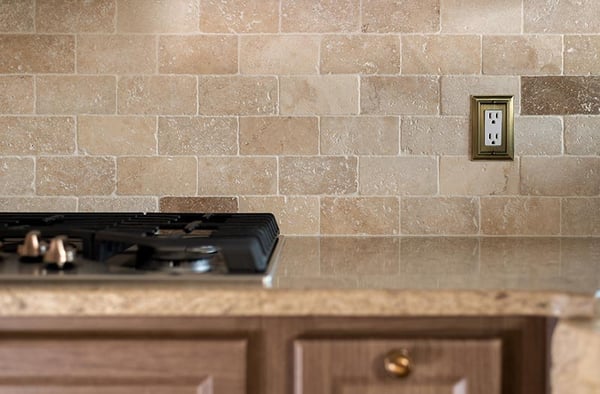 The Kitchen Backsplash Trends on The Rise In 2019
Nowadays people are very creative when it comes to design essentials. With all the inspiration from shows on HGTV the boundaries are always being pushed. There are a lot of unique materials that can be used but some of the most common are: stone (granite or marble), wood, ceramic, Corian and glass.
The material is only half the battle though. The layout and design are the next big hurdles. Should it be a pattern—herringbone, chevron, etc.? Do you want something flashy and extravagant or simple and clean? How big should you go? To help with some of these questions we've compiled trending backsplash design styles that are hot this year to give you inspiration for your kitchen.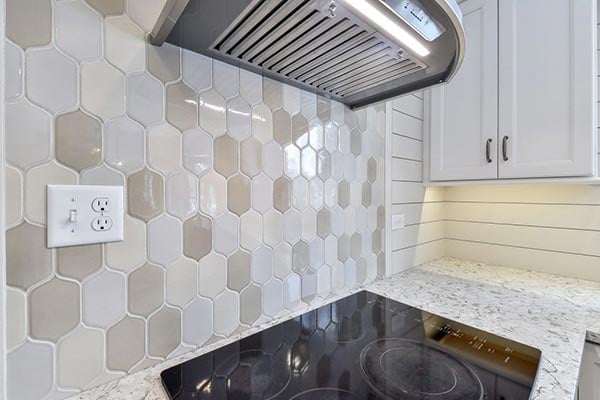 Photo of Sebring Design Build Remodeled Kitchen by Sebring Design Build
Backsplash tiles, tiles and more tiles!
Tile seems to be a common choice when it comes to backsplash designs—It's simple and easy. If want something that will give you a stylish look then tile is the way to go.
Subway tiles
It's a classic and timeless backsplash design, you can't go wrong with it. You have a lot of options like keeping it traditional with size and color or you can take the opportunity to make it unique. Normal subway tile size is 3"x 6", it's tried and true for a reliable and stunning design.
But bigger is better right?! The current trend is to use a bigger tile, more around the 4"x 8" range—but you can always confirm with the local dealer what options are available. If you've got a smaller kitchen then a larger tile might give the perception of a bigger space plus it's less grout to clean!
Colors are back in a big way (more on this later). Subway tiles are a great place to incorporate color into your kitchen to break up monochromatic schemes. Hunter green is popular this year so you might include that in the backsplash. But you can always choose a shade to your liking.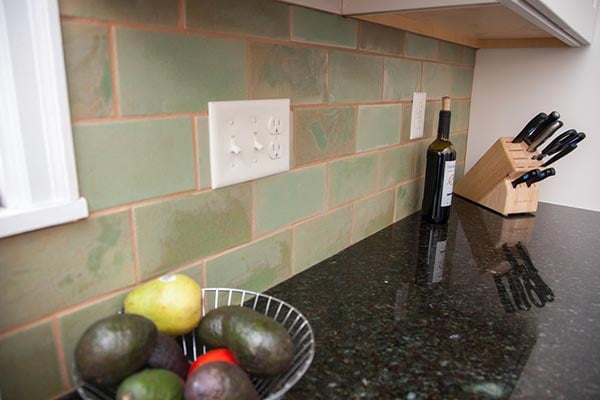 Patterns: the kitchen backsplash story
If subway tile is not flashy enough for you then we'll tell you the story of the backsplash pattern trend. This year the biggest patterns include herringbone, chevron and Moroccan. The pattern idea meshes with the need to add more personality to your space. Quartz is a popular countertop material. With a neutral color and clean lines for the counters you'll want to add something to the room to break up that uniform look.
Herringbone backsplash design
Herringbone—which gets its name from its similar look to the skeletal bones of a herring fish—is a popular choice because of the zig-zag pattern. The shape alone would add a little character to your kitchen, but you can dress it up more by adding colors to the mix. A glossy finish will bring the most out of the design. Chevron is a similar zig-zag pattern—an inverted "V"—that meets at a point. Check out this article to learn more about the differences between these two patterns. Either way, you can't go wrong.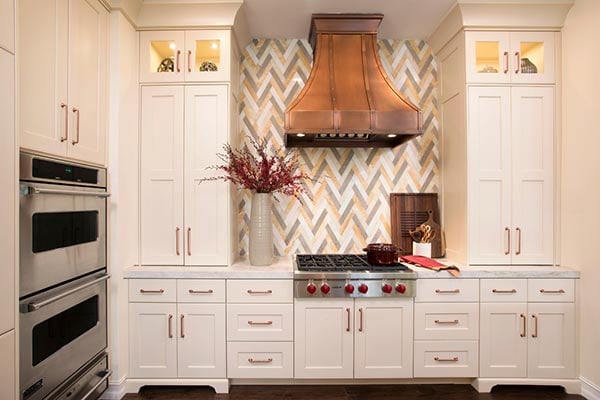 Moroccan backsplash
Are you thinking about doing something outside the box? Then the whimsical Moroccan look may be for you. This combines everything you're going to want to feel good in the most used room in the house. The colorful tiles have patterns of their own that are vibrant to draw your eye. If you're really looking for a 'wow' factor, a patterned Moroccan design is just the ticket. Be sure to plan this design out though so you get it just right for a look you'll love to come home to!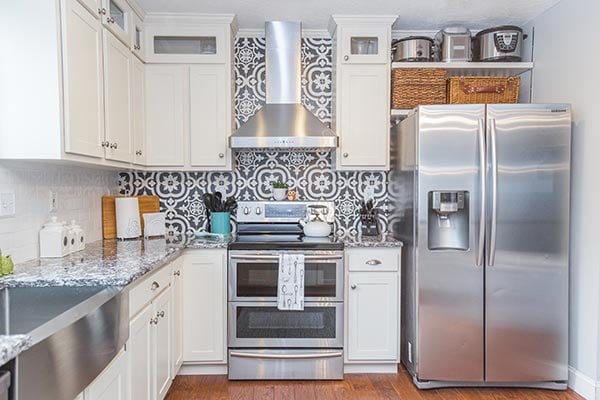 The stone-cold truth: marble or stone backsplash designs
Stone seems to never go out of style. It's natural, it's gorgeous and it's a perfect fit for the kitchen. Marble is one that many people want in their kitchen designs. It offers an aesthetically pleasing visual with its varying and unique veining and subtle colors. A marble backsplash will elevate your design and bring sophistication to your space. You have options with marble as well, it can be a tile or slab but whichever one you choose you'll be adding a touch of elegance.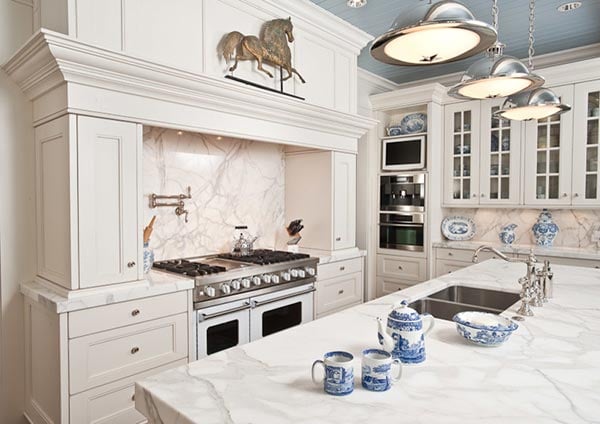 Soaring to new heights: ceiling-height backsplash designs
To really make a statement in your design, bring the backsplash all the way up to the ceiling. Who says the design is meant for a small area of the kitchen? Subway tiles that go to the ceiling make for a sleek look and adds a focal point to the kitchen.
A marble backsplash that goes up the entire wall will create a stunning space and surely garner compliments and conversations from your family and guests.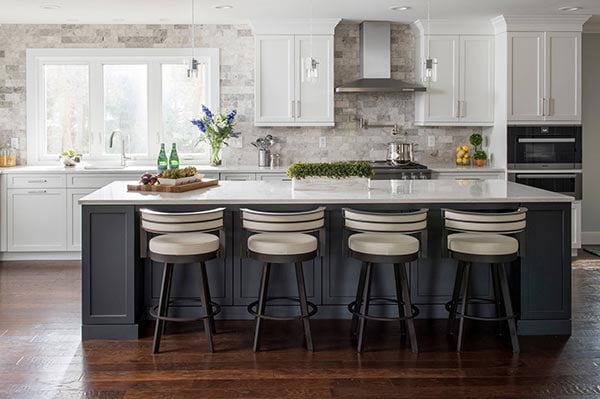 Color and finish: think about it for your kitchen backsplash
Finally, we get to color. As previously mentioned, the backsplash is the place to add variety to break up monochromatic tones. Most people think of neutral colors in the kitchen like white, grey and beige. Those are all well and good (and certainly timeless) but we know there are those of you out there who want to break from the pack and be unique.
You can get tiles in almost any color, you can incorporate colors in your patterns, and you can even get subtle coloring from marble. The backsplash is really the place to infuse your personality in the design. Be bold with a black backsplash, warm up with greens or jewel tones. Keep it classic with some blue for a homey feel or get in on the metal trends with a metallic or mirrored finish.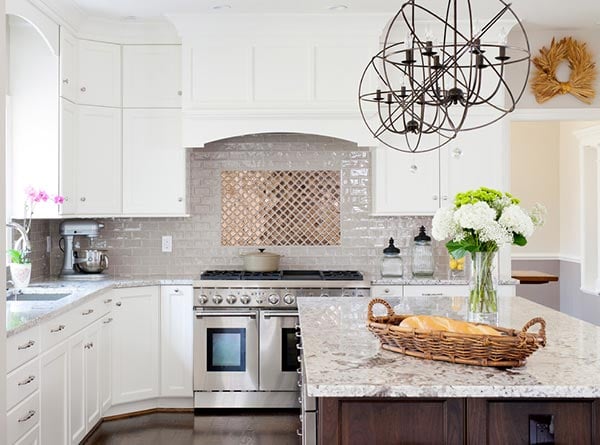 Get texture from your kitchen backsplash
Think about the texture too because glossy is always good but what about a beveled edge for some depth? If you go with a glass or stone mosaic option, you'll have some interesting textures to add character to the room. Mixing materials results in a harmonious blend of elements for a rustic feel with a touch of class. There are so many options and combinations, don't be afraid to get a little funky.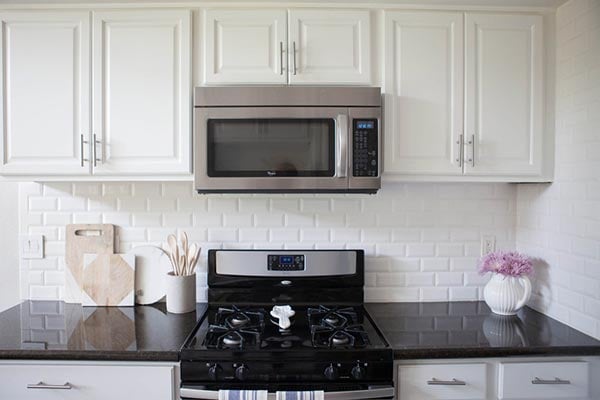 The one question now is, how will you choose the right one for you?! Think about these designs and when you're ready to make the move schedule a consultation with Kitchen Magic.