The backsplash could be considered the most important part of your kitchen's design. No matter what material you choose, it's a focal point. Tile tends to be the most popular choice for a backsplash— for its flexibility in style, budget and application. Whether your backsplash extends to the upper cabinets, or reaches all the way up to the ceiling, or falls somewhere in between, using one of these inspiring and intriguing tiles can enhance your kitchen's unique look.
The backsplash material, size, shape and color make up all your backsplash decisions. Yes, it should complement the countertop and cabinets however, the depth of your new backsplash may be more than just the back drop.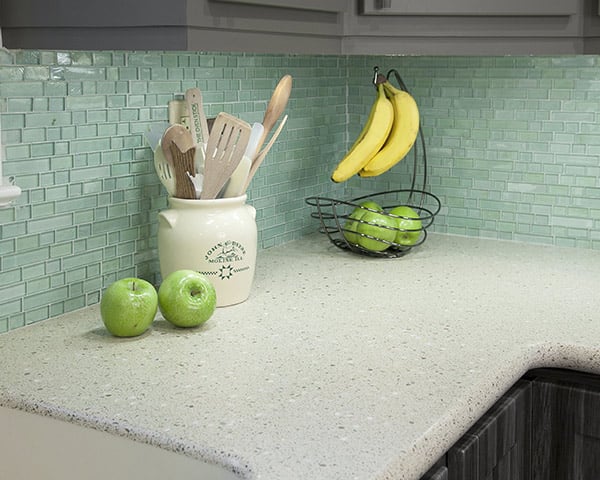 Ceramic for Versatile Styling
Ceramic is the most flexible in size options, including 4x4, 3x6, 6x6, 2x2 and more, so the choices can be a bit daunting. The good news is that whether you go with semi-gloss or a matte finish, the results will always be stunning. Known as the mutt of backsplash tile, it literally can be a chameleon to any kitchen style, simply accentuating your countertop and cabinets or taking center stage.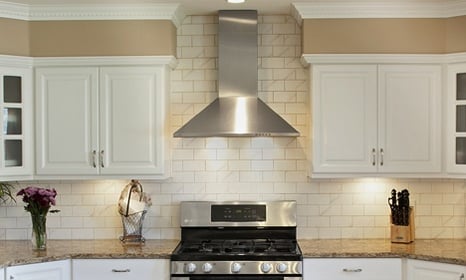 Let's Take the Subway
When creating a backsplash, consider getting creative with subway style. Subway tile graduating all the up to the ceiling to give the appearance of more height and it is truly the BOMB right now! It takes the eye and draws it in and up. Instantly giving the room a WOW factor!
FACTOID: A timeless classic, subway tile is named for its use in subway stations worldwide. Also, subway style will instantly provide a fresh and more modern look.
Illuminating Glass Tile
Glass gives the room a fresh new vibe, naturally instilling a dazzling glamour' affect. When choosing glass, color is your best friend and is the perfect place to let your kitchen's personality shine, literally! Depending on your cabinet finish and countertop, you can add your pop of blue or green in your glass tiles. If you're unsure which color backsplash tile pairs best with your cabinets or countertop, we've written a few blogs about it! And don't forget to repeat this color with decor items. This will really create a cohesive design.
Glass visually enlarges the space, reflecting all of your kitchen's light (artificial & natural), back into the room giving it an illuminating glow. Solid, multi blends and color patterns, make a glass backsplash the focal point of the kitchen.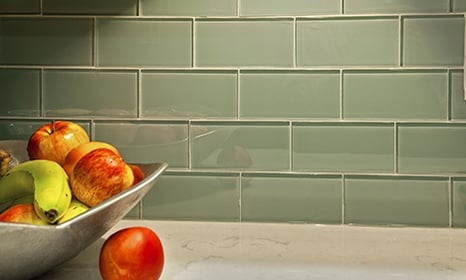 Get Bold with Glass & Stone Blends
Feeling a little frisky? Go with glass and stone! Of all the backsplash design options, the stone and glass blends are of the most intricate. Choose a linear or square mosaic pattern give an otherwise boring kitchen design some textural interest. The duo-materials create a striking design with a touch of class.
Mosaics create interest in a kitchen's design. Mimic the countertop's colors, to create a cohesive marriage that will magically pull the two elements together through coordinating textures and colors. Like a mosaic masterpiece, these square and linear blends create a dramatic affect that is if your kitchen doesn't already have enough drama!
A Nod to Mediterranean Design
Marble white and gray marble tiles create the look and feel of pure sophistication. Instill some old-world charm into your new kitchen. It's one of those Mediterranean hallmarks that are distinctive and elegant. Take your new backsplash design 'overseas' with a nod to Mediterranean design when using carrara marble.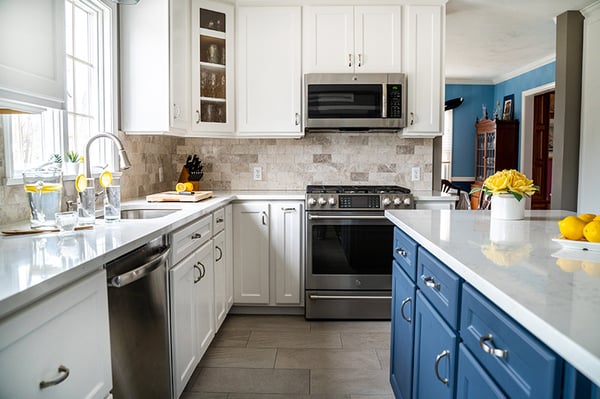 Depend on trends
Sprinkling in a diamond pattern or a mosaic behind the stove that will really put your personal signature on your backsplash. With glass, ceramic, stone or marble tile, you can't go wrong. By far, these are the most popular trends of kitchen backsplash materials that homeowners are using these days. But with a little unique styling, you can really mix things up a bit in the kitchen. Happy remodeling!