Are you torn between the idea of a homey traditional kitchen and a more streamlined, modern version? No need to be. This recent Kitchen Magic remodel proves you can have it all. Beautiful cabinetry and woodwork that has elements of a traditional kitchen combined with modern lines, subway backsplash tile and stylized hardware will keep your kitchen relevant to the 21st century.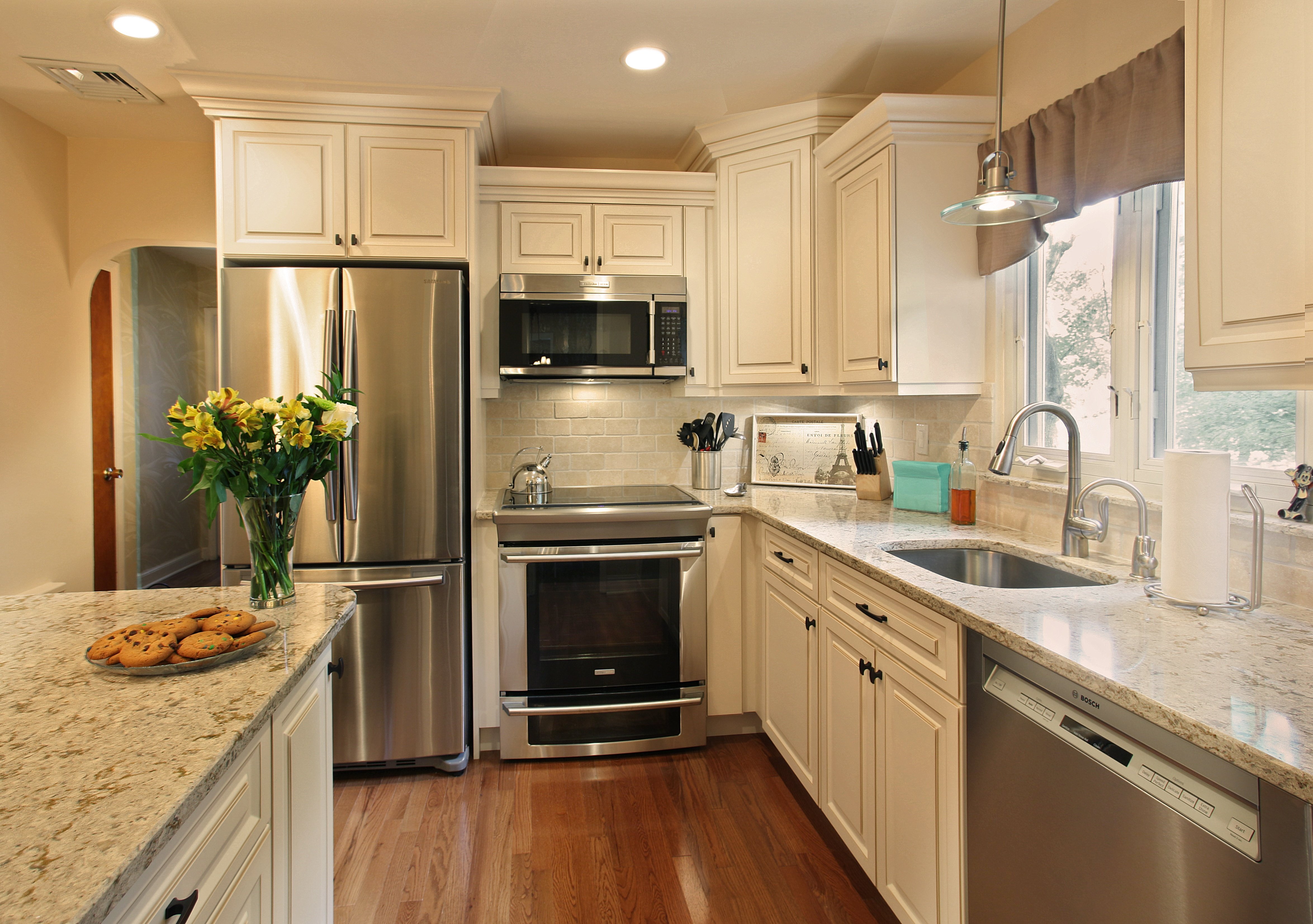 In the world of kitchen design, we would call this a transitional kitchen because it blends the best of old and new.
Let's take a look inside, shall we?
The Cabinets
Of course, one of the first things you'll notice is the cabinetry. These owners selected a Breckenridge cabinet door style, painted antique white and finished with a walnut glaze. This is the traditional anchor in this kitchen, giving it a homey and comfortable feel while simultaneously exuding luxury. The cabinets were designed to enhance storage, including customized pull-out options for storing cookware and organizing cabinet contents.
The Countertops
Take a guess about the material selected for the countertop. We bet your first guess is granite, or perhaps a really unique marble? In fact, this is a stunning example of how eco-friendly quartz countertops can look just like natural stone. This is a Cambria quartz countertop slab, called Windermere.
If you take a closer look, you may notice the continuity of the pattern. In addition to quartz's other perks - sustainability, durability, and hygienic attributes - pattern consistency is one of its biggest benefits. When you select a granite slab or tiles, you can experience surprisingly dramatic pattern variations due to the irregularity of Mother Nature. This can make it difficult when it comes to designing a cohesive color palette. Quartz, on the other hand, is manufactured and that provides a continuity that both kitchen designers and homeowners appreciate.
In this case, Windermere is a neutral pattern with warm brown and gold tones. This neutrality, with just a hint of color, means these homeowners or future buyers can repaint the cabinets a variety of different colors and achieve a whole new look without ever having to change the countertop slab.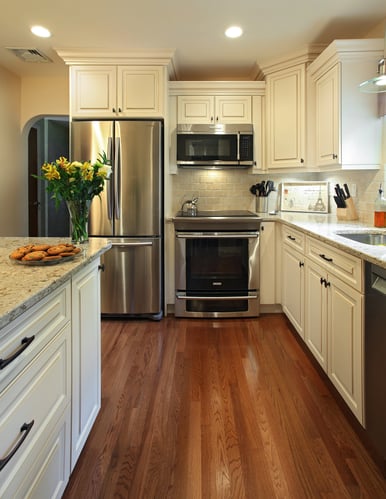 The Backsplash
We love the way the backsplash in this kitchen turned out. Subway style backsplash patterns are sort of like an "old-new". While they aren't quite traditional, they have a retro-like throwback aesthetic that still feels more familiar than modern, especially when it is laid using Noce tiles, which have an old-world feel. The effect is gorgeous and adds a little extra depth and interest between the countertop and the cabinets.
The Cabinet Hardware
Here's where things get really interesting. "Really? With cabinet and drawer hardware?" Yes! The hardware you choose for cabinets and drawers may seem like a small thing, but they can make a huge difference in the overall "vibe" of your kitchen. This is especially true in a transitional design where hardware can make the difference between a more traditional or modern look.
In this kitchen, the owners selected a contemporary design in an oil-rubbed bronze finish. Even though the design is contemporary, there is enough artistic detail via slightly rounded edges that hardware appears to be inspired by an antique design. The dark color contrasts against the lighter-colored cabinetry, helping to pull out some of the darker accents in the Cambria countertops as well.
This contemporary, transitional kitchen design is continued with stainless steel appliances and a modern suspended light fixture over the sink, accents that decidedly anchor it in the Now.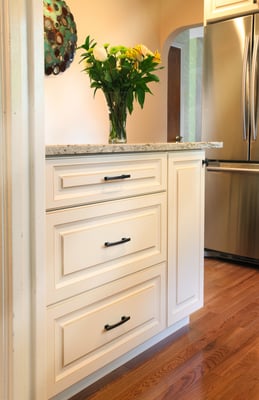 Have questions about this recent Kitchen Magic remodel? Interested in designing one of your own? Give us a call at 855-573-3223.