In areas that experience four distinct seasons, the changing of the seasons seems to always prompt in homeowners the need to change interiors to colors that reflect or complement seasonal colors.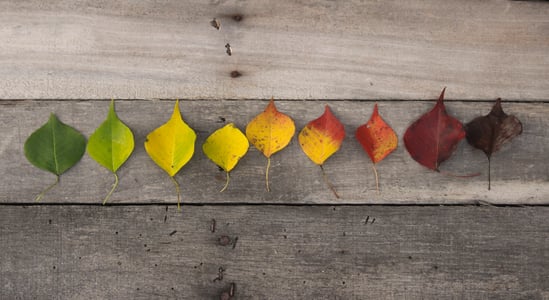 Heading into the autumn and winter seasons, even your mood might hinge on the color of your kitchen. To keep that mood bright and happy, consider these three awesome color combinations that complement the seasons:
Yellow, Black and White
When bright, warm sunny days switch to muted, overcast cold ones, renovating your kitchen in yellow, black and white can help drive the winter blues away. For example, bright light or dark yellow upper and lower cabinets, black countertops and black hardware accented with white tiled or painted walls and backsplashes makes a kitchen feel brighter, warmer and open and serve as a reminder that summer will return. Another awesome combination, often used in kitchens that have many windows, draws the eyes to natural light coming from outside to create an illusion that the light is brighter by combining white or light yellow upper cabinets, medium or dark yellow lower cabinets, light or dark counters and black hardware.
Beech, Orange and Red
Traditionally, autumn is associated with warm, inviting earthy tones in rich reds, oranges, yellows and browns. Although many renovators have rustic kitchens designed in combinations of these colors, a modern twist pulls summer brightness and autumn warmth together by matching light beech with bright orange and dark red. The way you combine the colors is completely up to you, but one awesome look is light beech cabinets contrasted with glossy bright orange counters and dark red accents. Another awesome combination is light beech upper cabinets and medium beech counters, matte painted orange bottom cabinets with accent walls and back splashes in dark red paint or tiles.
White, Red and Black
In winter, a start contrast of white, red and black colors can create a fantastic matching decorative backdrop for holiday parties that also doubles as a modern design statement year-round. Whether you like candy apple or fire engine red, the key is to use red as an accent color. One awesome design that does this features white, or light cream-white, full overlay slab upper and lower cabinets on one side of a kitchen contrasted with a section of red full overlay slab cabinets in a separate area brought together by white or white-cream walls and solid black countertops.