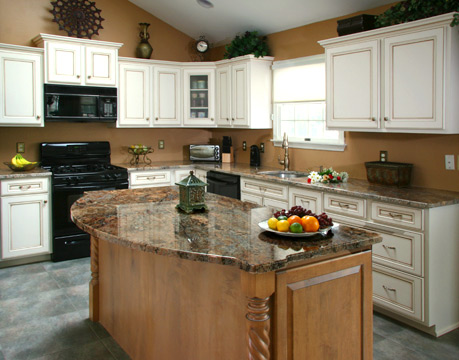 Anyone would feel proud to own a remodeled kitchen similar to those from the glossy home design magazines! When I try to visualize my 20 plus years old kitchen on those lines, I just bounce back to reality. To me, kitchen remodeling is akin to opening a can of worms! I am pretty sure I would have to face umpteen dilemmas when my kitchen is ravaged and redesigned to make it look brand new again. A remodeling job can take weeks if not months! And not to forget that to accomplish this remodeling mission I may even have to tear apart my bank balance! So with no more second thoughts I decided to go for kitchen cabinet refacing. Done.
When backed by professional installation, the job of kitchen cabinet refacing can be completed in just 3 to 5 days. This affordable and quick kitchen renovation process can be customized to the homeowner's budget and taste. Anyone can get their dream kitchen as there are a variety of finishes and styles available for cabinet refacing. The result is a beautiful looking kitchen making cooking times more enjoyable and efficient.
A kitchen is a hub of activity and a periodic makeover is what both, the kitchen and the lady of the house truly deserve. Kitchen updating in form of cabinet refacing can add value to a house without upsetting its original layout. A refacing project is always accompanied by cabinet door replacement. Hence, the refacing option is gaining a lot of popularity among homeowners and the home improvement scene as the end result it gives is resilient and strong kitchen cabinets. This is more than welcome in the current difficult economic situation.
After all, a well built and functional kitchen need not exile its existing cabinets. Even when a need for extra cabinet space arises, this provision can be made by adding matching new kitchen cabinets as part of the refacing job. This ends in giving the kitchen a fresh new look! Along with the additional cabinets, other improvements can be added like desks, pantries, and a free standing island. Advice from a good and reliable custom cabinet cabinet shop will do wonders to boost the kitchen makeover idea. When hundreds of design combinations in eye catching colors are available, the job of kitchen cabinet refacing is sensible and economical.
In addition to refacing cabinets, a reputable kitchen remodeler will provide other important features, such as:
Drawer fronts and doors which flatter the newly refaced cabinets
Doors made of solid wood or laminate resin-core which are warp resistant, scratch proof and heat resistant
High quality hinges and hardware
Companies like Kitchen Magic, Inc. carry out their refacing jobs by using a special enduring double lamination process. In this process, the thin wood substrate and the on hand cabinet surfaces are bonded first and then deftly covered with laminate or natural wood refacing resources. The end result is a sturdy and classy kitchen makeover.
My cabinet refacing job has helped me conserve two most important and dear things in this world! First it has done wonders to my bank account! Next, it has made a responsible citizen out of me. By opting for the cabinet refacing makeover, I was able to do my bit to save the Green! This makes me feel proud for being wise about my budget and achieving the task in an eco-friendly manner. My refacing idea was a smart one, wasn't it? Surely, most homeowners would agree with me!