The outdoors is no longer the only place to dig up some dirt for a garden—the kitchen is a wonderful space to fill with some green! Here are some tips and tricks to bring the outdoors inside your kitchen, especially as the weather turns colder.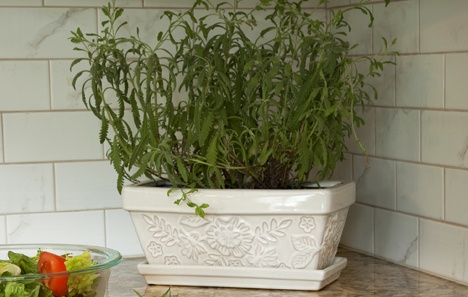 Grow a Garden in Your Kitchen for Flourishing Health
Plants will beautify a room and there are some common plants that will also aid in your overall health as well. Choose a nutritional herb garden, a fleshy aloe plant or some common houseplants for a multitude of benefits.
The Nutritional Herb Garden
Many kitchen gardeners love the convenience of fresh herbs at home. What could be more convenient than an herb garden in your kitchen? The kitchen is the ideal place to grow your herbs, where you can snip off a fresh herb and sprinkle into your dish without skipping a beat.
Choosing your herbs is simply what you will use regularly while cooking meals. The Italian in all of us comes through every time we turn up the burners on that pot of sauce. Reaching for a couple sprigs of basil are exactly what will instill the traditional, old-world tastes into your recipe. The floral notes that come out as you shred the leaves over the pot are intoxicating. Or add some lemon balm to your next cup of tea for a feeling of relaxation as you sit back to admire your new kitchen herb garden.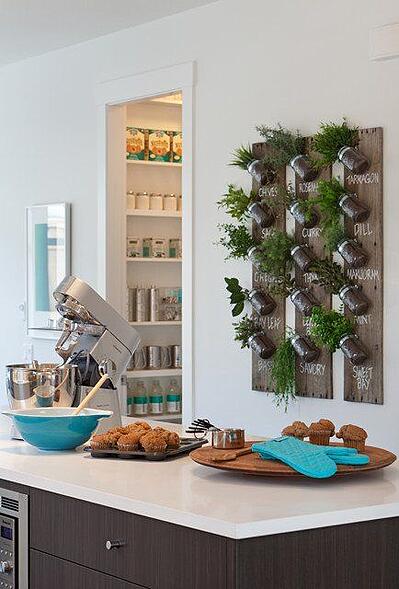 Aloe for Medicinal Aids in the Kitchen
Ouch! I knew I should have used a pot holder on that casserole dish. Oh no, not a blister! Beat it to the punch with a smidge of Aloe Vera from a luscious aloe plant over the sink. Keep the burn moistened over the course of the rest of the day to ward offer blistering and scarring.
Aloe's ability to thrive in hot environments, are what gives this succulent plant it's healing ability. It has a long history of being used for medicinal purposes, dating back to ancient Egypt. Today, Aloe Vera is grown in tropical climates worldwide. This is what makes it naturally moist, lending its healing properties for kitchen mishaps.
Fill up on that extra helping of chili during the game with your buddies? Aloe also comes in handy for acid reflux flare ups. When you overdue it with the spicy foods, reach for 1-3 ounces to combat that burning reflux in your near future.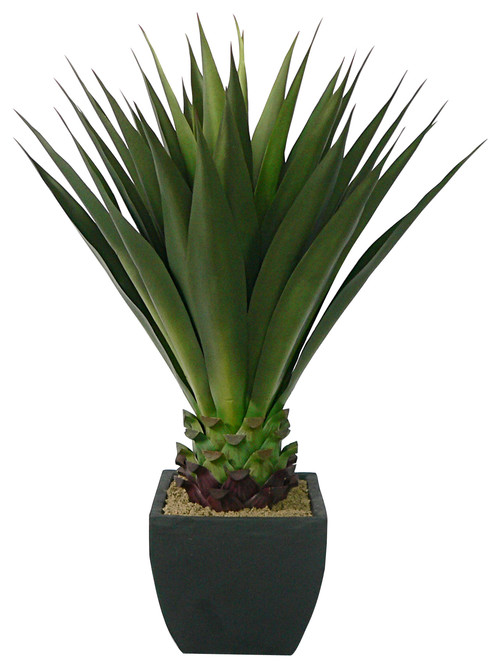 Flourish Your Good Health with House Plants
Yes, a houseplant can help add a finished look to a room and breathe fresh air into it as well. If you don't have countertop space for a plant, pick up a plant stand, ceiling pot, or wall-hanging plant at your local craft store or garage sale. Find a sunny corner, you've created a punch of color and some interest to your kitchen design! Be sure to water weekly and rotate for flourishing results.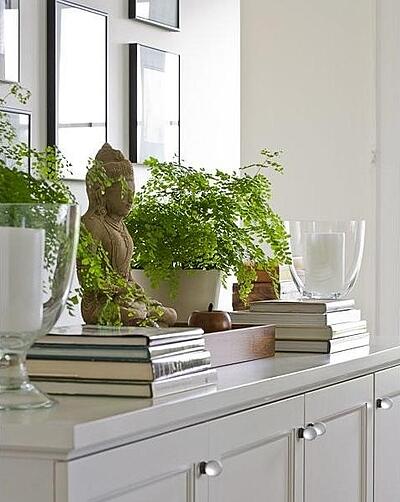 English Ivy is a great green addition for smaller kitchens or kitchens that get little sunlight, and demands very little care. English Ivy cleans your kitchen's air by absorbing formaldehyde, an indoor pollutant that's added to wood resins and synthetic carpet dyes.
Plan on Planting
When contemplating your next décor item, consider an herb garden, aloe plant or regular household plant for endless, healthy benefits. These plants and others will not only enhance the look of your kitchen but aid in making you and your home a healthier dwelling.