The holiday season brings a gamut of guests into your kitchen space—be they family, friends, neighbors or colleagues—so you want your kitchen to look, smell and flow its very best.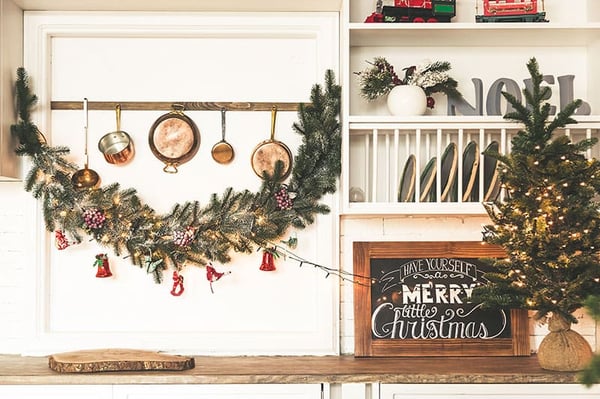 The kitchen certainly does earn its moniker as The Heart of the Home at this time of year. The following tips will help you and your guests enjoy a warm, cheerful and welcoming kitchen space.
Get Festive with Your Decor
Of course, this one seems obvious—but we're all for timeless and/or neutral kitchen design backdrops that are easily updated, changed and "seasonalized" via easily changeable accents. Here are some ideas to get your stylish kitchen into holiday mode:
Change out your dishtowels and rugs
Is it time for a new set of dish towels? Use the holiday season as an excuse and spruce up your kitchen by adding colorful dish towels in holiday themes. If you play your cards right and opt for stripes or plaid prints, rather than menorahs and Santa Clauses, you'll benefit from brand new towels that look seasonal now but can be used all year long.
Your everyday area rugs can be swapped out for holiday themed and/or colored options as well—just keep your eye out at big box stores where a handful can be picked up for bargain prices this time of year.
Pile colorful ornaments into transparent containers
While you're out shopping for holiday decor and gifts, look for some clear or transparent storage containers and then fill them up with piles of colorful balls, ornaments, or dreidels. Mason or Ball jars make a great option for that rustic look. It's a stylish and simple way to add holiday colors and cheer.
Incorporate the classics
Front doors and hearths aren't the only places wreaths and garlands can make an appearance. That oversized hood or the top of a sweeping cabinet bank will benefit from them as well. Consider adding other holiday decor classics to the kitchen, like mistletoe, bows and miniature holiday trees.
Get "Glowing" for the Holidays
Whether your celebrating the Festival of Lights, Kwanzaa or Christmas—lights and lighting can really get you and your guests in the holiday spirit.
Add some strings of light
Hang string of lights or two, and some LED candles too, to give your interior kitchen the same spark of holiday lights the exterior of the home enjoys.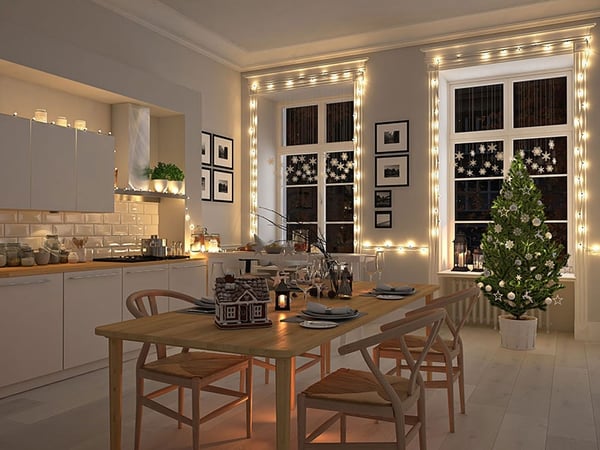 Change out the bulbs
Did you include under cabinet lighting in your lighting plan? Do you have a pendant or two designed more for mood- than task-lighting? Consider changing the bulbs from regular versions to LED green or red lights—a fun way to add holiday cheer while maintaining an ambient glow in your late night and early morning kitchen.
Light a candle or two
Candles add a lovely, ambient glow. That being said, be mindful to accent eating areas with scentless candles to avoid interference with your delectable meals. It's also important to keep candles a safe distance away from holiday decor to avoid a fire hazard.
Scented candles can be a great way to get that holiday effect, so look for candles that embody the scents of the season—including pine, cinnamon, pumpkin spice, etc. It's important to invest in candles that use 100% natural scents—rather than chemical fragrance. This is the perfect segue to our next topic!
Infuse the Air with Scents of the Season
Olfactory—or smell—is the most powerful of our 5 senses. Certain scents have specifics effects on us, and nostalgia is a big one! You can can bring back all those warm, happy memories of holidays gone by with some of these aromatic ideas.
Simmer some stovetop wassel
Scented candles are all the rage but many of them are so heavily perfumed that they can be overpowering rather than comforting. Instead, simmer real herbs and spices on your stovetop when you don't have something delectable baking in the oven. It's amazing what apples, oranges, star anise, cinnamon sticks, ginger, and cloves will do for the aromatics in your home. You can follow this recipe from howsweeteats.com or make your own. It works great in a crockpot too. An added bonus: you can also mix herbs and spices in pretty bags with ribbon and give homemade simmering spices as holiday gifts to friends.
Invest in an essential oil diffuser
Don't want to keep anything simmering for long? Invest in an essential oil diffuser. These popular items are a great way to infuse the home with favorite seasonal scents or blends, and will also help to add some moisture to the air during this drier time of year. Not to mention, many natural essential oils have added health benefits!
Bake a few batches of cookies
Holiday baking is the source of most of this season's favorite scents—such as ginger, cinnamon and clove. Gingerbread cookies are a great place to start! And, gingerbread houses make for sweetly-themed decorations and keepsakes, too.
Get Ready to Entertain
Are you the family's host(ess) with the most(est)? Or perhaps new to the hosting-game? Either way, here's a couple ideas that help make holiday parties a piece of (fruit)cake!
Add a little wine storage
With all the entertaining you'll be doing, it's nice to have your wines at the ready. Look for countertop wine racks or take the plunge and add permanent, year-round wine storage that's integrated with the current design. Built-in wine racks, temperature-controlled wine caves and beautifully designed wall-mounted wine storage are all viable options. Once your wine storage is complete, you will definitely have something to say, "Cheers!" about.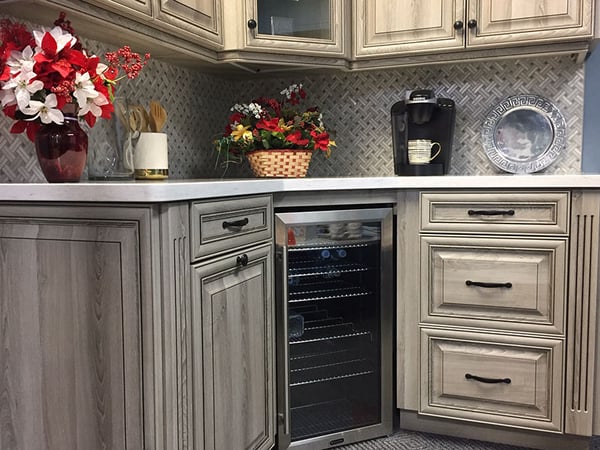 Give your home the gift of serving solutions
From serving carts to holiday-themed serving dishes and platters. these serving solutions "extras" enhance seasonal parties and get-togethers. Not to mention, when your guests have their own little bar available to them, they can prepare their own drinks to their liking—while you're busy hosting. Afterwards, those storage solutions ensure you have room for them the rest of the year 'round.
Cheerful holiday sights and scents help to bring us and our loved ones into the spirit of the season. We hope you are inspired by these ideas for your own holiday kitchen decor. Everyone here at Kitchen Magic wishes you and yours a wonderful and festive holiday season!