Color trends and style fads may become outdated as quickly as they became popular—that 'minimalist' design scheme with bright orange cabinets and clear countertops might be trendy now, but it could leave much to be desired come next season. When it comes to color palates and overall design schemes, sticking to classic choices is always your best bet.
But if you're looking to put a trendy touch to your kitchen's style, custom kitchen pieces and add-ons are a wonderful way to bring some popular designs to the space. Unlike color trends that change from season to season, custom pieces will always benefit your kitchen and your family by bringing you more organization, storage and much-needed space as the years progress.
1.

Wine Racks

Custom wine racks or wine chillers aren't just for wine enthusiasts anymore. In actuality, many homeowners are opting for the classic 'crisscross' style rack. It not only brings added storage space for oddly shaped bottles, but also adds some aesthetic appeal, just as a decorative accessory like a corbel brings some style to the space. And when it comes to trends, you can be sure that wine won't be going out of style anytime soon.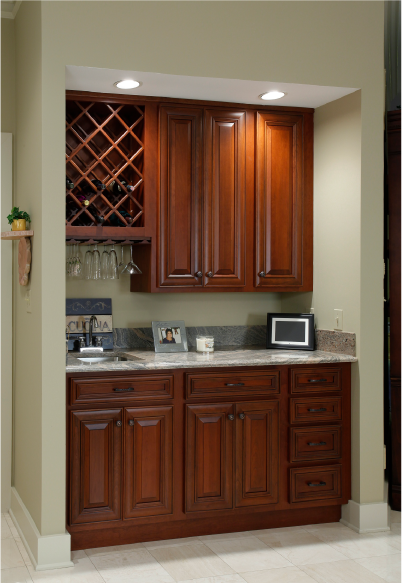 2.

Panty or Pantry Solutions

Custom-built pantries can come in many varieties, and really help organize a busy kitchen filled with hungry hands. If you have the designated space for a pantry, for instance a closet close by to your kitchen, consider adding rollout shelves and other storage solutions to make this space more efficient. But many kitchens don't already have pantry space, so homeowners are getting creative and designing their own. The custom cabinets you see built around the refrigerator in the picture above add a lot of extra cabinet space for snacks without the need for a traditional pantry.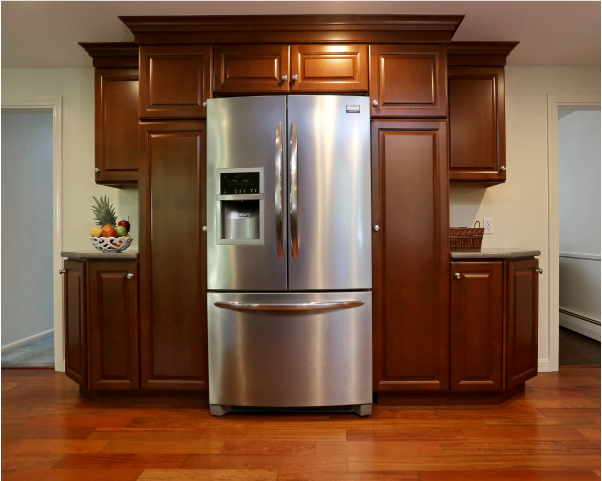 3. Breakfast Nook
A custom breakfast nook is a wonderful way to bring some seating space to a small or galley shaped kitchen that can't fit an island or a kitchen table. Breakfast nooks are so popular because they can serve several different purposes. A breakfast nook can act as a desk for after-school homework or quick projects, extra counter space for food preparation, and of course, to eat small meals when you're in a hurry. Not to mention, it's a great spot to add some of your personal style, like this breakfast nook that combines another custom piece, a wine rack, for a small wine tasting table right in the kitchen!