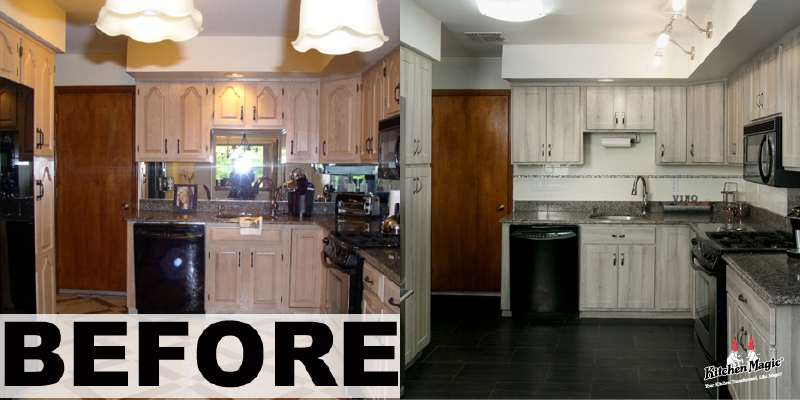 The task was to update this kitchen from its 1980's oak color and cathedral style to something completely different. Not trendy, but classic and stylish. The homeowners thought replacing the countertops a few years ago with granite would do the job. Not by a long shot.
Did you ever notice, that anytime you update something in the home, all the surrounding elements actually look worse?
The homeowner called Kitchen Magic to see if we could offer advice on updating their kitchen cabinets without disturbing their granite counter tops. We were happy to help.
We informed her that removing a granite counter top will, most likely, result in cracking. Granite has fissures and like anything else, will be compromised at its weakest point. Not to mention, it was gorgeous and quite the investment just a few short years ago.
The Perfection Solution
Update the cabinets with cabinet refacing and install all new doors and drawer. The new color would be Barnwood. Many homeowners are 'posting' and 'pinning' gray kitchens these days. Gray is the new black in kitchens! We knew it would match the granite beautifully and give her that rustic look, yet still be a sophisticated space.
Many homeowners are 'posting' and 'pinning' gray kitchens these days. Gray is the new black in kitchens!
For the door style, she chose a classic from the Shaker family, Statesman. The simplicity of the flat panel is harmonious with the movement of Barnwood's wood grain. A marriage made in heaven.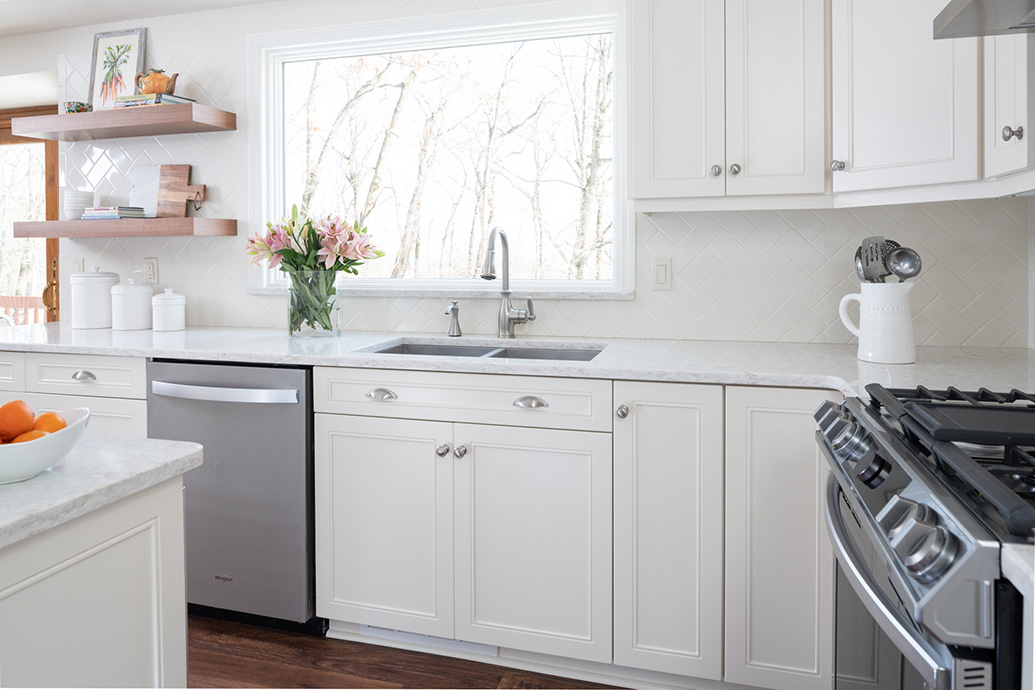 Let's Create Some Interest
Typically, over the refrigerator you see cabinets. You know, the cabinets you don't go into for decades. With a love of cooking, any possible extra storage would be welcomed. She chose shelving but not just any shelving. Shelves to house her beloved collection of cookbooks. Her creative outlet is cooking and serving new recipes to friends and family. We wanted to give her a special place, front and center, that showcased her extensive collection.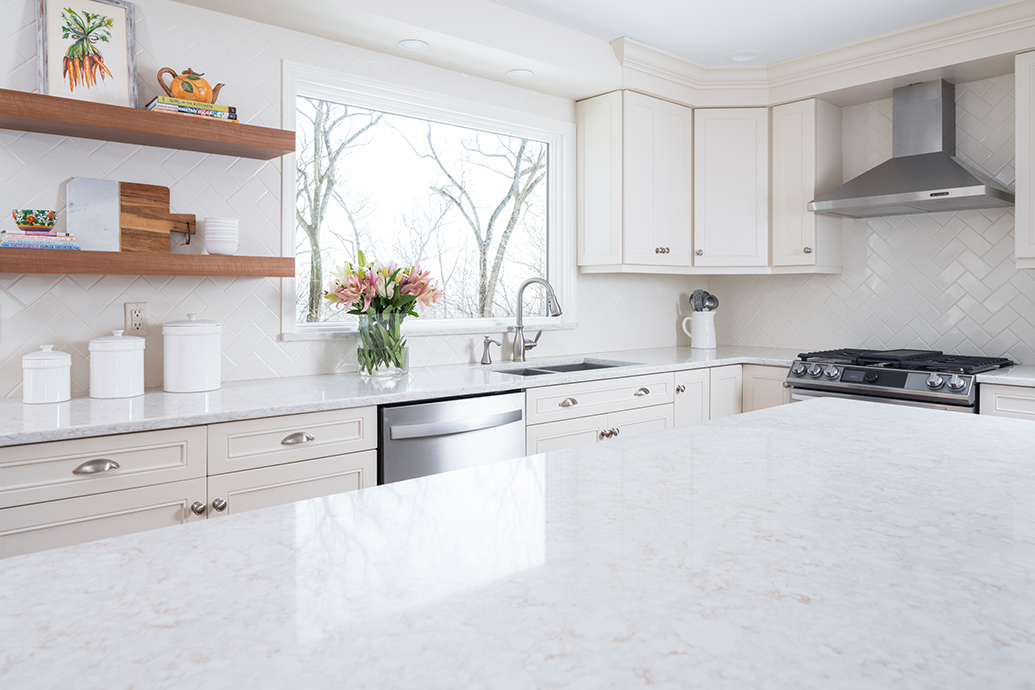 The addition of shelving also creates some unexpected interest in the design, adding dimension to the room.
Closing the Barn Door
Wait, where did I see those lights before? Oh yes, in a barn. Choosing the perfect light fixtures should not be an afterthought.
The homeowners wanted something charming and rustic. Lighting that would reflect the rest of the kitchen's new decor and theme. Simply stunning and really the 'show stopper' in this new design. These light fixtures are typical of what you might see in a barn or stable – genius!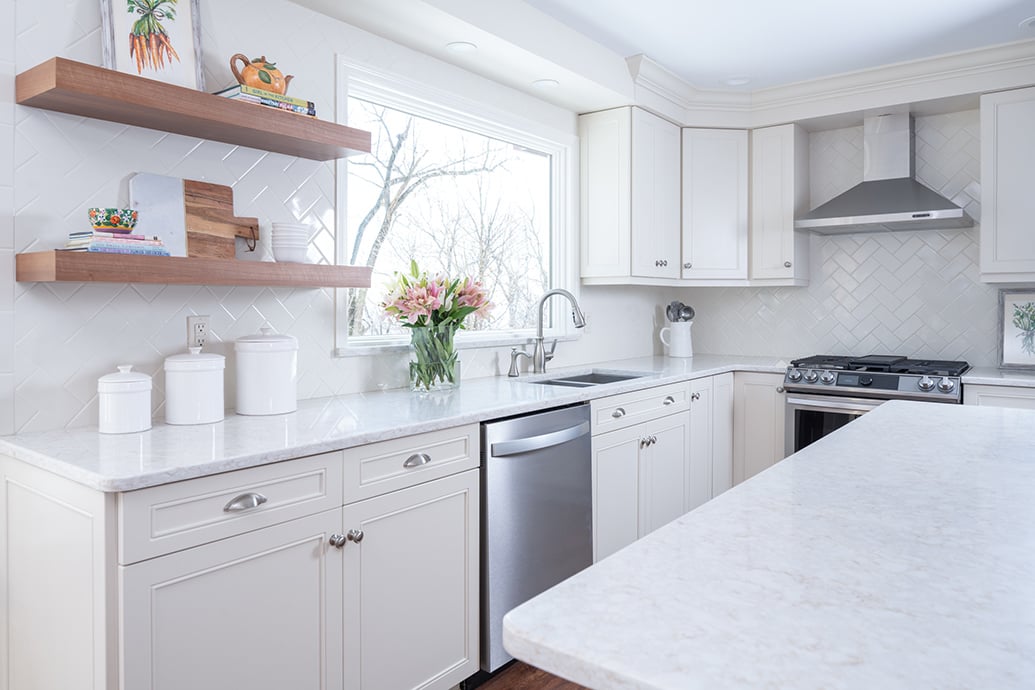 What to Consider in Your Kitchen Theme
So, when you start thinking about your kitchen's new look and feel, consider all the components of your new kitchen and the rooms overall personality.
Look at what you do in the kitchen, look at the rest of your home and even look at your own personality and style. There's a theme there and you want your new kitchen to reflect that personal style. Is it rustic, is it sophisticated, is it trendy, is it you?