Nothing says "heart of the home" like a cottage styled kitchen. These are the kitchens that invite you in saying, "make yourself at home." The charm of a cottage kitchen is the interior design equivalent of a hug.
Elements of Inspiration For a Charming Cottage Kitchen

Are you ready to design a kitchen that's brimming with cottage charm? We have plenty of ideas to get you started, as well as photos from our own kitchen design gallery.
Leave those beams exposed
The traditional English cottage had exposed, dark wood beams and plaster walls. Whether you go natural, stained or painted, consider exposing the structural beams in your kitchen.
In our Rustic Cottage Kitchen, we stripped and re-stained existing wood beams to compliment the clients' butcher block countertops and stunning, antique sideboard. While we're making note of the sideboard, don't forget the beauty of re-purposing antique furniture to further personalize your kitchen design.
Use natural elements for texture
Make use of natural or textured elements for more cottage-like design elements. Exposed wood beams are one example, as are natural stone or brickwork. Look at the attractive and dramatic, earthy statement made by the natural stone wall in this Contemporary Farmhouse Kitchen.
And that reminds us: you don't have to sacrifice contemporary design elements to create a traditionally-inspired look and feel. Read, Have Your Traditional Kitchen and Make it Contemporary, Too, for tips on how to enjoy the best of both worlds.
Add some glass or window pane cabinet doors
We can't think of a single kitchen design style that isn't enhanced by glass cabinet door inserts. In the case of a cottage-inspired kitchen, choosing glass window pane style doors will fit the bill perfectly.
Look how these paned glass cabinet doors enhance this tiny Shabby Chic-Style Kitchen, creating the look of more space and allowing homeowners to display attractive cookery and collectibles, which add color or seasonal accents as desired.
Extra design tip: Interior cabinet lights also add illumination in the kitchen for ambiance and night-lighting, and they especially benefit kitchens without much access to windows or other sources of natural daylight.
Set a timeless white backdrop
Historically speaking, cottages were made from earthen materials - mud plaster, straw, thatch, wood, etc. Windows were also at a premium so cottage owners used whitewash to lighten and brighten things up. You can do the same using antique white finishes for your walls, cabinets or wood trim - a timeless design choice that allows you to follow more seasonal or transient trends via temporary accents.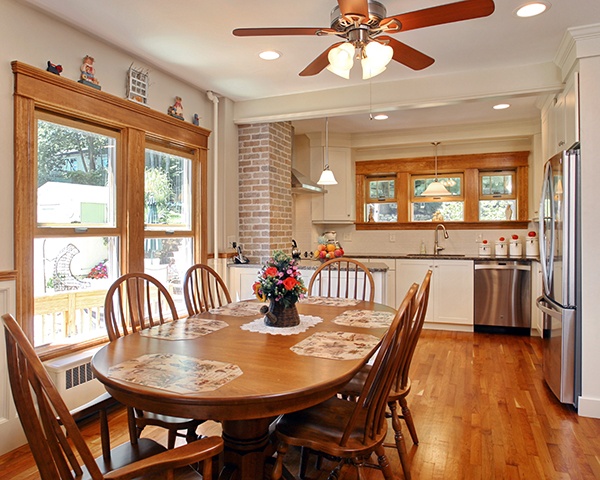 You can see a wonderful blend of white, natural wood and stone-like finishes in the above, Frosty White New England Kitchen.
Dress it up with valance curtains
Finally, window dressings add a final touch. For cottage-style kitchens, we like the look of valence curtains, which cheerfully dress up the windows in a color, print or pattern of your choice. In the White Winters Over Granite kitchen below, the beautiful valence incorporates the kitchen's granite hues and the warm cabinet glaze.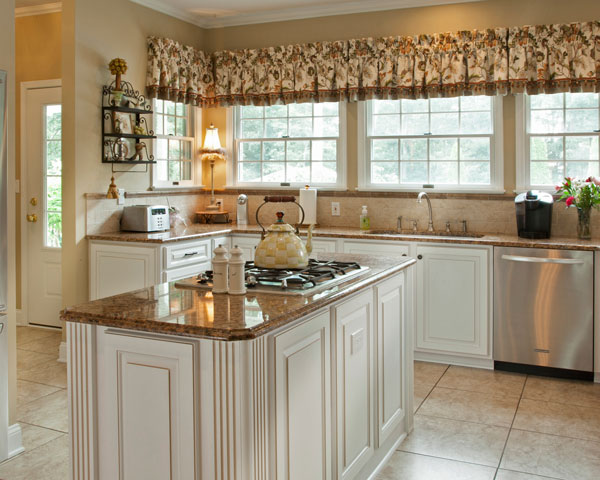 Are you ready to host friends and family in a charming cottage kitchen? Contact the team at Kitchen Magic and we'll put the kettle on.